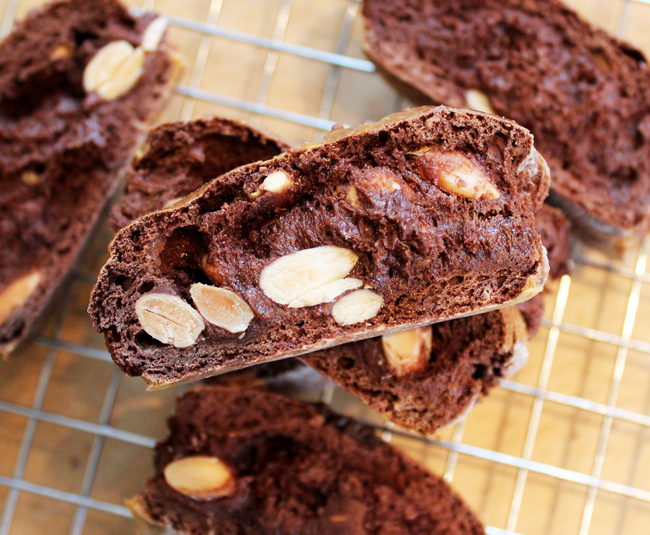 I love biscotti. Although I am often tempted to pick up a few at my local bakery when I want something sweet, they are even more delicious when baked fresh at home and once you master the technique, they are easy and quick to bake. There is an almost endless variety of variations and flavors you can choose from, but per usual I am always drawn to anything chocolate. I have made biscotti before with much success (see my Pecan Pie Biscotti), so I didn't hesitate to give a chocolate one a try. My husband and I cooked a steak dinner this past weekend, so I wanted to bake something light to have as dessert along with an espresso and this was the perfect choice. Most biscotti is made without butter or oil, so it is a healthier choice than a regular cookie.
These biscotti have a lovely dark color from the cocoa and the toasted blanched almonds add the perfect hearty crunch. They will keep a couple weeks or even more in an air tight container, if they last that long of course. I'd imagine they'd make a great gift around the holidays too. Here is the full recipe for my Chocolate Almond Biscotti… Enjoy!!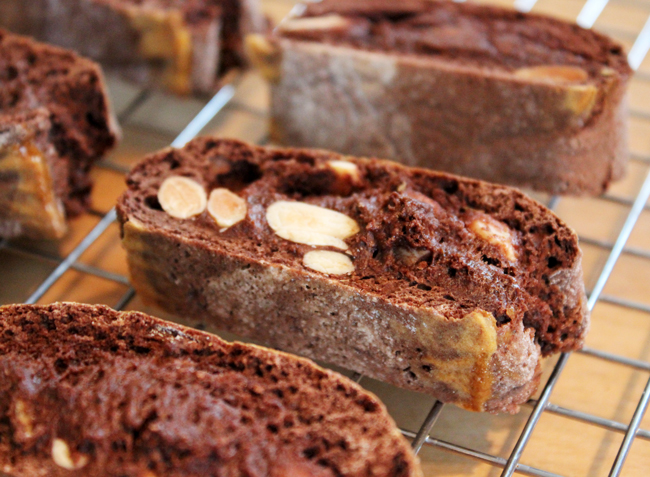 Chocolate Almond Biscotti
Ingredients
1 cup whole blanched almonds
2 1/2 cups flour
1/2 cup Dutch-style cocoa powder
1 tablespoon strong espresso
Pinch of salt
1/2 teaspoon baking soda
3/4 teaspoon baking powder
4 large eggs
1 1/3 cups granulated sugar
Directions
Preheat oven to 350 degrees F.
First, toast your almonds. Spread almonds on a dry baking sheet and bake for 8-10 until lightly browned.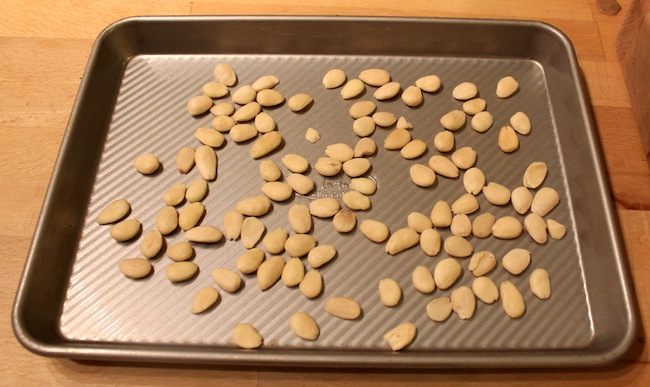 Remove from oven and set aside.
In a medium bowl, mix together your dry ingredients (flour, cocoa, salt, baking soda and baking powder) and set aside.
Using an electric mixer, beat eggs lightly until blended. Remove 2 tablespoons of egg mixture and set aside (you will use this later).
Add sugar and espresso and beat until blended.
Add dry ingredients and mix until just combined. The dough will be very sticky!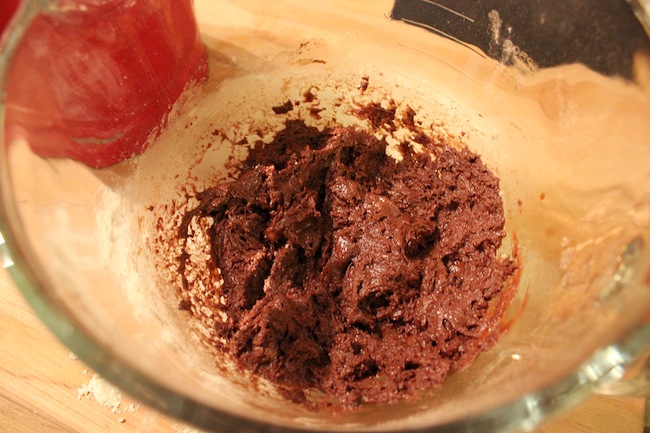 Transfer dough to a floured work surface and divide in half. Form a 6″ square with the first portion.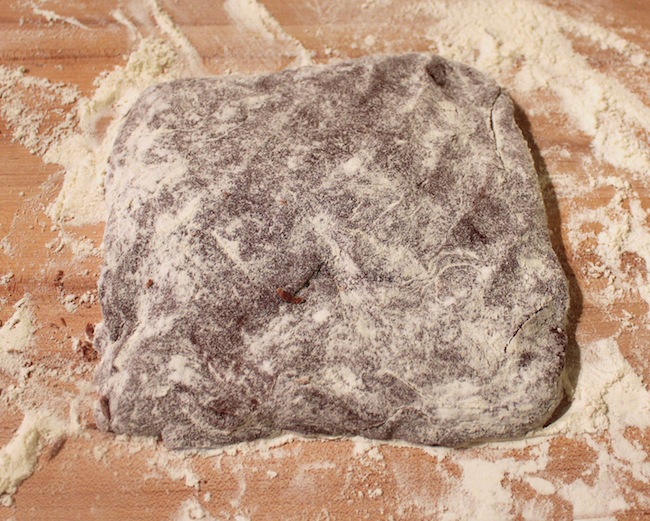 Place almonds on top of dough and then press them into dough.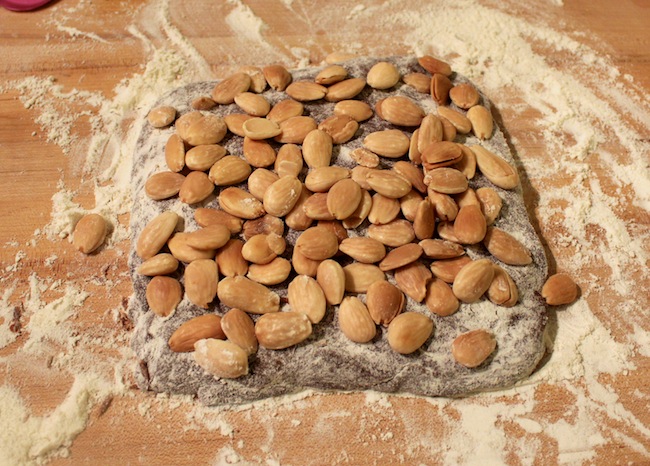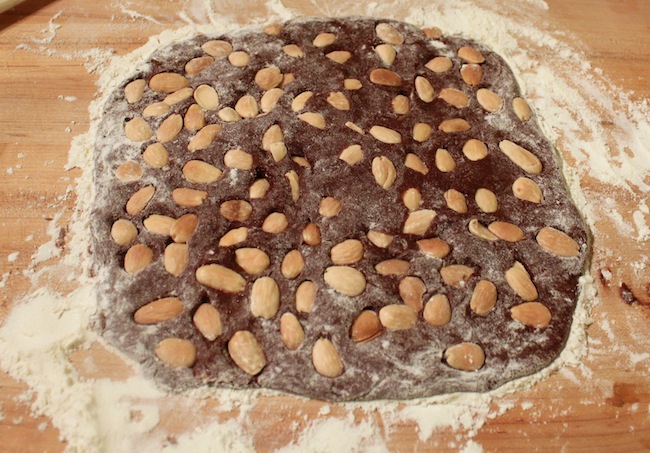 Then, roll into a cylinder approximately 2″ in diameter and 12″ long. Place dough on a parchment paper-lined baking sheet. Repeat with remaining portion (you will end up with 2 cylinders).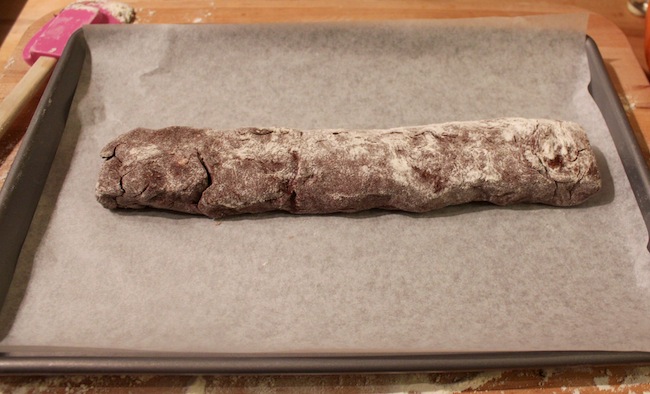 Brush the dough with the reserved beaten egg.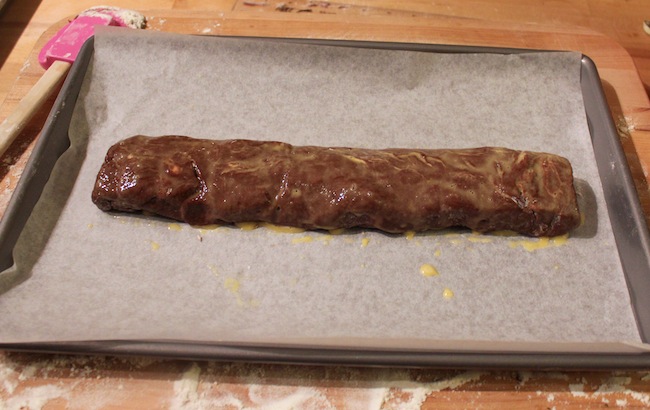 Bake for about 15-20 minutes until dough is firm to the touch.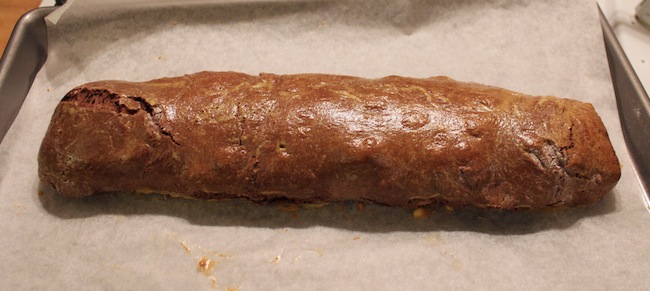 Remove from oven and cut into 1/2″ slices.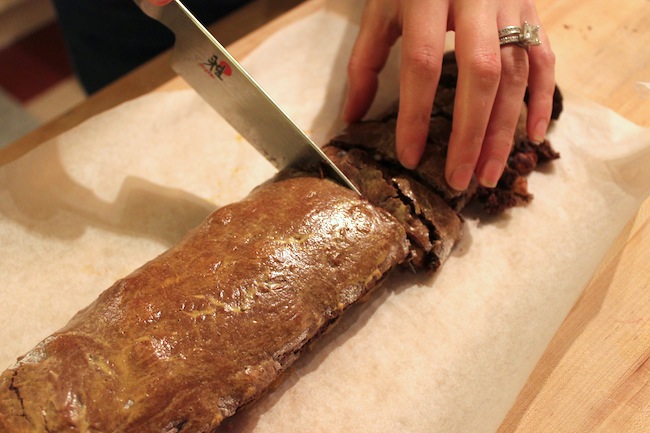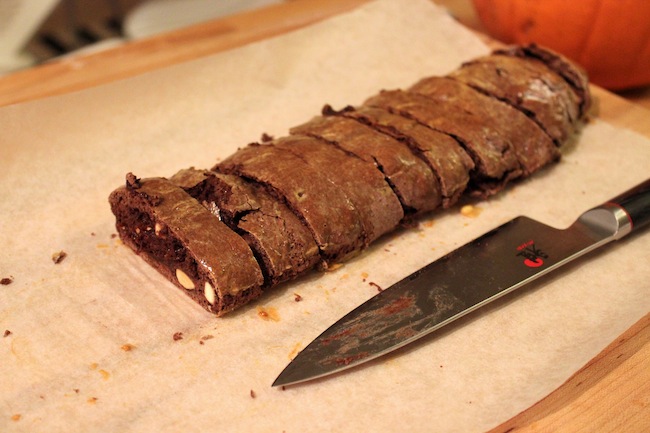 Return slices to baking sheet, laying them on their cut sides, and bake for an additional 20 minutes until they are dry and crisp.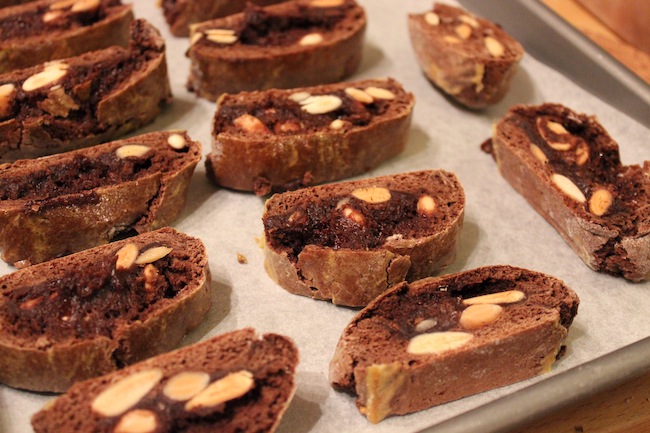 Allow to cool completely on a cooling rack before serving.