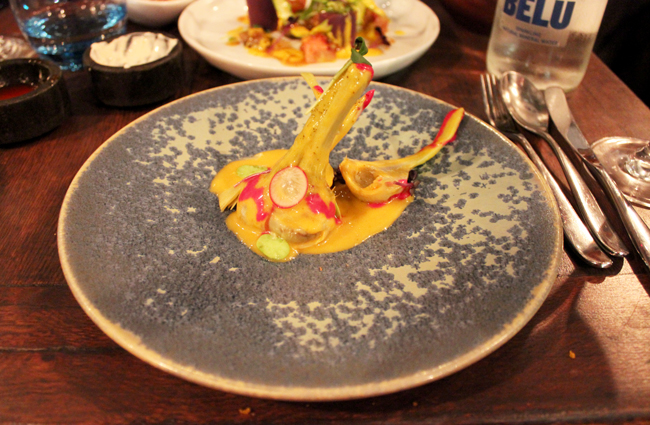 This weekend my husband and I checked out Lima, a Michelin-starred Peruvian restaurant in Fitzrovia. I had high expectations for Latin American chef Virgilio Martinez's London restaurant after reading some above average critic reviews and having a bit of trouble getting a primetime reservation (persistence on TopTable is key). We had an 8:30 p.m. friday night table and while I initially envisioned a dark, buzzy and lively scene, it was quiet and bright, and everything from the ambience to the service fell a little flat. All that aside, we were there to dine, so I was willing to forgive all of that if the food was extraordinary.
Our waiter was friendly and helped us with a few recommendations, which I always appreciate. We were served an assortment of two soft seeded breads, with a whipped yoghurt dip and a second oil dip with a sweet syrup on the bottom. Both breads and dips were delicious and light enough to keep us excited (and hungry) for the actual meal.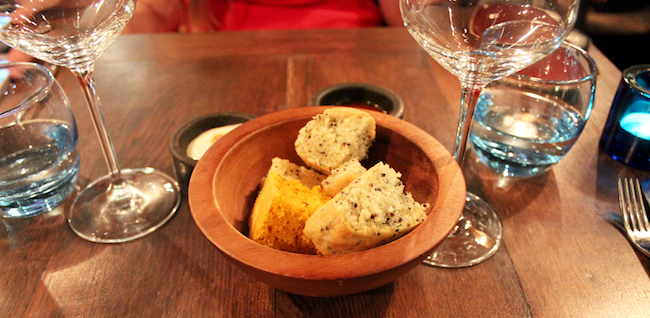 Our starters came literally within a couple minutes of ordering, which was a little worrisome because I feared being rushed. The first of our starters was seam bream ceviche, £10, with tiger's milk, ají limo pepper, red onion and cancha corn. It was light and refreshing and we enjoyed the crunchy corn kernels served on the side.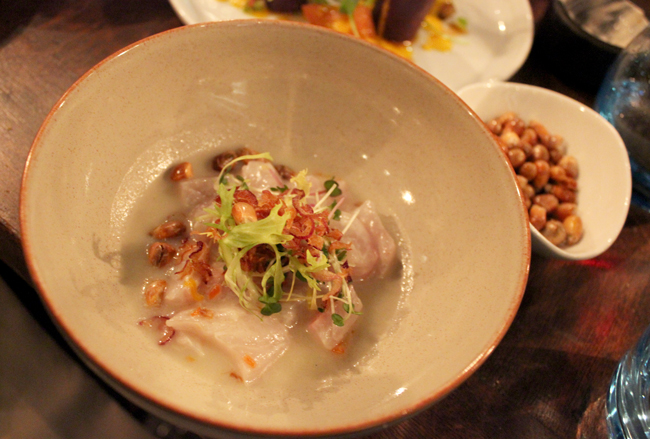 Next was "Artichoke Amazonia," £9, with artichokes, fava beans, white onion, tree tomato and molle pink pepper. The artichokes were cooked perfectly and the creamy sauce was well seasoned and tasty. A pretty plate of food to look at too!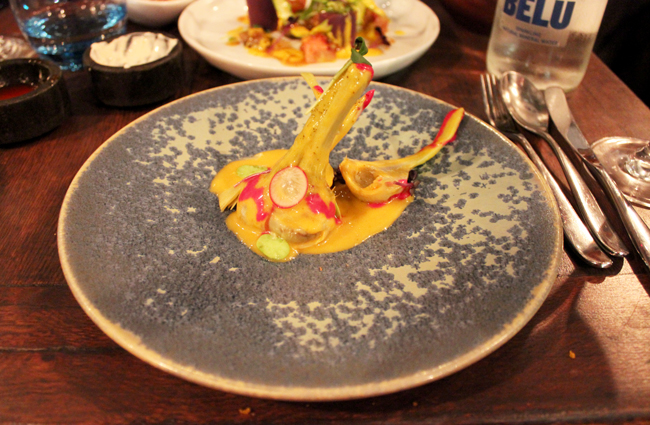 Then, we had "Asparagus Peru," £9, with blue potato, sacha inchi oil, heritage tomatoes and ginger. Despite the name of the dish, the blue potatoes dominated this plate. The asparagus was in the form of a delicate "tartare" on the top of each of the potatoes and shaved slices on the sides of the dish. The presentation was beautiful, but taste-wise, it was just ok.
For my main I had the halibut "chalaca," £20, with andean giant corn, yellow ají pepper, avocado oil and muña mint. Although the giant corn was hearty and satisfying, the halibut and its accompaniments lacked punch. It could have used more seasonings and perhaps even some spiciness. Also, I am not sure if this is how the chef intended it, but the whole dish was served room temperature.
My husband had the lamb shoulder, "seco," £24, with eco dried potato, pisco mosto verde and crazy pea. This was the best of the dishes we tried. It was almost like a short rib, with the moist, tender pieces of lamb and a delicious rich sauce. The potato and pea mash was great too. A perfect hearty, wintery entree.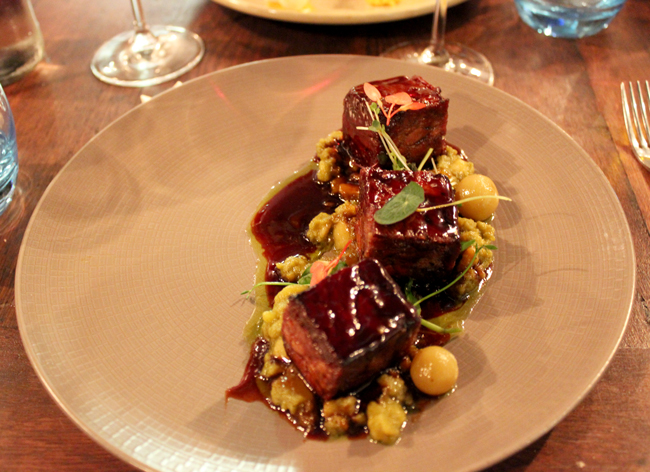 For dessert, we had the dulce de leche ice cream, £6.50, with beetroot emulsion and andean maca root crust, upon recommendation from our waiter. It was good – the ice cream was creamy and the beetroot was a surprising ingredient for a dessert, but worked in this context. I wish they served some more of that delicious caramel sauce though!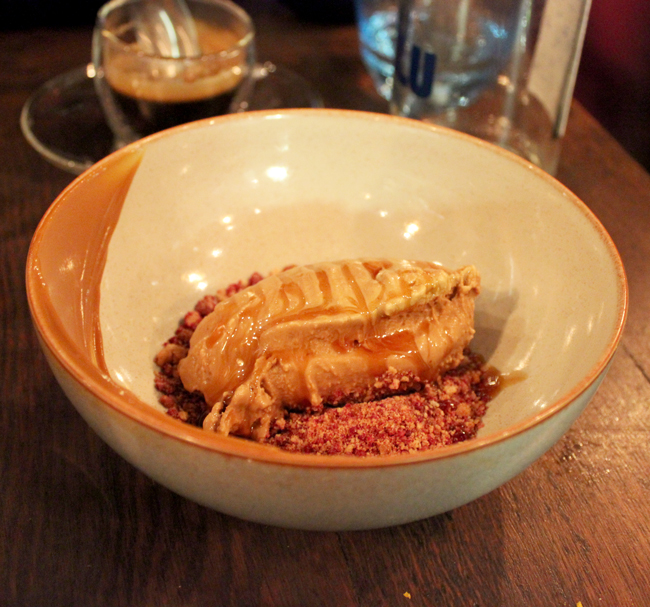 All in all, we enjoyed our meal at Lima, but I won't be hurrying back anytime soon. The food was definitely unique and well presented. Some dishes like the lamb and artichokes really stood out, but the lack of atmosphere and just ok service left a bit to be desired. However, if you are in the mood for some authentic Peruvian food or you just fancy something different for a casual night out, give Lima a try. Just a tip – I recommend requesting to sit in the upstairs "main" dining room. It is a bit more interesting than the lower-ground level "second" dining room where they originally sat us. Also, at the risk of sounding too American, the portions are rather small, so don't go too hungry 😉