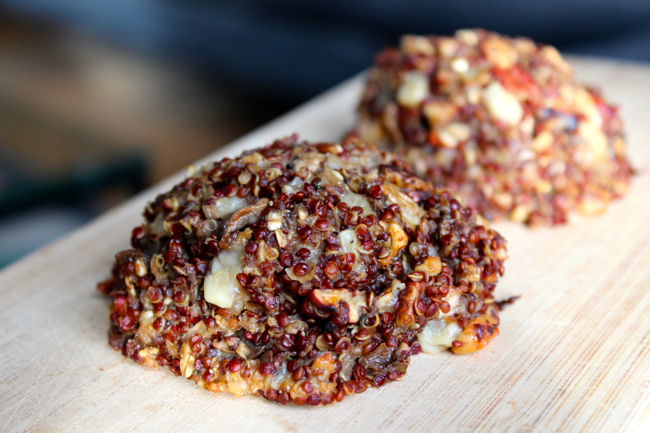 These Cheesy Quinoa & Mushroom Burgers have become a go-to meal for me. In fact, I have made them at least 4 times in the past month. They are so hearty and satisfying and with a little prep, make for a healthy, casual meal. Quinoa is known as a "superfood" in the health world because it is one of the few grains that is a complete protein, unlike wheat or rice.  Quinoa also packs in significant amounts of dietary fiber, phosphorus, magnesium and iron.
I like the fact that these veggie burgers feature quinoa, rather than just starchy beans like most veggie burgers usually do. The burgers are made with onion, mushrooms, cheese, pecans, an egg and a dash of soy sauce and sprinkling of herbs. The result is perhaps the most meaty veggie burger you can make without actually adding meat. The crunch of the pecans and gooiness of the cheese adds loads of texture. I guarantee you'll go crazy for these quinoa burgers. Give them a try!
Cheesy Quinoa & Mushroom Burgers
Recipe adapted from EatingWell
Ingredients
1 cup water
1/2 cup red quinoa
1/2 tablespoon olive oil
1 cup white or yellow onion, diced
2 cups cremini mushrooms, finely chopped
1 teaspoon garlic, minced
3/4 teaspoon dried marjoram
1/4 teaspoon dried oregano
1 large egg
2/3 cup shredded reduced-fat Cheddar cheese
1/3 cup whole pecans, toasted and chopped
1/3 cup quick-cooking rolled oats
1 1/2 tablespoons soy sauce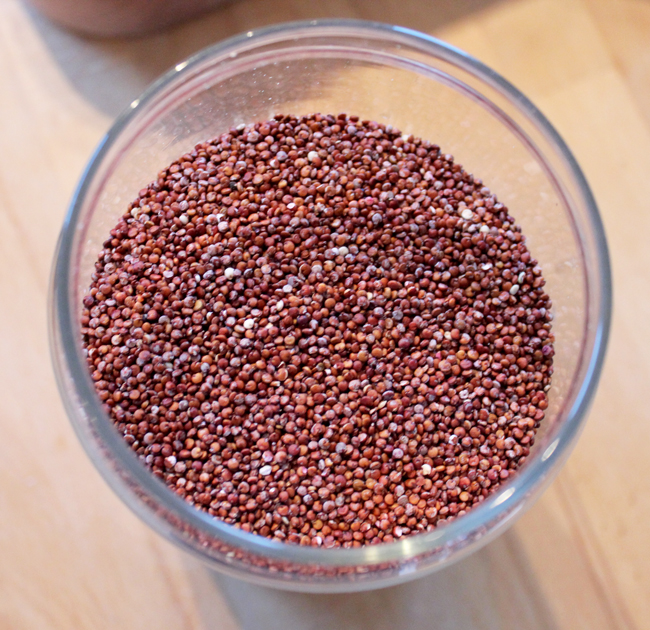 Directions
Preheat the oven to 350 degrees F.
Make the quinoa by combining the water and red quinoa in a saucepan. Bring to a boil and then reduce to a simmer. Simmer, covered, for 15 minutes. Then, remove from heat and let stand for 10 minutes covered until all of the water is absorbed.
Meanwhile, toast the pecans over medium heat in a dry skillet for about 5 minutes until lightly golden. Let cool and set aside.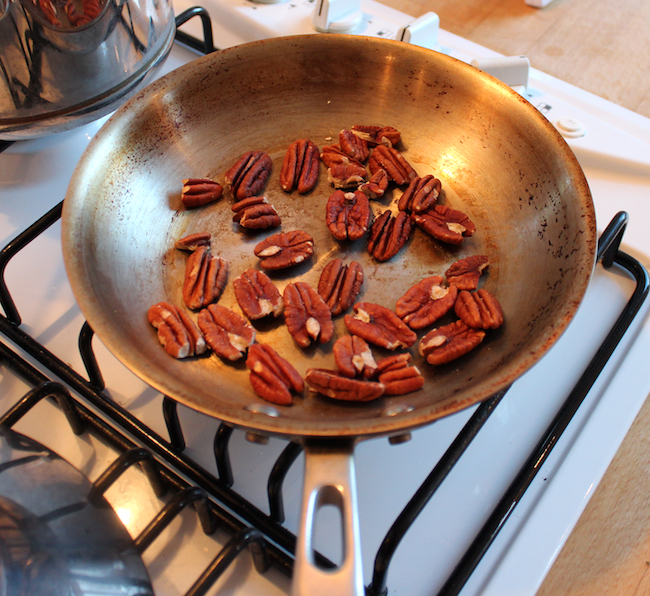 Heat olive oil in a skillet. Add onion and saute for 5 minutes until soft.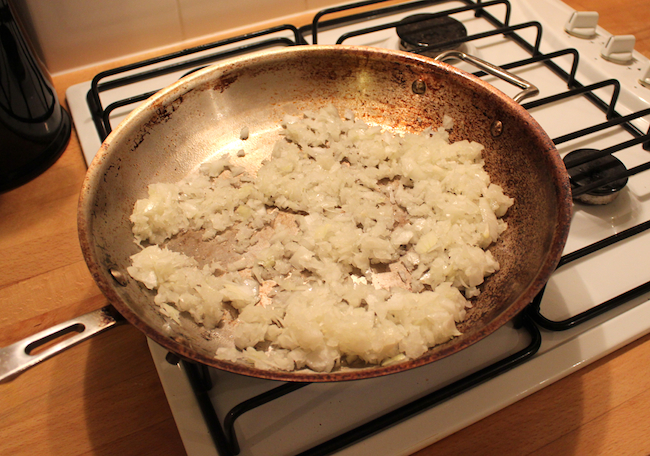 Add mushrooms, garlic, marjoram and oregano and cook for another 5 minutes until mushrooms are tender. Let cool for 5 minutes.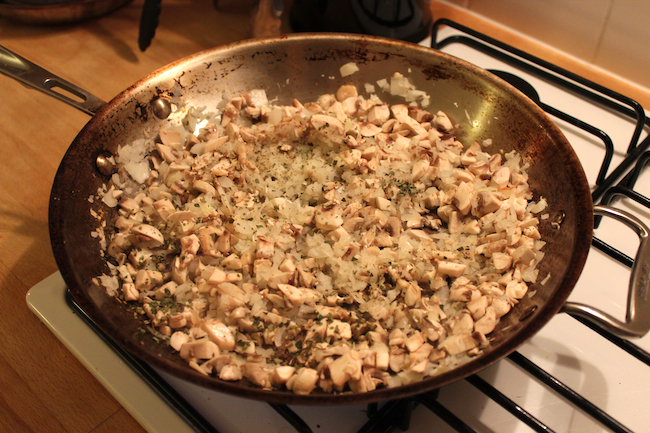 Combine cooked quinoa, onion/mushroom mixture and remaining ingredients (egg, cheese, oats, pecans and soy sauce) in a large bowl. Mix well until combined. Season with freshly ground pepper to taste.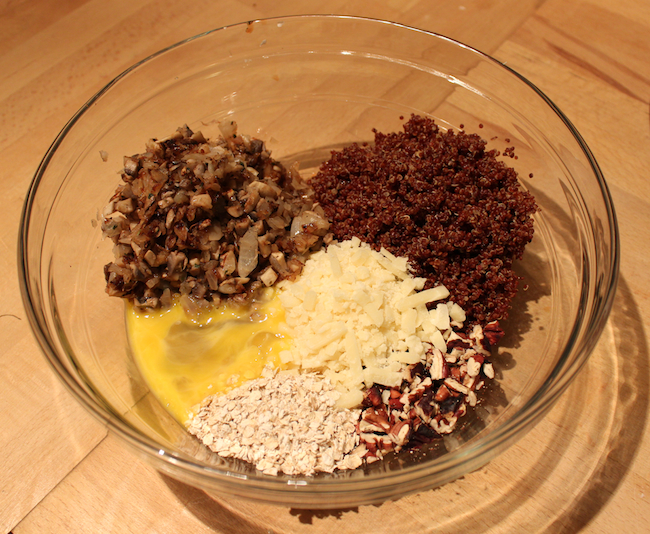 Form into 6 burgers. The burgers will be very wet and crumbly so the shape won't be perfect, but they will firm up nicely in the oven.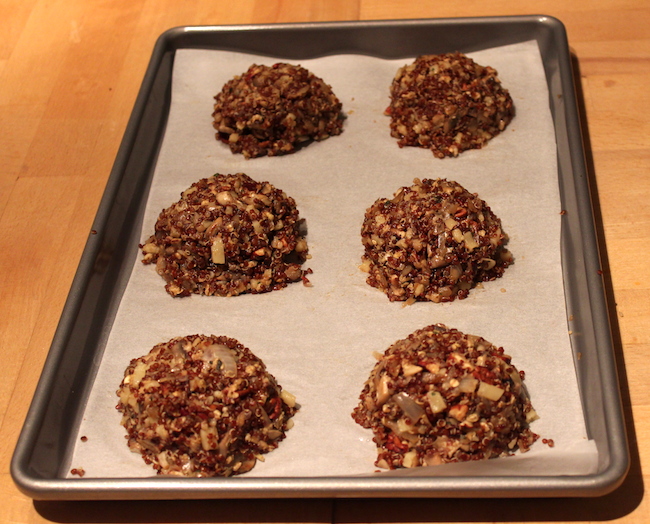 Bake for 28 minutes until lightly golden on top.
Serve on their own, or in a whole wheat bun, if desired. I like to have them with a little sriracha mayo on the side too. Enjoy!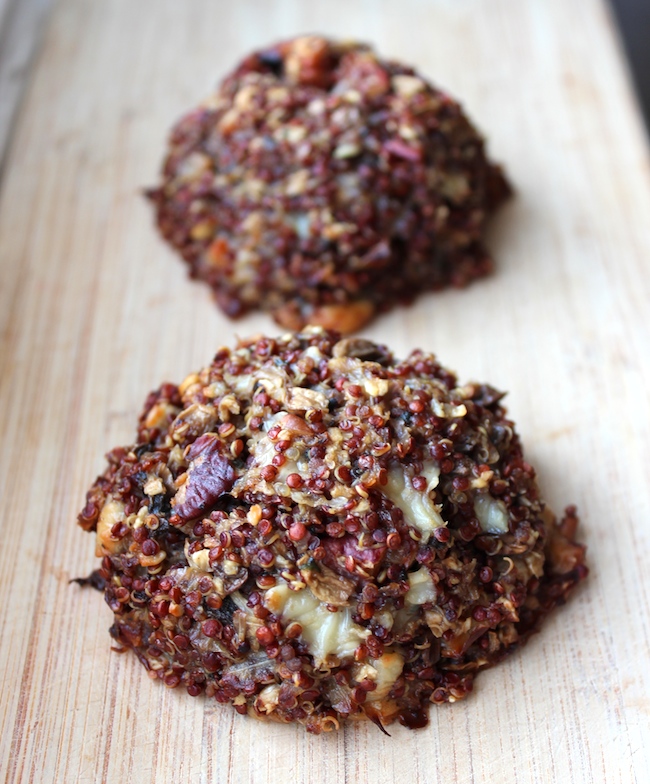 Click here for more healthy recipe ideas on the chic brûlée!