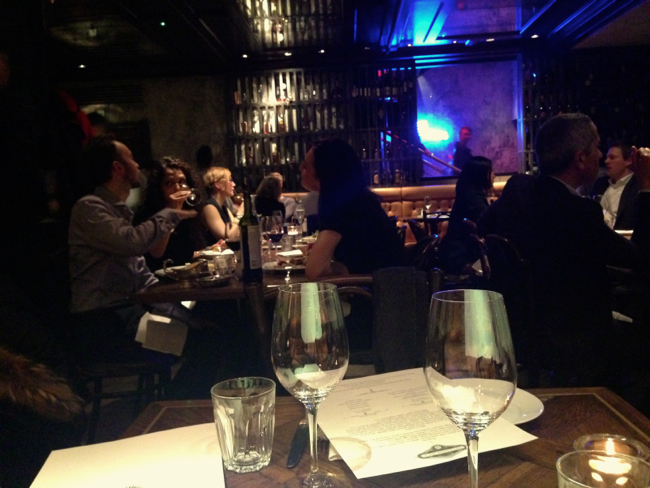 Friday night we checked out Jason Atherton's Social Eating House, a more casual sequel to his Michelin-starred Mayfair eatery, Pollen Street Social (see my review here). Located in bustling Soho, the restaurant focuses on modern British cuisine and presents a sleek, buzzy atmosphere with dim lighting, quirky artwork and closely-packed wooden tables. We ate in the ground floor dining room, however, there is a cool cocktail bar upstairs as well called the Blind Pig which packs in a trendy crowd. With a series of dishes focusing on seasonal ingredients with doses of both playfulness ("P.B.J.") and amped-up traditional English-bistro fare (mushrooms on toast), as well as an experienced staff, we genuinely enjoyed our night out.
We were served a selection of white and brown sliced bread with a side of salted, soft butter. The bread was pleasantly simple, fresh and rustic.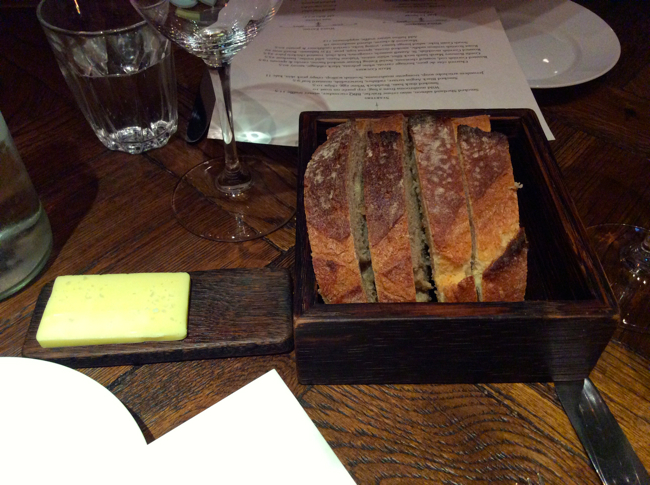 While we were enjoying our wine, we ordered one of their popular snack "jars" with spiced aubergine, tomato and parsley, £5.50. It was full of vibrant flavors, including a good dose of smokiness from the aubergine and plenty of freshness from the parsley. The crispy toasts served on the side were a nice touch. If the goal of the jars is to get us excited for the meal, mission accomplished.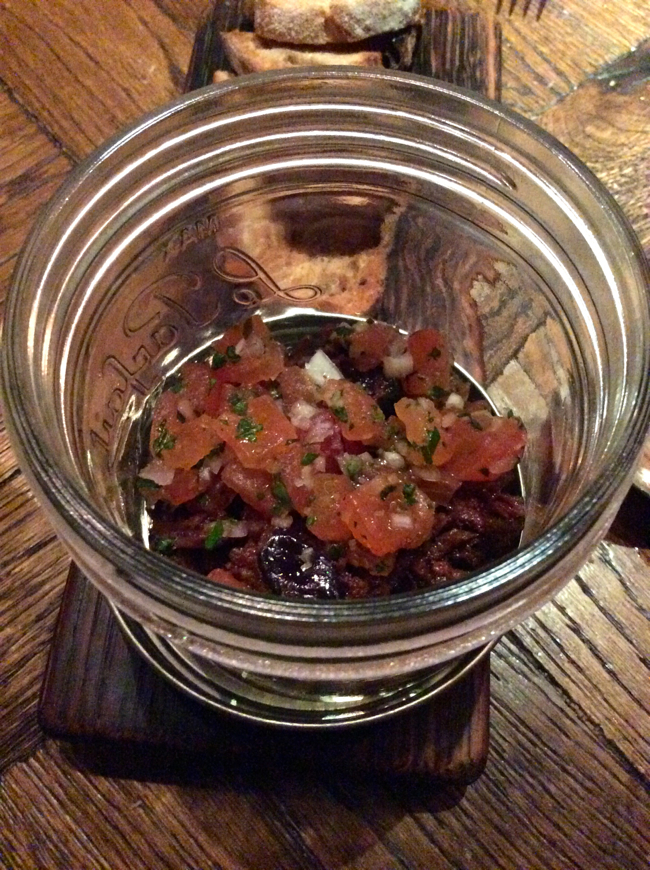 Next up, I had wild mushrooms "from a bag" served with cep purée on toast, £10. I love wild mushrooms so whenever I see them on a menu I have to order them. The mushrooms were indeed cooked in a plastic bag along with a very tasty and buttery juice, which resulted in perfectly moist, yet not mushy, mushrooms. They brought it to the table in the bag and then cut it open on our table, letting the fragrant aromas fill the air. The creamy cep purée smeared on toast added one more (welcome) dimension to the mushroom experience. Delicious!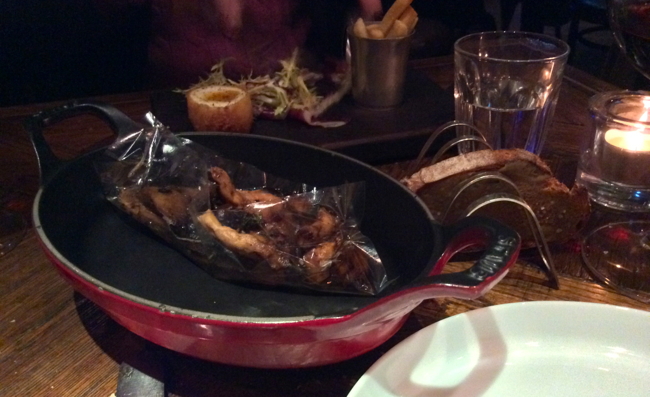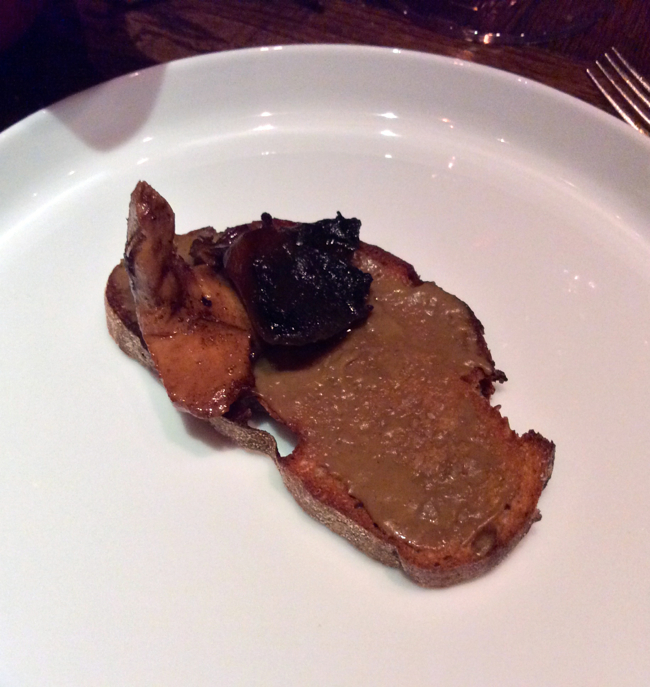 Then we had one of their popular starters of smoked duck ham, Braddock White Egg and chips , £10.50. The fried egg was deliciously crispy and the thinly sliced smoked duck ham was salty and indulgent. A small side of crisp chips made this a really satisfying "pub-style" starter.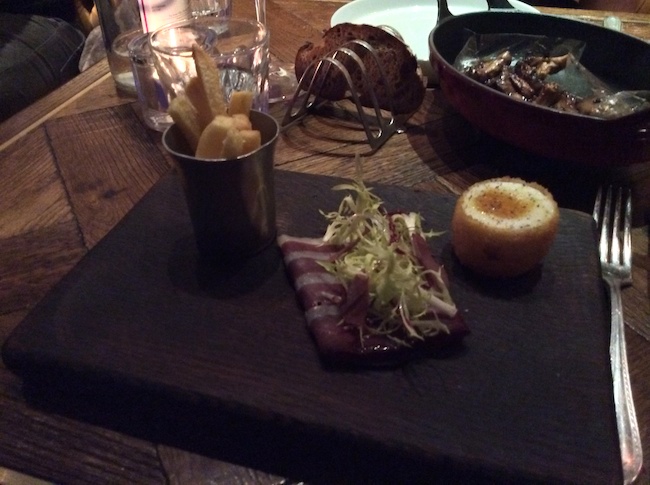 For my main I had roast Cornish cod with toasted chestnuts, "Social Eating House smoked bacon," cavolo and sprouts £19.50. The cod was moist with a golden crust, but the real star was the dynamite sauce that was creamy and full of flavor. I tasted a bit of mustard in it, which added a nice kick. Along with the cod, there were soft chestnuts, salty lardons and crispy sprouts. A beautiful presentation completed the dish.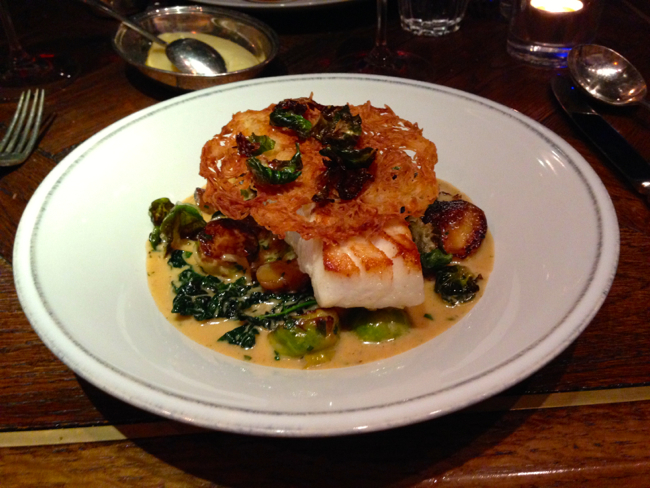 My husband had the venison with kale, ricotta and a side of creamy mashed potatoes. The sauce was rich and flavorful and the bits of ricotta were unexpected, but worked well. A nice winter dish.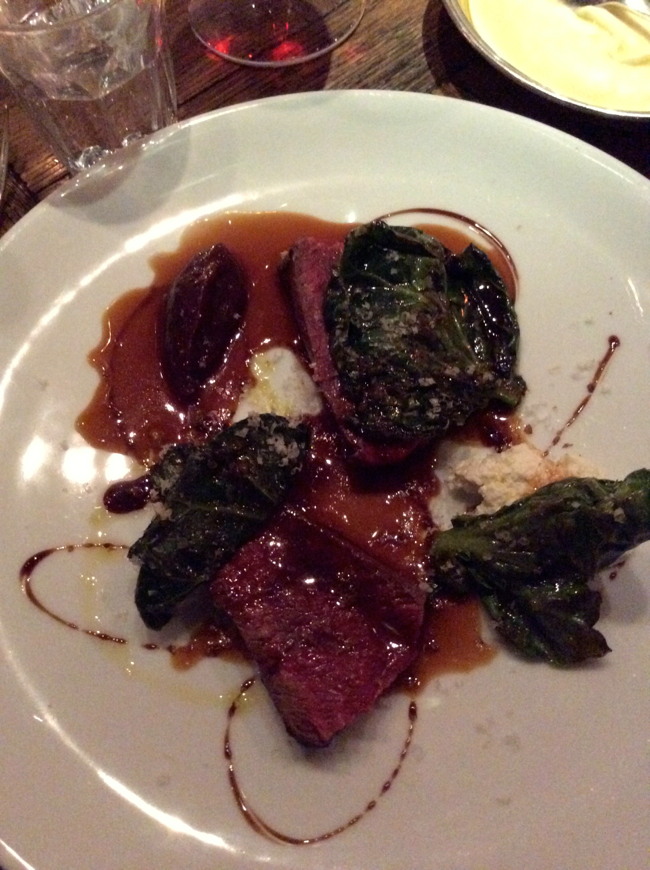 For dessert we shared a "P.B.J," which consisted of cherryade parfait, peanut ice-cream and cherry jam doughnuts, £7.50. Our only regret was not ordering 2 of these. The doughnuts were soft and light and the accompaniments were fabulous. I loved the thin "toasts" for texture and the homemade sorbet/ice-cream was tart and fruity.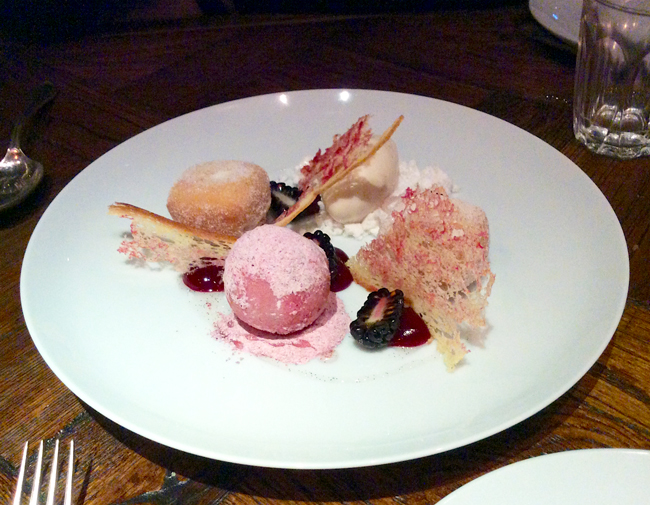 Despite a few small glitches (including a side salad we originally ordered that never came, yet remained on the bill), Social Eating House is a solid dining option in Soho and one I'd be delighted to return to. It's straightforward bistro fare with a modern, inventive twist, and boasts an ambience suitable for a date night or a lively group of 6. With a prime location, there are a host of options for cocktails before and after dinner, which is always an added bonus. Definitely check it out!