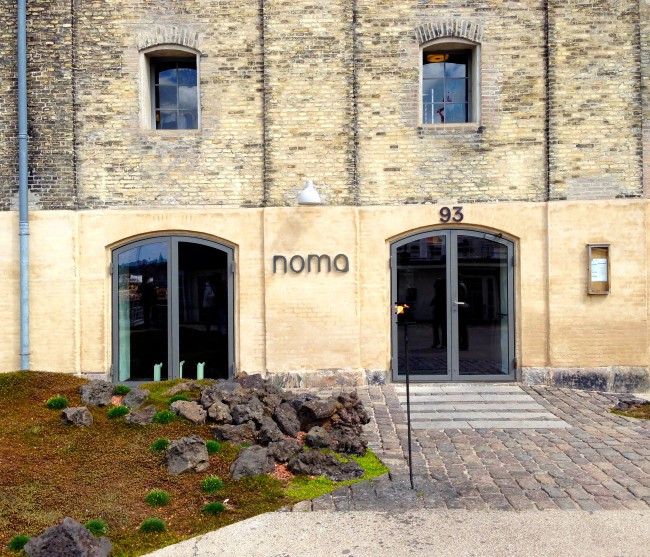 In a stroke of luck, I was able to snag a last minute reservation at Noma, just days after it was crowned the number one restaurant in the world by the San Pellegrino World's 50 Best Restaurant Awards. Noma is renowned in the gastronomic world and needs little introduction. It held the top spot on the list for three years beginning in 2010, until it was ousted by Spanish restaurant El Celler de Can Roca, so the reclaiming of the title just a couple weeks ago was understandably pretty sweet. Led by chef-owner René Redzepi, the restaurant was one of the pioneers of "new nordic cuisine" and is known around the world for its meticulous attention to detail and unique ingredients foraged from the local countryside and seashore. My husband and I are no strangers to traveling for food, so we didn't think twice about hopping on a plane for a rare chance to eat at Noma. As you can probably imagine, reservations are extremely hard to come by, so I was very lucky to have found a cancellation for a table for two a few days before.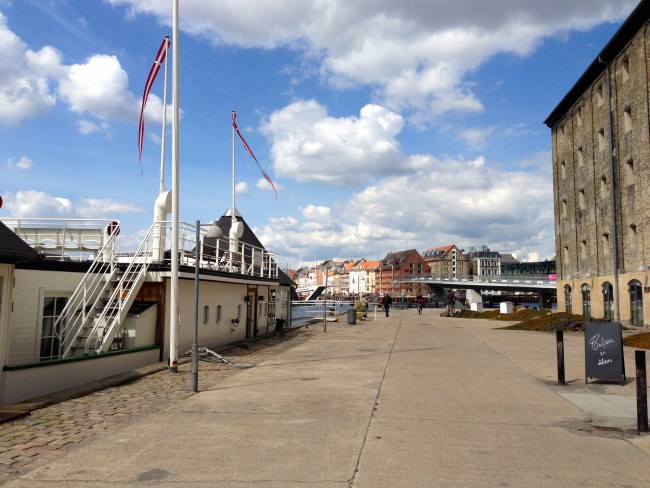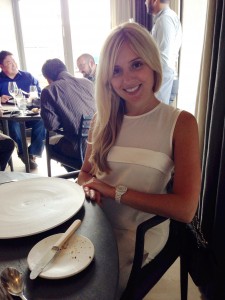 After a quick flight from London to Copenhagen, we arrived at Noma for a 1:00 p.m. lunch.The restaurant is set in a charming and peaceful harbour-front warehouse in the Christianshavn neighborhood of Copenhagen. When we arrived, they knew my name without asking and welcomed us with a greeting from several of the chefs who had stepped out of the kitchen briefly just to say hello. It was a warm and friendly welcome that left a great first impression, which is rare at these types of high-end restaurants that are sometimes a bit stuffy. I was immediately struck with the modern and stylish decor of the restaurant. White tablecloths were eschewed for sleek charcoal gray tables and minimalist chairs draped with chic animal skins, while exposed wood and stone accents filled the rest of the space and created an elegant and modern look. From almost every table you could catch a glimpse of the bustling open kitchen. The atmosphere was far from stiff and even bordered on casual, in the most refined way possible. This was totally cool, sleek Danish style.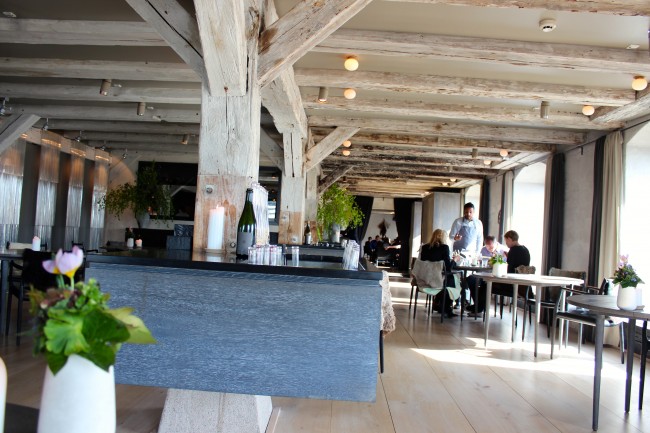 We began with an aperitif (in the form of a bottle of champagne for us), and were promptly started with a succession of 10 snacks to warm us up for the main courses and desserts, which were an additional 10 courses.
First up was a small bite of tangy red currant and lavender. This was very flavorful and I loved the bold colors.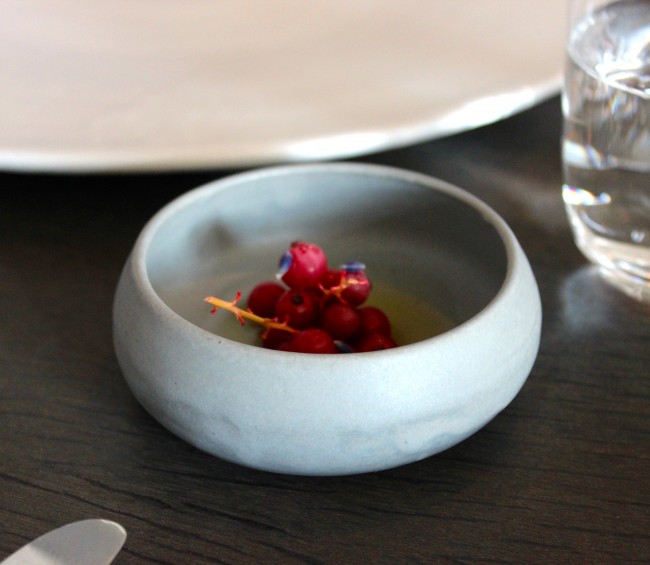 Then, we enjoyed one of Noma's signature appetizers, "Nordic coconut," which consisted of hollowed out beetroots filled with a warm, intensely flavorful broth. This was comforting and complex in taste and I loved the playful sugarcane straw.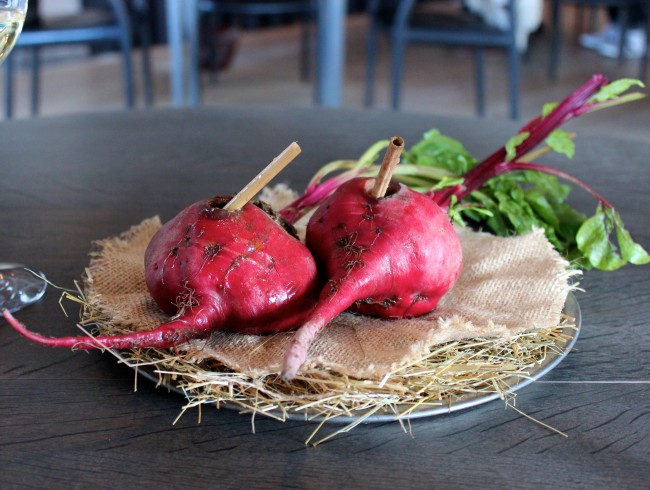 Next was a dish of deep-fried reindeer moss dusted with cep mushroom powder and served over a bed of nordic moss. A crème fraîche-like dipping sauce was served on the side. The moss was so airy and brittle it almost disintegrated the second you put it into your mouth. That said, it was delicious and earthy in flavor and the crème provided a nice refreshing contrast. This was the first of many unique local and seasonal ingredients from the Noma chefs.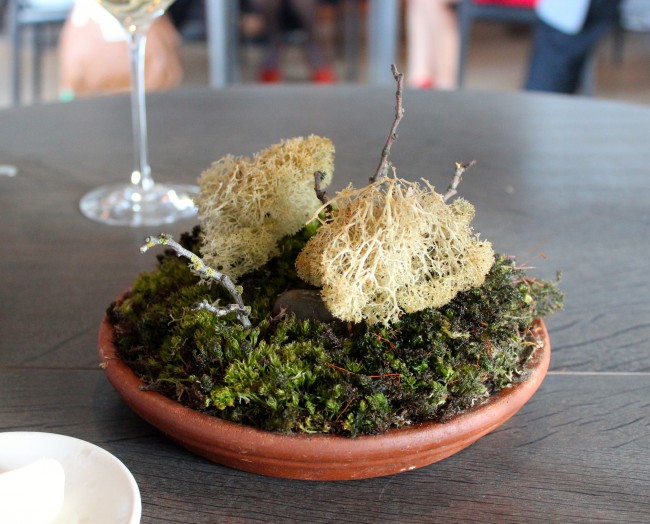 Then we had a dish of nutty green seeds of an elm tree over a paste of caramelized yeast. This was a standout dish and so unique in flavor and textures. We were instructed to use our hands to pick up the leaves and dip them in the yeast.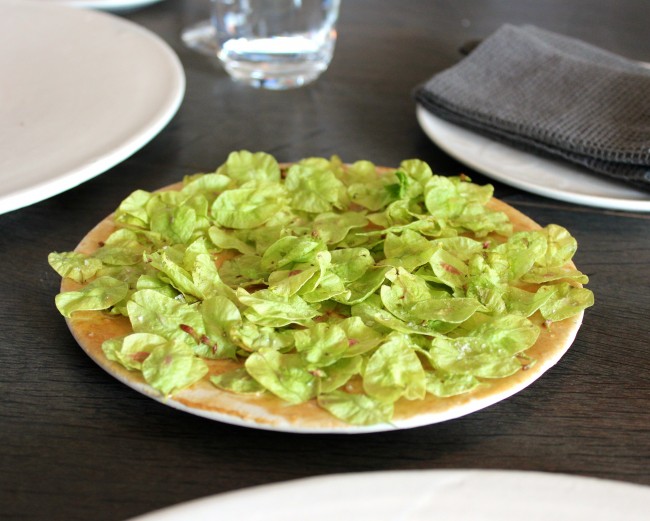 The next snack was a "flower pie" consisting of a stunning arrangement of colorful, edible flowers on a crisp, paper-thin flatbread coated with a layer of an herb pesto. I could eat this every day. Delightful!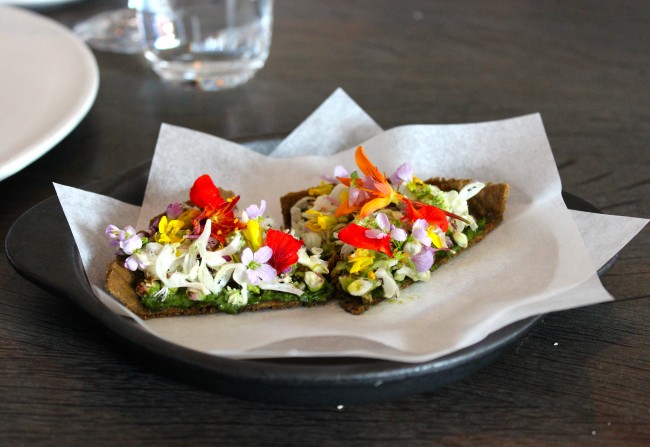 Next was another classic Noma dish: pickled and smoked quails egg served on a bed of hay in a large, porcelain shell. The eggs had a velvety smooth, runny yolk and the amount of smokiness was just enough.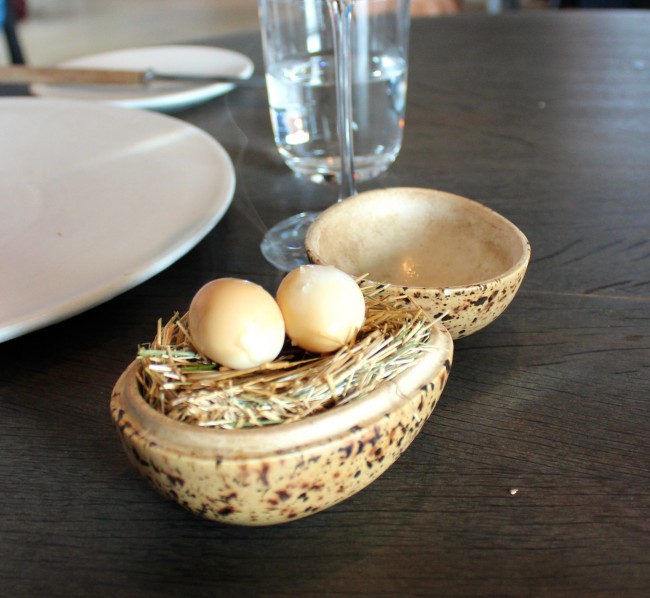 We were then served one of my favorite dishes of the night, a white cabbage "sandwich" filled with samphire. The crispy cabbage "chips" were cooked in rose oil and wafer thin. The samphire inside tasted almost creamy. A very tasty bite.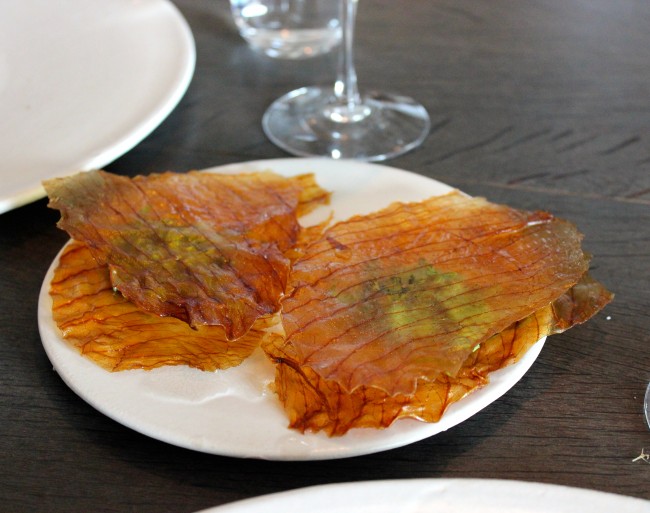 Next was a Danish classic, Æbleskiver filled with lovage and parsley. Æbleskiver is a popular sweet Danish pastry traditionally filled with apple and served around Christmas. Noma, of course, put their own spin on it and made it savory by filling it with a delicious mix of hearty greens. The pastry itself was moist, fluffy and cake-like, with a crispy, buttery exterior. This was absolutely one of my favorite dishes of the night (and definitely deserves 2 photos!). Incredible.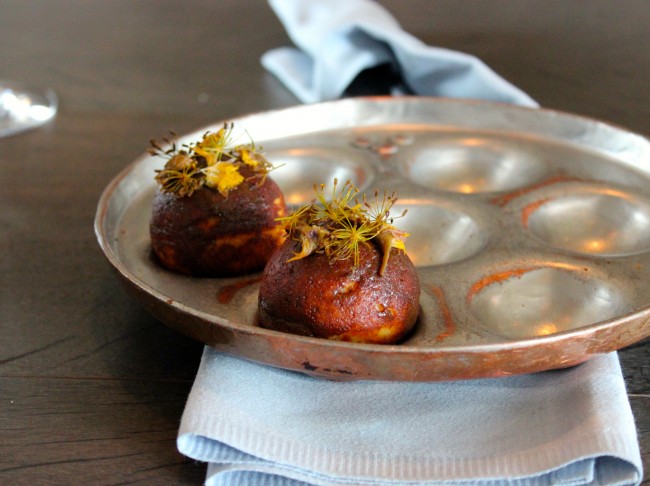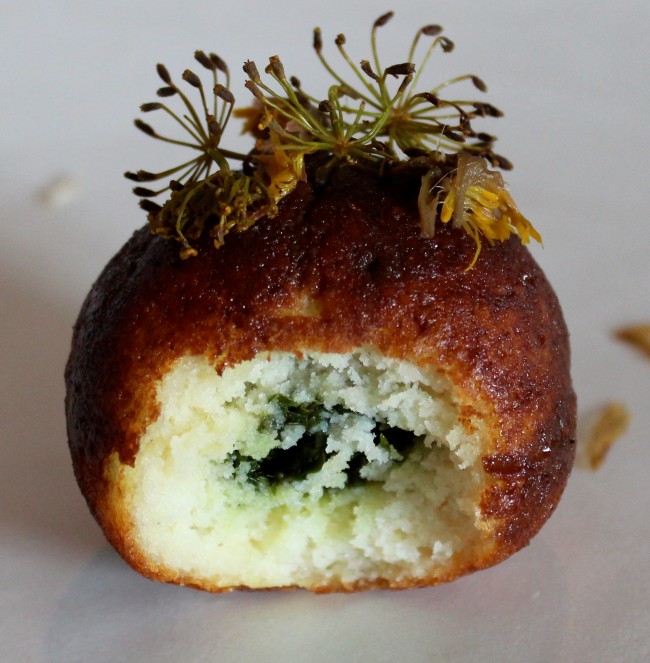 The next snack was lumpfish roe "toast" with crispy skin.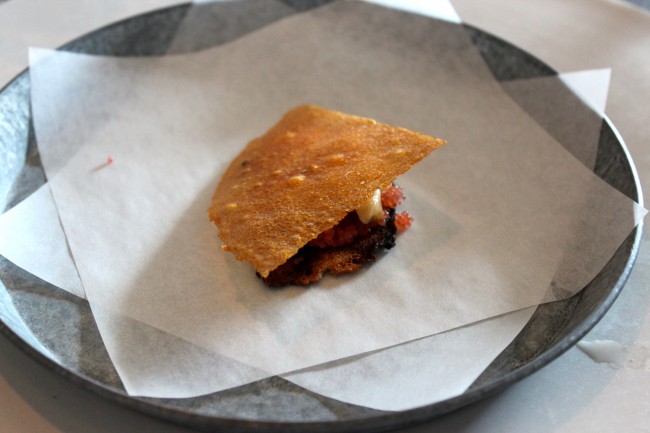 Then, dramatically, we were served a barbecued pike head skewered on a stick and brushed with kelp oil, with a small bouquet of foraged herbs on the side. One of the cool parts of the experience was that each and every dish is brought to the table by the chef who prepares it. They enthusiastically explain the ingredients, origin, inspiration and any instructions on how to eat it. The chef who brought out the pike head urged us to to eat the eyeball as this was one of the tastiest parts. In addition to the eyeball, the cheek was very moist and meaty.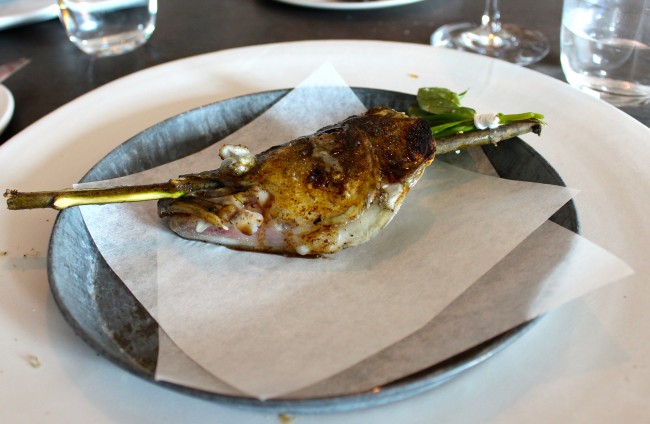 Then, a burnt leek filled with pre-sliced pieces of the moist inside of the leek and cod roe. The filling was creamy and rich. This wasn't one of my favorites, but still good.
This was the last of the snacks. It was now time to move on to the main courses!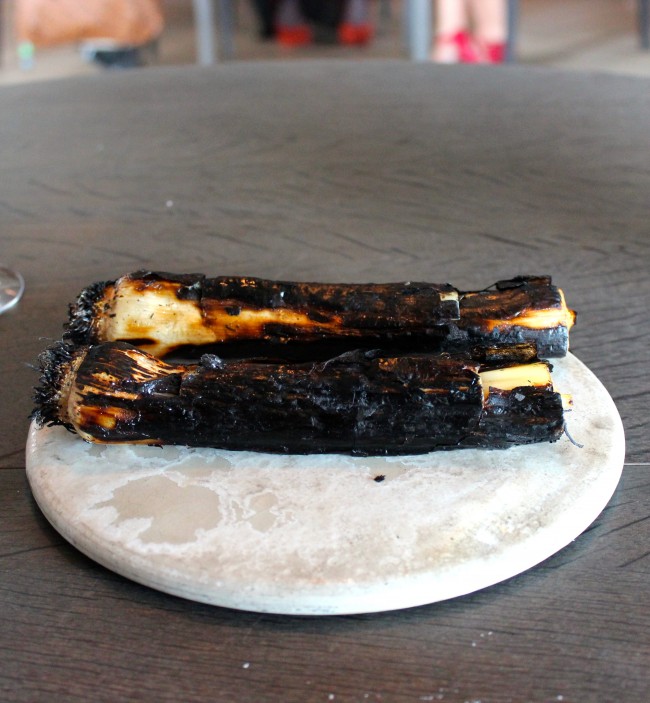 For an intermezzo, we enjoyed an apple slowly poached in sloe berry juice with kelp. The apple was served chilled and so soft… it totally melted in your mouth. Loved this and the fun presentation!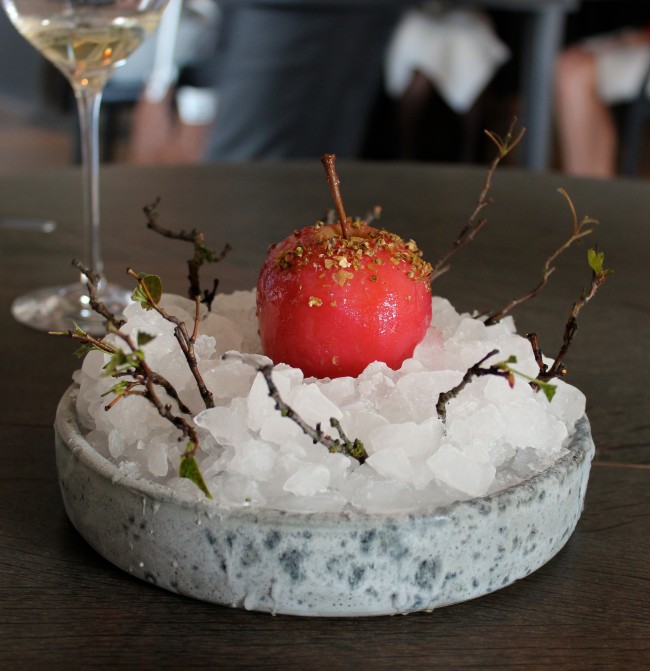 Bread and butter was unsurprisingly far from ordinary and served with a selection of "virgin" butters and a decadent whipped pork fat dip sprinkled with pork skin and crispy onions. The bread was made from ancient grains and had the crispiest crust and softest inside. I heard they make the bread twice a day before each service — and it shows!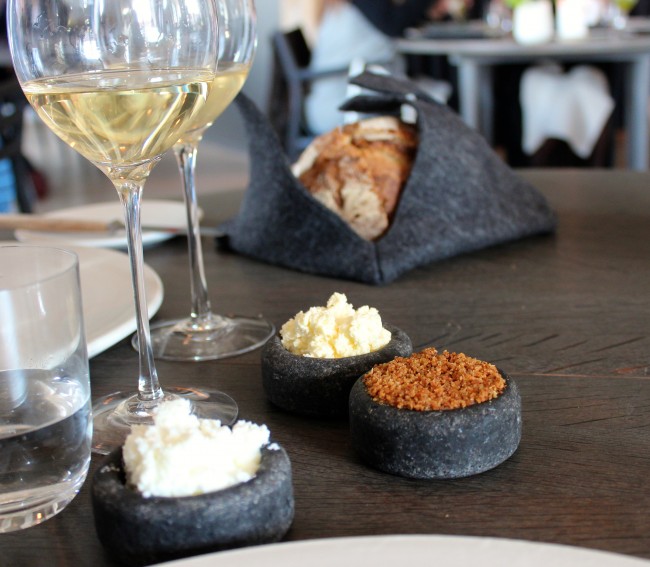 Then we had sweet shrimp and ramson with radish and yeast, which looked like beautiful little cherry blossoms. This was light and fresh.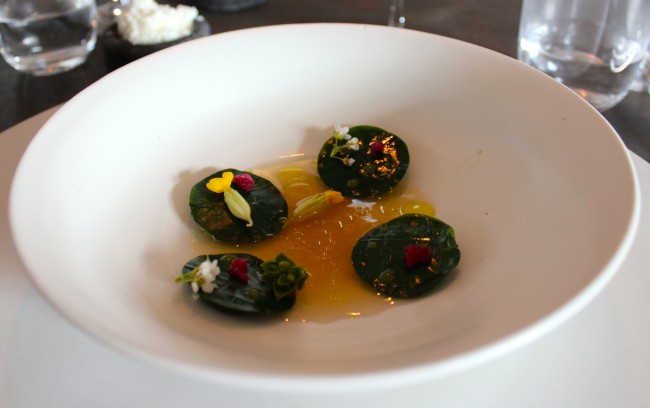 Next up was a dish of blueberry preserves and fresh milk curd with lemon thyme and pine. I loved the sweet and sour flavors. The combination of ingredients was unique, but it all worked well together (this was a recurring theme throughout the meal!).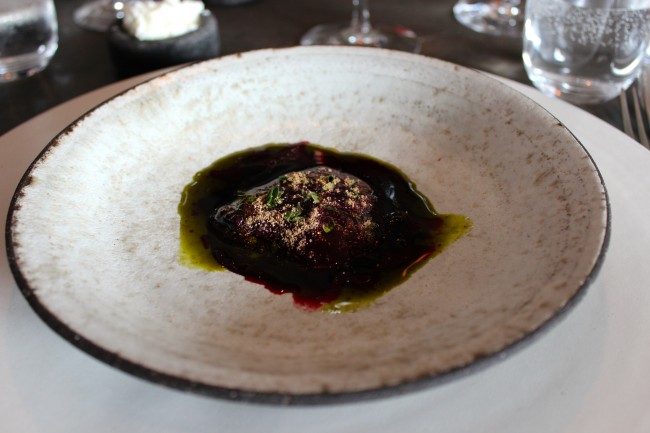 It was now time for one of Noma's wilder offerings, beef tartar and ants. The quality of the raw beef was superior and, despite the shock factor, the ants actually worked really well on this dish and offered a distinct lemony flavor (who knew) and obvious crunch. A lot of high-end restaurants try to shock you, but it's extremely important that what you are eating actually tastes good as well. Noma definitely achieved that balance with this dish.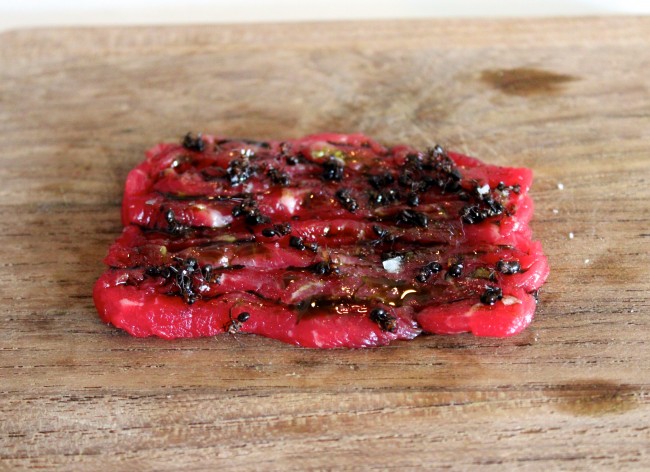 Then, we had beetroot with sloe berries and aromatic herbs. This was a great tasting vegetable dish with a lot of dimension. Lovely!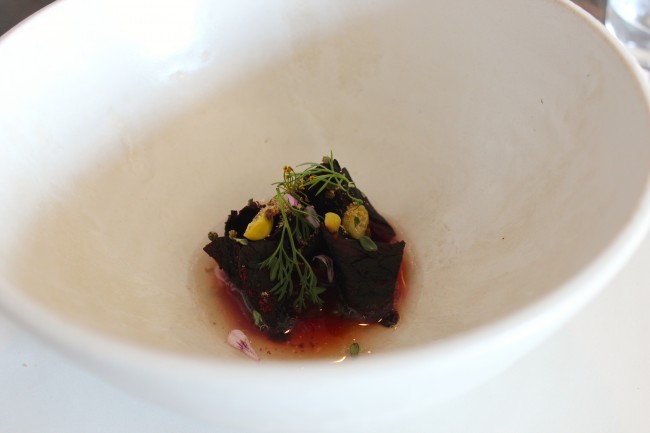 And then a lightly smoked egg with steamed fresh greens. This was a nice light course, but it simply did not stand out as much as the others.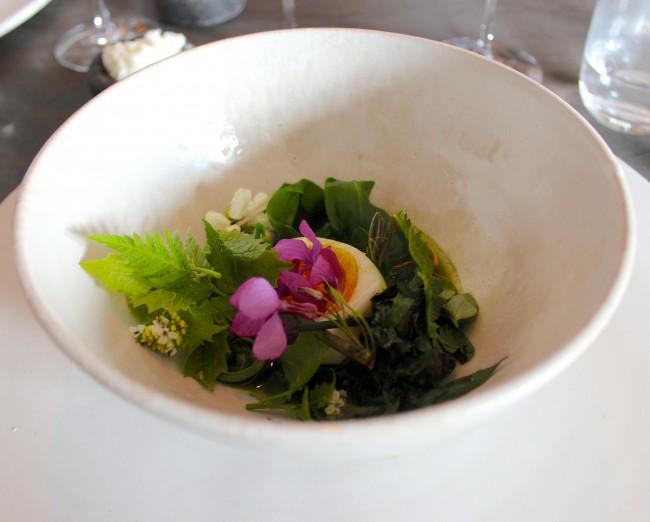 We then had turbot with horseradish cream and wood sorrel. I loved the firey kick of horseradish. Somehow they managed to make a cream sauce rich and satisfying without being heavy. The fish was moist and well seasoned.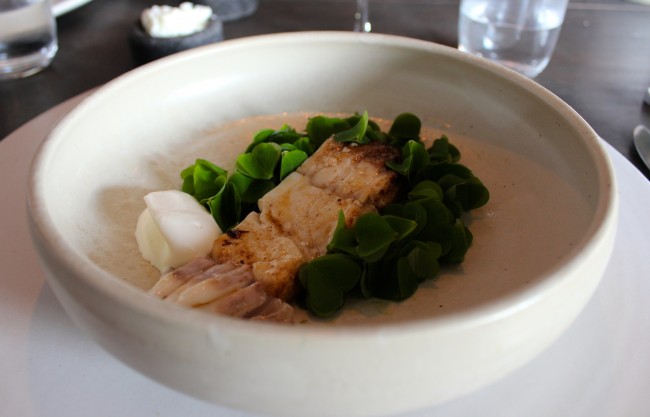 It was now time for dessert! The first course was aronia berries and söl. Presented in a flan-like shape, a center of frozen curd cheese was liberally covered in a dark berry puree. The flavors were clean and refreshing and not very sweet. A pastry chef at Frantzén once told us that dessert courses should be served in order of increasing levels of sweetness as to make a smooth transition from the savory courses; so in other words, your first dessert course should be not too sweet at all and the last quite sweet. It seems Noma shares a similar philosophy (…. as if we needed more reasons to trust the Scandinavians with fine cuisine!).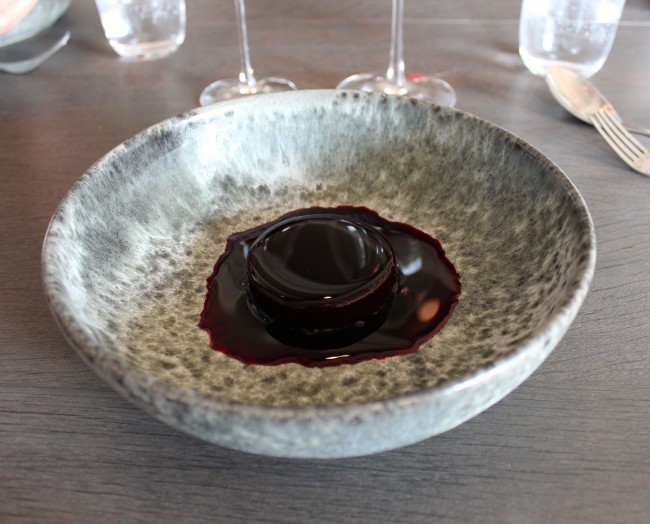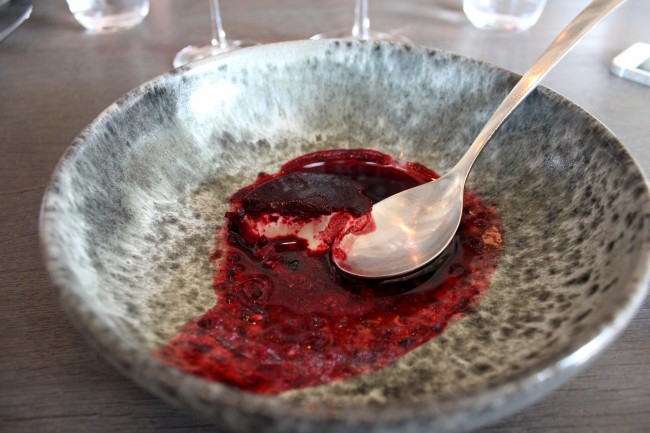 Next up was another one of my favorites of the night: potato and plum. Three separate sections consisting of (separately) mashed potatoes, plum purée, and a cream made of the inner seeds of a plum, were served. When tasted all together we got a delicious marzipan flavor that was totally unexpected. I adore marzipan so for me this was heaven. My only complaint here is that I would have loved a larger portion!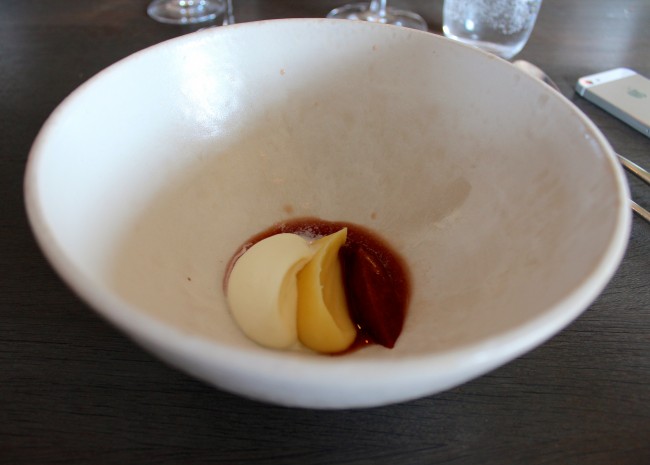 With the formal desserts over, we were now served "three treats" to accompany our coffee and dessert wines.
First was a frozen caramel yeast fudge served with elderflower salt and Icelandic yogurt. The "fudge" had a really nice chewiness to it and the accompaniments went along beautifully.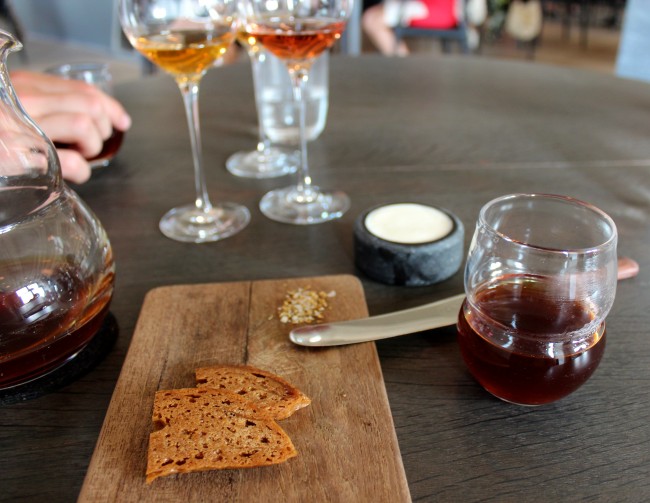 Then we had a sweet, buttery and flaky danish with barley glace and a "chocolate" frosting that was actually made from aged seaweed. This was absolutely scrumptious and easily the best danish I've ever had. We would have loved one each though, rather than having to share!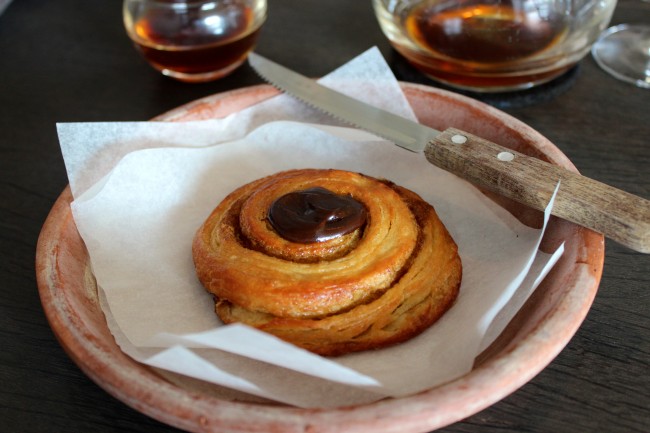 And, finally, crispy pork skin coated in milk chocolate and sprinkled with freeze-dried berries, and a dark chocolate coated potato chip with fennel seeds. Desserts with a savory element are all the rage everywhere so although this wasn't completely unexpected, it was executed well.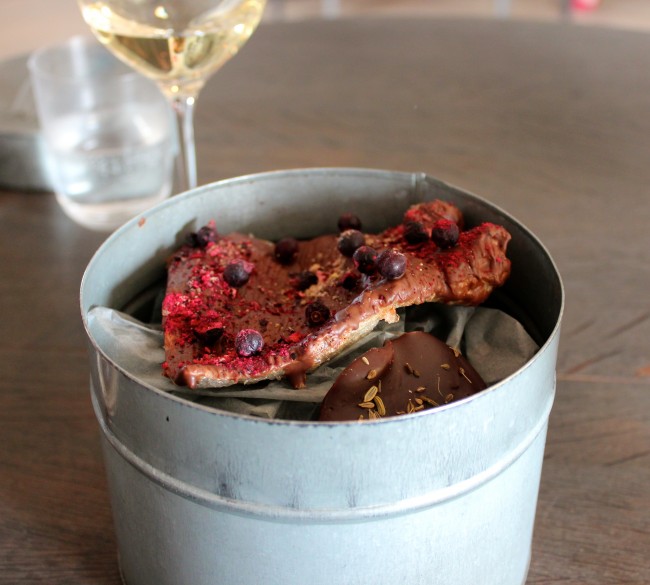 And that was the end of our food journey! Looking back at the day, I have to say, having been to 6 of of the top 10 restaurants in the world (which will be 8 by the end of the summer with our upcoming reservations), I had higher expectations for Noma. Although the food was delicious and innovative, shortcomings in the service and a lack of consistency left me a little disappointed in the end.
For the first half of our meal, the service was spotless. We enjoyed the interaction with the chefs as they brought their respective dishes over to our table, and the waiters were helpful and experienced. Because I had done a fair amount of research on the restaurant before we got there, I knew in advance a lot of the little surprises and twists and turns of the dining experience. This may have backfired on me, because I was ultimately let down by what we were offered and the way we were treated.
For example, at some point either just before, during, or after the dessert courses, each and every table in the restaurant was invited to the lounge section of the restaurant to relax and enjoy the rest of their meal. We, however, were kept at our dining table and never asked to visit the lounge, and consequently, were left in the end as the only people in the main restaurant while everyone else continued on the afternoon in the lounge. We were not the first nor the last table to arrive at the restaurant, so it was is unclear why this happened. It was puzzling, and just didn't leave a good impression on me.
A quick note of the wine tasting: it was good, but not great. There were some tasty choices, but some of them,  particularly the dessert wines, were not as nice or interesting as we'd hoped. We saw some tables with a juice tasting, however, for some reason we were not offered or explained this option by our waiters so I do not know too much about it. Again, this lack of consistency left me a little confused.
A few other small kinks didn't sit well for a restaurant of this caliber, such as how the waiters kept refilling still water in my glass of sparkling water (I know I'm nitpicking, but still…!). Also, we noticed several of the tables were invited for a tour of the kitchen, yet we were again not invited to do that either. For DKK 1600 per person (not including wine), I expected at least to be treated as well as the other tables. I noticed Chef René was not in the restaurant either, which was a bit unusual in my experience since we usually see and even met the head chefs at other comparable restaurants. I am not sure if we caught Noma on an off day, but I do wish things had ended differently. Overall the food was spectacular and I enjoyed some really memorable, creative dishes, but for me going to place like Noma is all about the experience, and the just-ok service makes me hesitant to come back.
Noma
Strandgade 93
DK-1401 Copenhagen K
+45 32 96 32 97
noma.dk