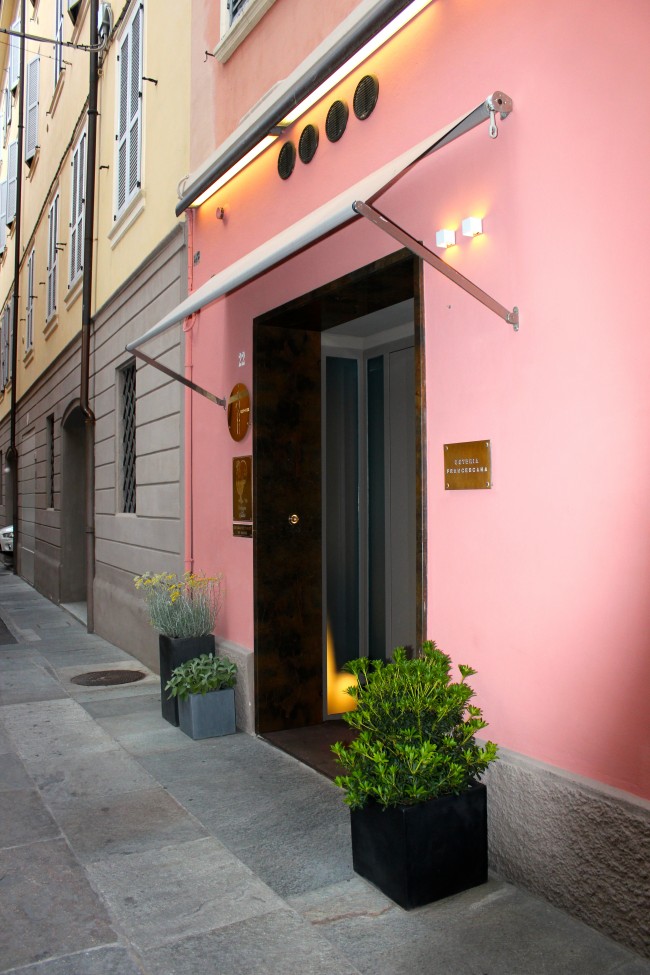 I recently had the opportunity to dine at Osteria Francescana, a three Michelin star restaurant located in the breathtaking Emilia-Romagna region of northern Italy. Led by acclaimed chef-patron Massimo Bottura, Osteria Francescana holds the spot for the number three restaurant in the world and is renowned worldwide for its artistic flair, creativity, and masterful use of local ingredients. With a combination of impeccable service and dishes that wowed and delighted literally one after the other, my husband and I had a glorious time and cannot wait to go back.
We spent a couple days in Modena, where the restaurant in located, and I thoroughly recommend doing that as well if you are lucky enough to dine at Osteria Francescana. Modena is the home of true balsamic vinegar and also, interestingly, the birthplace of Enzo Ferrari and Luciano Pavarotti. There is a super cool Ferrari museum not too far out of town that is definitely worth a stop.
We arrived at the restaurant post-apertivo (try Mon Café a couple blocks away) for an 8:00 p.m. reservation and found it located on Via Stella, a quiet and pretty side street near the center of town. Once the doors opened, I was immediately impressed with the eye-catching contemporary art and design. There was an elegant living room-style room in the front, that led to two small separate dining rooms that also had  minimalist furniture with cool gray and icy blue tones. The table was generously sized and I loved the gorgeous gold plates that, as I later discovered, were perfectly suited for the sublime food that was about to arrive. Although the contemporary theme was consistent throughout the room and even ultimately the food, the crisp white tablecloths and fine tableware added a sophisticated, grown-up touch.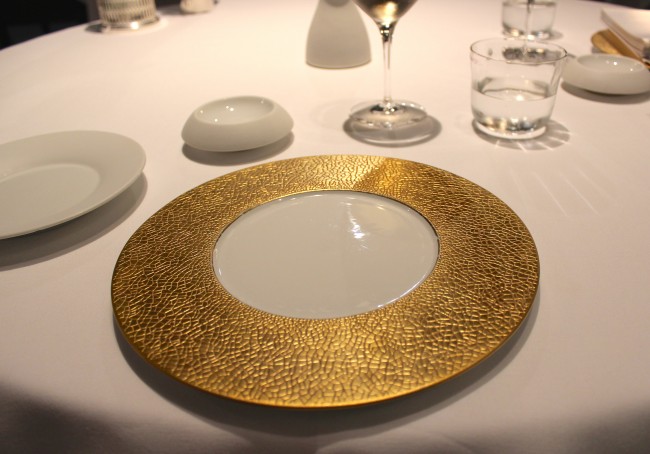 To begin, we were offered the choice of an a la carte menu or one of three tasting menus: tradition in evolution, classics and sensations. The tradition in evolution menu (7 courses, €130) explored Emilian ingredients from a contemporary point of view, while the classics (9 courses, €165) served Osteria Francescana's most renowned plates, and, finally, the sensations menu (12 courses, €190), delivered courses from the experimental kitchen. Since it was our first time to the restaurant, we decided to do the classic menu to make sure we tried all of Chef Massimo's specialities.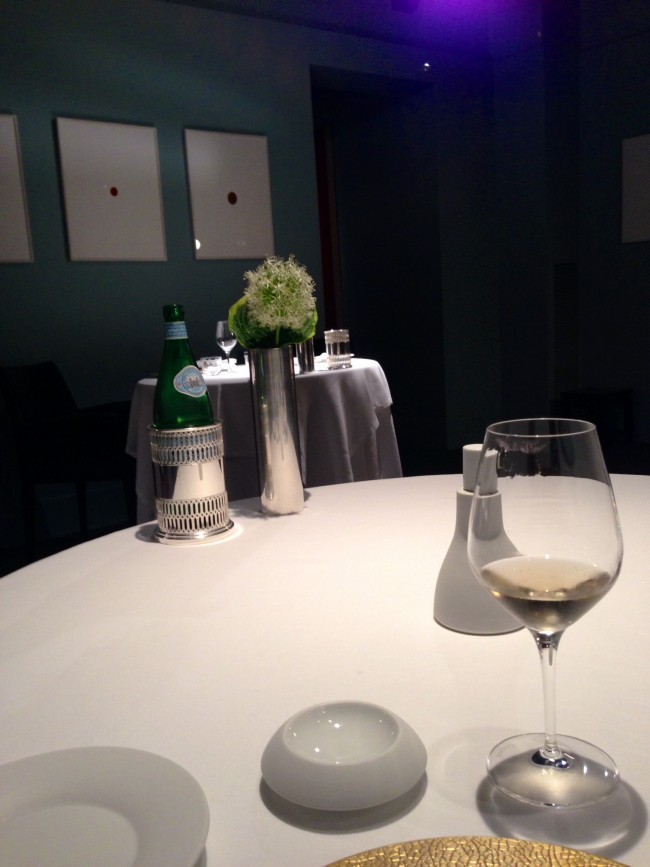 The journey began with a crisp glass of champagne for an aperitif and the first of two bread courses: a piping hot, crusty sourdough bread, served with olive oil from Tuscany. The olive oil had a nice greenish color with a noticeable and pleasant bite. Since we were in Italy, I admittedly expected some delicious freshly baked bread and this did not disappoint. I have to admit, this is the first time I was served more than one bread course at a restaurant. It's a brilliant concept though, and one others surely should catch on to.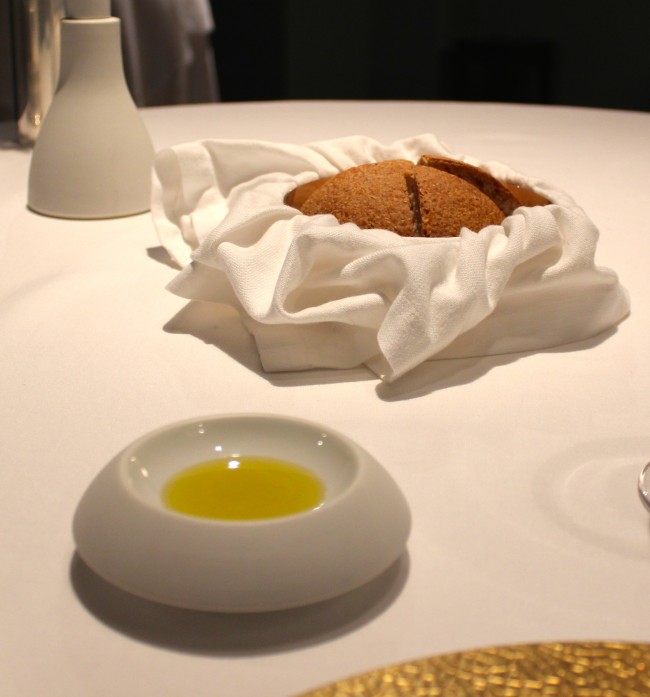 The first of our courses was an amuse-bouche called, "tempura with carpione." Like a modern and refined take on "fish and chips," this unexpected bite consisted of aula, a freshwater fish, sandwiched between a light-as-air tempura crust and topped with a savory, cold "carpione" gelato with fresh herbs. The combination of temperatures and textures made for a highly satisfying bite. A brilliant start to the meal indeed.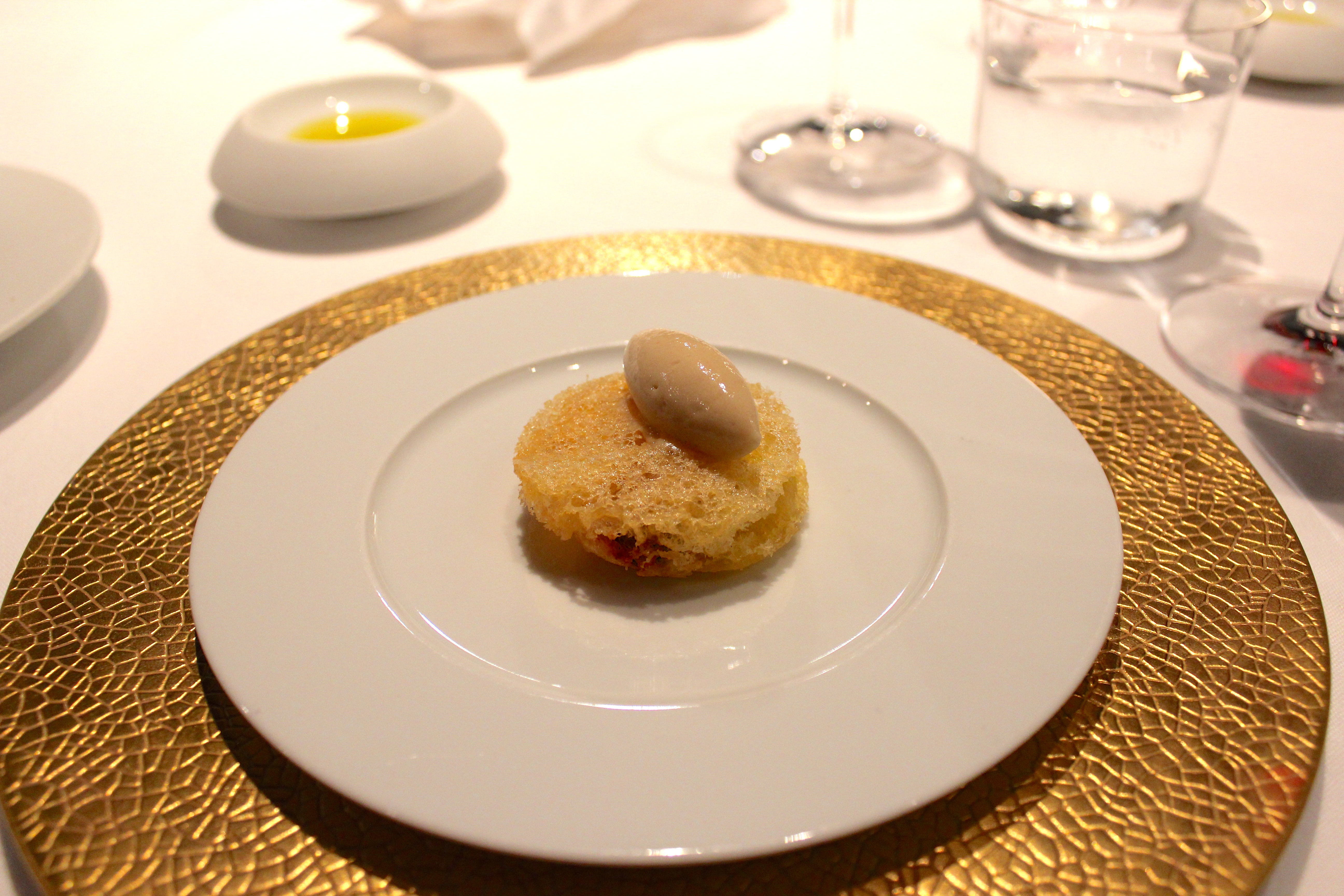 Following this, we were served our next bread course which was a selection of extra-long grissini alongside a basket of soft white buns and crispy mini whole wheat croissants. The grissini were the best I've had – crunchy, with an earthy, olive oil finish. The hearty mini whole wheat croissants became my new obsession. Dipped in the Tuscan olive oil they were delightful. It got to the point where I kept eating as many as I could in the event they would be removed for a possible additional course. Lucky for me that didn't happen and I was able to enjoy in between courses for the rest of the meal!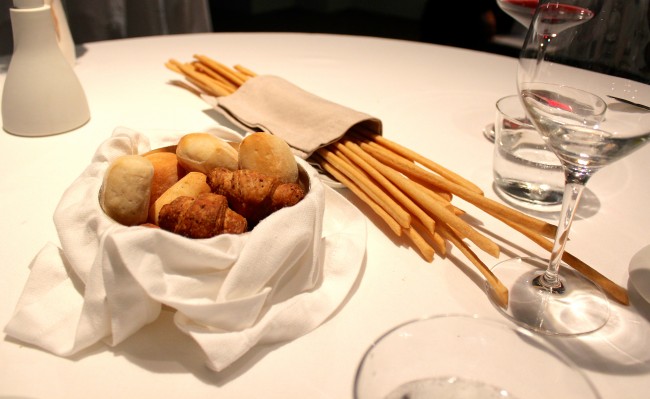 The next course was called, "an eel swimming up the Po River," which arrived beautifully plated. As with most dishes at Osteria Francescana, this dish tells a story and each and every ingredient is carefully selected to complement each other and elevate the dish as a whole. The smoked adriatic eel was lacquered in saba and served alongside a side of creamy polenta and a tangy green apple sauce. Saba is a syrupy form of balsamic vinegar that is made from the slow-cooked grape must of Lambrusco and Trebbiano grapes and then then reduced. Some burnt onion powder on the side and a topping of crunchy ash on the eel completed the dish. The eel was succulent and sticky, but in the most refined and delicate way possible.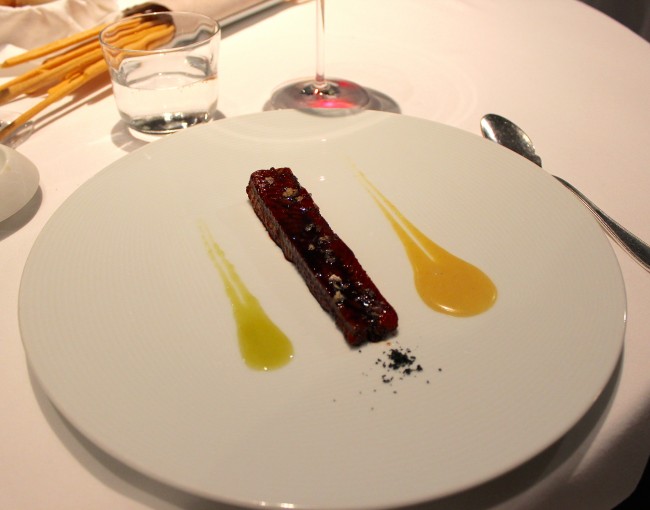 Then we had "Caesar salad in Emilia," a soft, buttery head of lettuce with 22 carefully selected ingredients expertly hidden in the leaves. Some of the toppings included bacon, vinegar, mustard, dill, toasted bread and crispy pieces of sharp parmesan cheese, just to name a few. Despite the lengthy ingredient list, the dish was amazingly simple and light.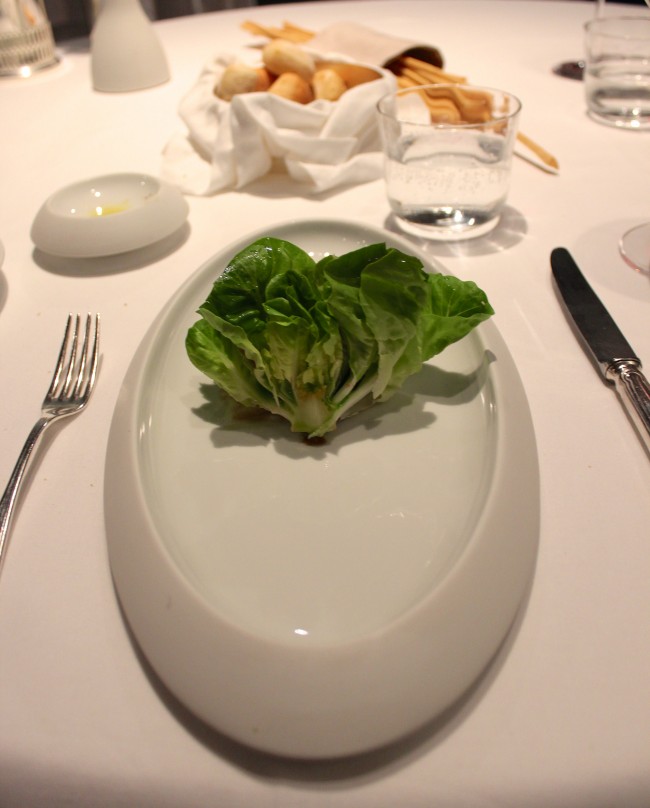 Next up was one of my favorites of the night, "Five ages of Parmigiano Reggiano in different temperatures and textures." Since Parmigiano is produced in the Emilia-Romagna region, Chef Massimo had a lot to live up to and he certainly delivered with this iconic dish. The different preparations of Parmigiano included a demi-soufflé, mousse, foam, liquid cream and a thin crisp, each produced with cheeses of varying ages of maturation from 24 – 50 months. The tastes and temperatures were all slightly different, but together produced delicious bites that were full of dimension and sharp flavors. The deconstruction of this much-loved cheese was a revelation and one of the most memorable dishes I have ever had.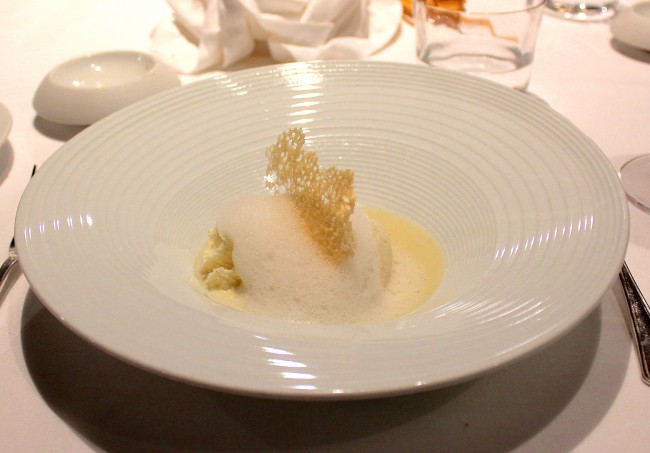 Then we had another favorite of the night, "Cotechino 365 days a year." My husband and I are still talking about how exceptional this dish was. Two perfect ravioli were filled with a rich stewed filling of lentils and Cotechino, a pork sausage native to Modena. The pasta was impossibly thin and served only steamed as to not distract from the hearty, flavorful filling, which provided all of the sauce you needed. Our waiter explained that cotechino and lentils are traditionally eaten on New Year's Eve or Day to bring luck for the upcoming year, however, at Osteria Francescana they found a way to enjoy them year round.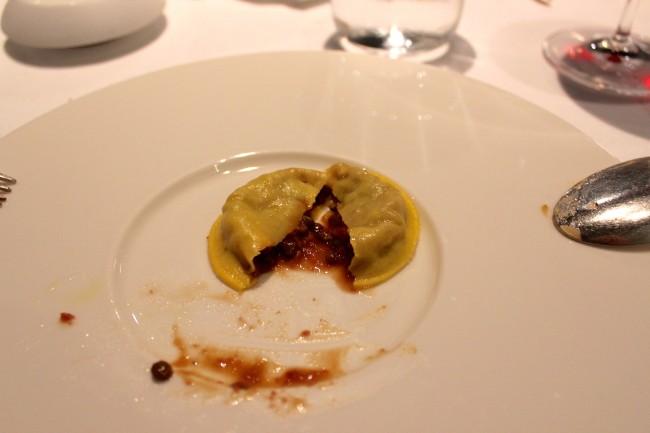 The next course was, "Snails under the earth," presented in the form of a soup. Snails were covered by an "earth" of black truffle, nuts, and coffee, and "hidden" under raw potato cream and garlic foam. My picture does not do it justice since the good stuff was underneath!
Since I do not prefer snails, I had a course of braised leeks and shallots with black truffle instead. This was totally up my alley and so satisfying. The leeks and shallot were in the form of a "tartlet" and creamy and soft, and the fragrant black truffle elevated the dish to something really special.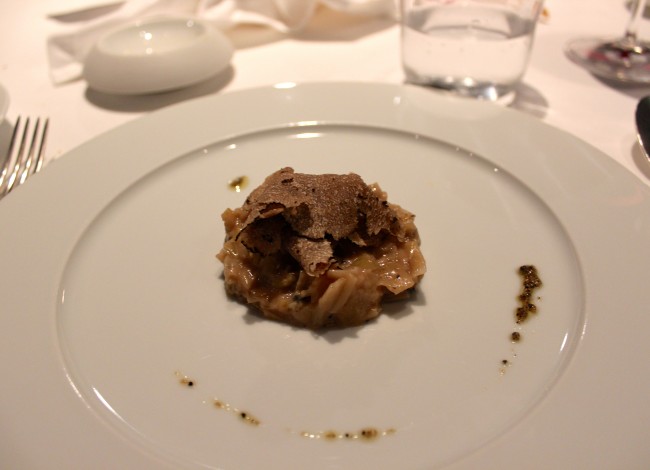 The final savory course was a psychedelic spin-painted veal, made to look flame-grilled, but actually cooked sous-vide and coated in charcoal ash. It was served with horseradish, and painted in the abstract style of Damien Hirst with balsamic vinegar, red beetroot and potato puree for "paint." Cooking the veal sous-vide preserved it and kept it tender, and you didn't lose any flame-grilled flavor because the kick of smoky charcoal ash came through with each and every bite. This is a rare occasion when the beauty of the presentation matches the taste and quality of the food brilliantly. I have never had anything quite like it and was so impressed with the creativity and skill that went into it, and the taste!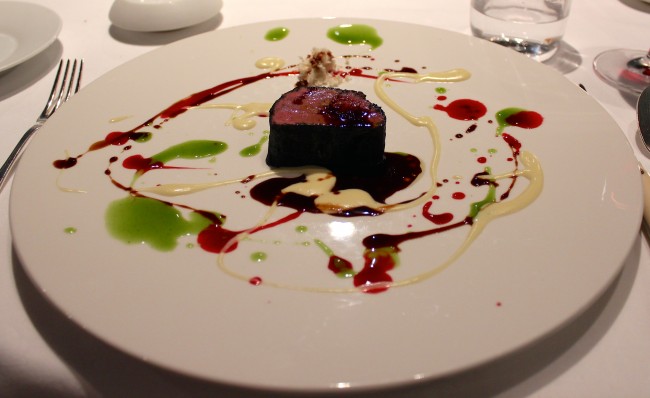 The pre-dessert was a creamy foie gras lollipop dipped in chopped toasted hazelnuts and almonds and injected with Traditional Balsamic Vinegar from Modena. The foie gras was rich and buttery and the unexpected bite from the oozing balsamic vinegar was a nice touch. This is not the first time I've seen foie gras made into a dessert, but regardless it worked well.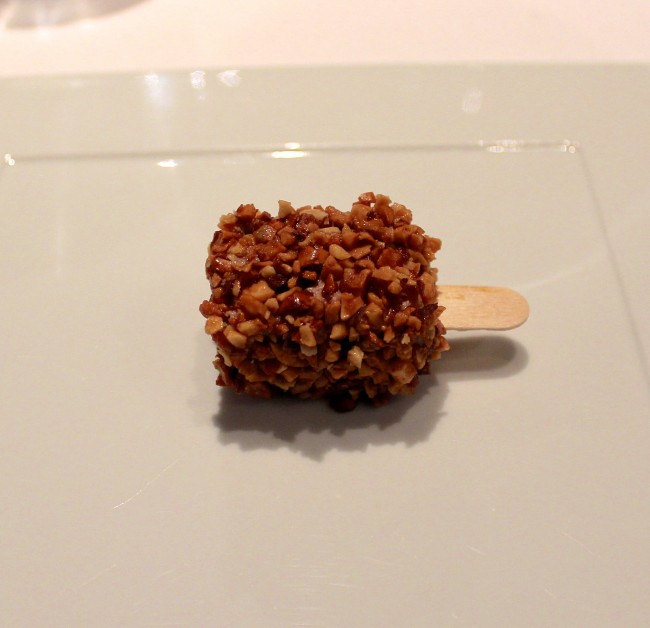 Last, but certainly not least, a dessert of "a potato waiting to become a truffle." This dish was out of this world and quite possibly one of my favorite things ever. A perfect hot soufflé with hazelnut was encased in a potato skin, topped with cascading vanilla creme anglaise and finished with black truffle. The result was a clever combination of flavors that worked beautifully together and was just sweet enough. The soufflé portion was as good as any you'd find in Paris and the creme anglaise melted in your mouth. To top that all off with truffle was joyous. Delicious!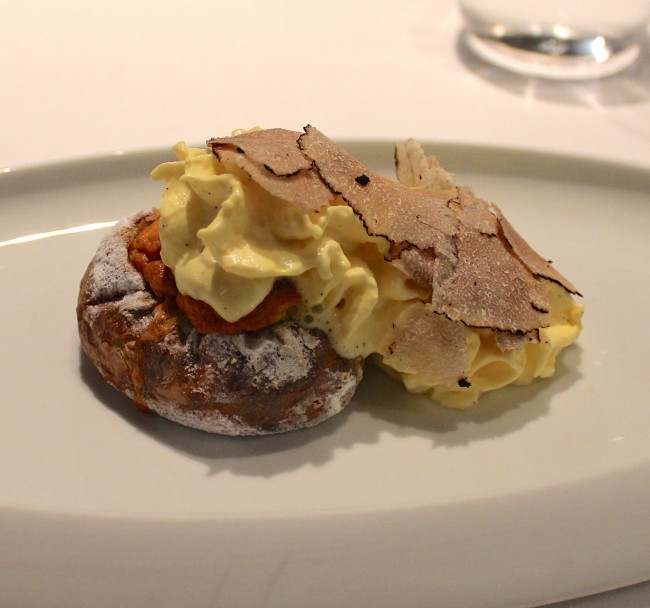 We finished with a selection of mignardises that were one better than the other: fudgy mini brownies, pates de fruit, amaretti, gianduja chocolates, cream puffs and espresso truffles.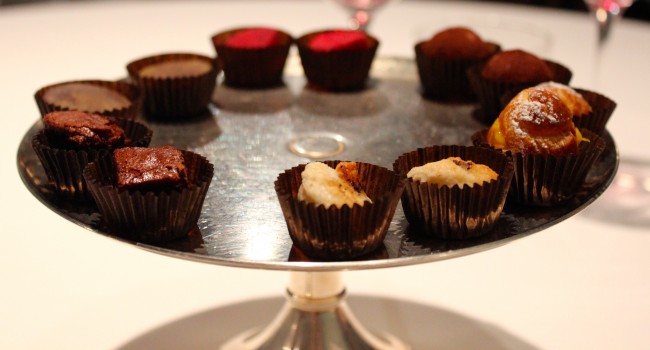 I had an incredible evening at Osteria Francescana and cannot wait to come back, which is perhaps the best compliment possible (and sadly not always a given with restaurants of this caliber). With a full a la carte menu and two other tasting menus that I haven't tried yet, I will absolutely return to see and experience more.
We were lucky enough to meet chef Massimo as we enjoyed our dessert and loved hearing about some of his inspiration for the dishes we enjoyed, which added a really special touch. The service overall was flawless, yet not over top, which made for a comfortable and totally enjoyable evening. Wandering around post dinner to some nearby wine bars in Modena completed a perfect night. I particularly loved how each and every dish not only told a story, but also celebrated the history and traditions of the Emilia-Romagna region of Italy in which it is located. It was the perfect way to learn about a fascinating part of the world and enjoy world class cooking.