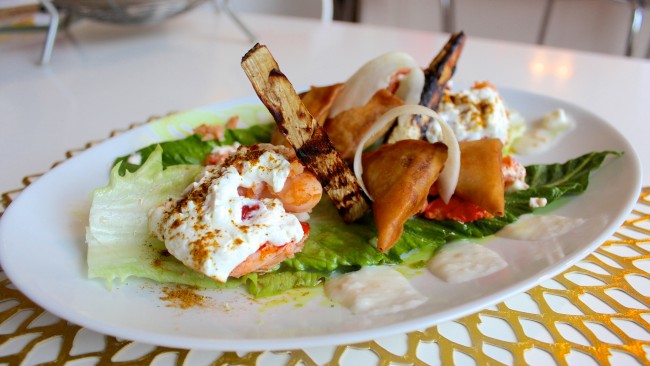 My husband and I are huge fans of Chef Daniel Boulud and his collection of restaurants, in particular DBGB in NYC, Bar Boulud in London, and Restaurant Daniel in NYC, for special occasions. Thus, when Chef Boulud's book, Daniel: My French Cuisine, came out celebrating recipes from Restaurant Daniel, I couldn't wait to get cooking. I already made the Fondue Ravioli (scrumptious) and the famous Duo of Beef with Tardivo & Sweet Potato Dauphine, both with huge success, so this time I set out to make his Lobster Biryani Masala.
It's technically an appetizer, but in no way should be underestimated based on that distinction, since it is truly an elegant and exquisite dish in its own right. A tender fresh lobster tail is served alongside homemade fried, biryani-spiced lobster samosas, with grilled hearts of palm, coconut chutney and freshly dressed romaine lettuce. The spices are well balanced, and the rich fried samosas are complemented beautifully by the lightness of the lobster tail and salad. It's contemporary in looks and taste.
I won't lie by saying this recipe is easy or quick to make – in fact, it is indeed a full-on project, but if you are like me you will love taking hours out of your day scouring your local farmer's market and fishmonger for fresh ingredients, and then slaving in the kitchen preparing a heavenly feast. Let's get started…
Lobster Biryani Masala, Fresh Coconut Chutney, Spiced Yogurt
*Recipe courtesy of Daniel: My French Cuisine*
The ingredients and directions have been broken down into sections so it's easier to read and understand all of the separate steps.
Ingredients
Court Bouillon
(makes 1 gallon)
5 tablespoons coarse sea salt
1/4 cup black peppercorns
1 1/2 tablespoons coriander seeds
2 star anise
6 medium carrots, peeled and sliced
4 onions, peeled and sliced
1 head fennel, sliced
10 cloves garlic, peeled
1 (1-inch) knob of ginger, peeled and sliced
1 bay leaf
2 basil stems
Peels and juice of 1 orange
1 cup dry white wine
1/2 cup white vinegar
Biryani Masala Spice Mix
(makes 1 cup)
10 cloves
10 green cardamom pods
10 black cardamom pods
2 tablespoons fennel seeds
6 tablespoons coriander seeds
2 tablespoons cumin seeds
1 (4-inch) cinnamon stick, broken into pieces
1 tablespoon Tellicherry peppercorns
1 teaspoon chili flakes
Biryani Masala Oil
1 tablespoon Biryani Masala Spice Mix (recipe above, or you can buy a mix)
1 1/2 tablespoons grapeseed oil
1 1/2 tablespoons coconut oil
Lobster
2 quarts Court Bouillon (see above for recipe)
4 live lobsters, 1 1/2 pounds each
Coconut Chutney
1 mature coconut
1 young thai coconut
1/3 cup heavy cream
Juice from 1/2 lime
1 teaspoon mustard seeds, soaked in water overnight and strained
Salt and freshly ground pepper
Grilled Hearts of Palm
1 pound (an approximately 6-inch-long section) fresh heart of palm, preferably from the thick base
2 tablespoons Biryani Masala Oil (see above)
Lobster Samosa
2 tablespoons coconut oil
1/4 cup brunoised hearts of palm, reserved from above
1/4 cup brunoised yellow bell pepper
1/4 cup brunoised red bell pepper
2 teaspoons Biryani Masala Spice Mix
Salt and freshly ground pepper
1 tablespoon lime juice
1 tablespoon mayonnaise
2 tablespoons Coconut Chutney (see above)
8 (2 x 7-inch) strips of Japanese spring roll dough
1 egg yolk, beaten
Romaine Lettuce Salad
4 small heads romaine lettuce
3 tablespoons coconut oil
1 tablespoon lime juice
1/2 teaspoon salt
To Finish
Canola oil for frying
Salt
1 tablespoon coconut oil
Freshly ground white pepper
1 cup sheep's milk yogurt
2 teaspoons Biryani Masala Spice Mix
Finely grated zest of 1 lime, plus the lime segments, chopped
1/4 cup purple shiso leaves
Directions
For the Court Bouillon
Court Bouillon is a deeply aromatic stock frequently used for poaching fish and shellfish. This was the first time I've made it and I was so impressed by how fragrant, tasty and delicious it is. I will have to make sure to find more recipes that use Court Bouillon since it's so lovely. I rarely cook with star anise, although miraculously I had some in my cupboard, but that in and of itself is delightful and of course, so beautiful to look at! Here are the ingredients I used…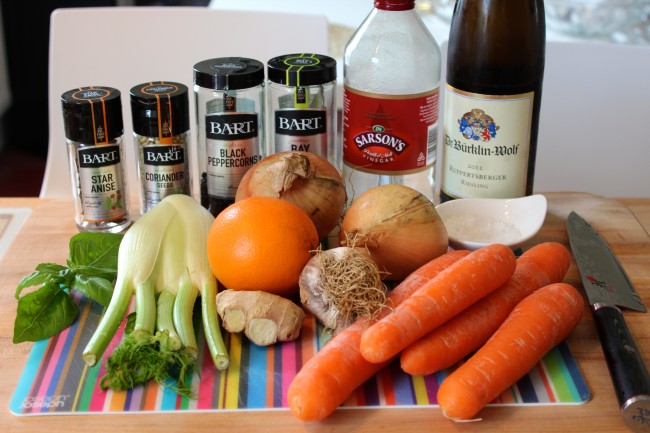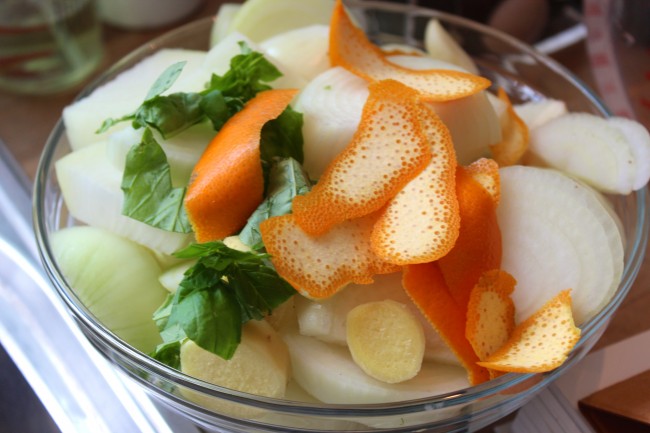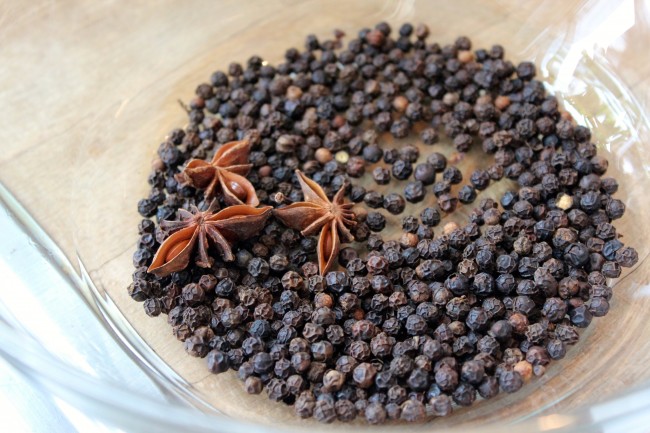 To make the stock, pour 1 gallon of water into a large stockpot and add the salt, spices, vegetables, orange peel and juice, and herbs. Bring to a boil, then reduce the heat, cover, and simmer for 20 minutes.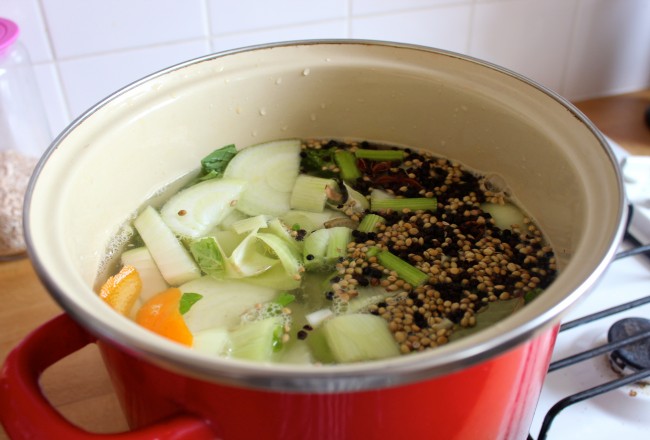 Add the white wine and vinegar, simmer for 5 more minutes.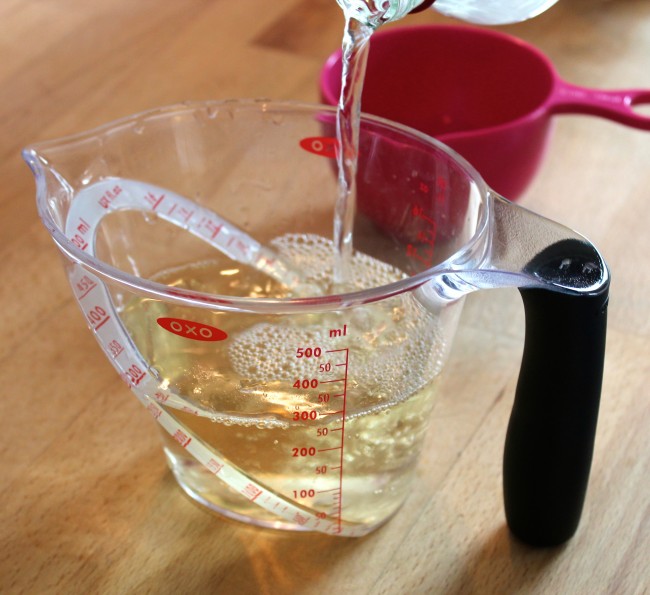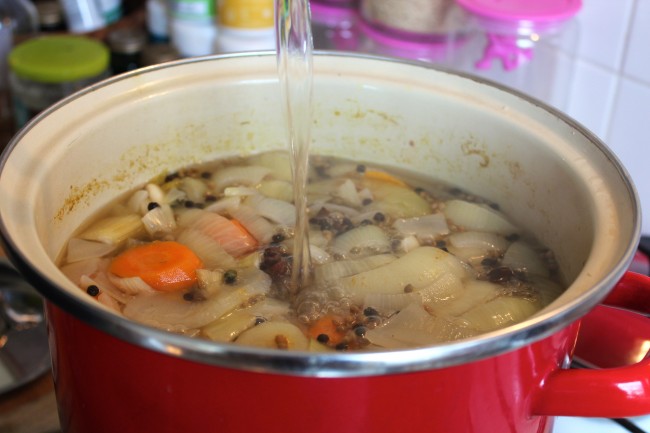 Then, strain through a fine-meshed sieve. It's ready to use immediately or you can chill over ice and store, covered and refrigerated, for up to 1 week.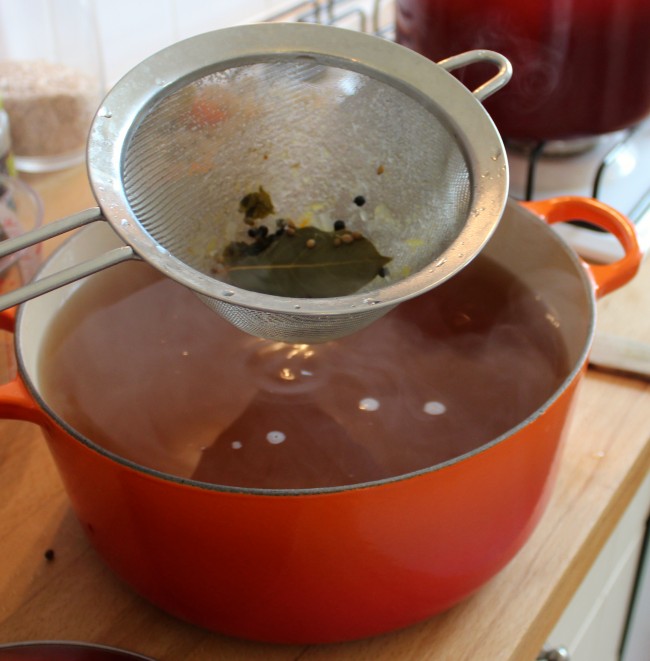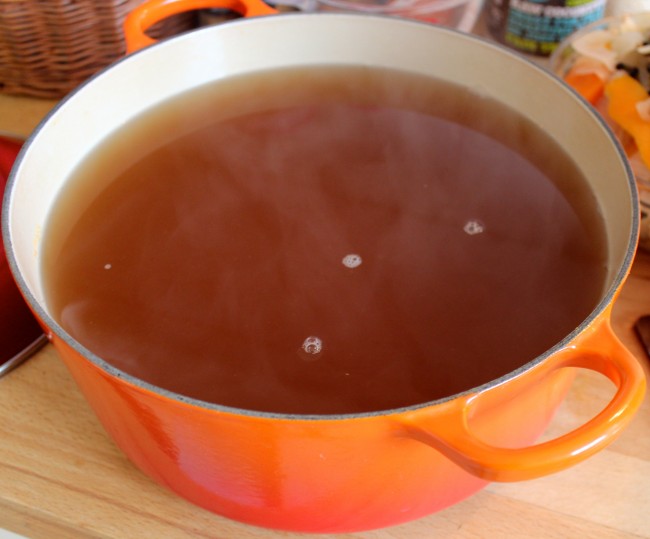 For the Biryani Masala Spice Mix (if making your own)
I bought a high-quality Biryani Spice Mix from my local store, The Spice Shop, in Notting Hill. It worked brilliantly, but feel free to create your own mix if you're up for it.
In a small, dry saute pan combine the spices over medium-low heat. Toast while stirring constantly, until very fragrant but being careful not to let them burn, 4 to 5 minutes. Transfer the spices to a plate to cool. Pulse in a spice grinder to a fine powder. Shake through a fine-meshed sieve and store in an airtight container.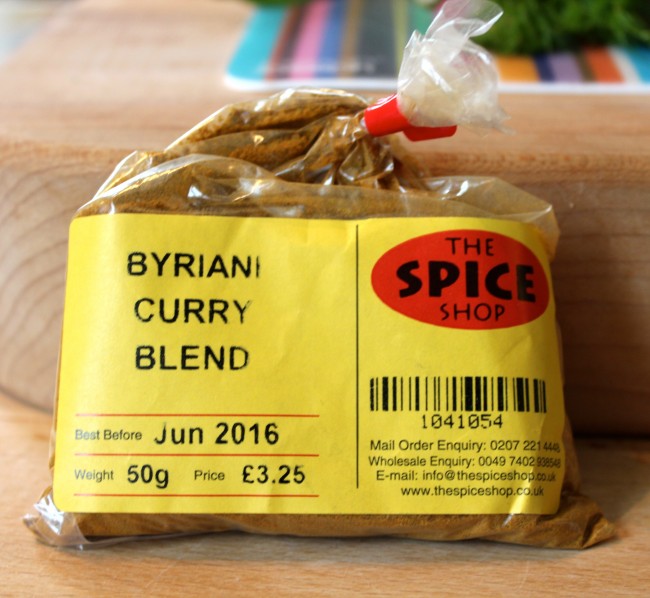 For the Biryani Masala Oil
In a small saucepan, combine all of the ingredients over medium heat.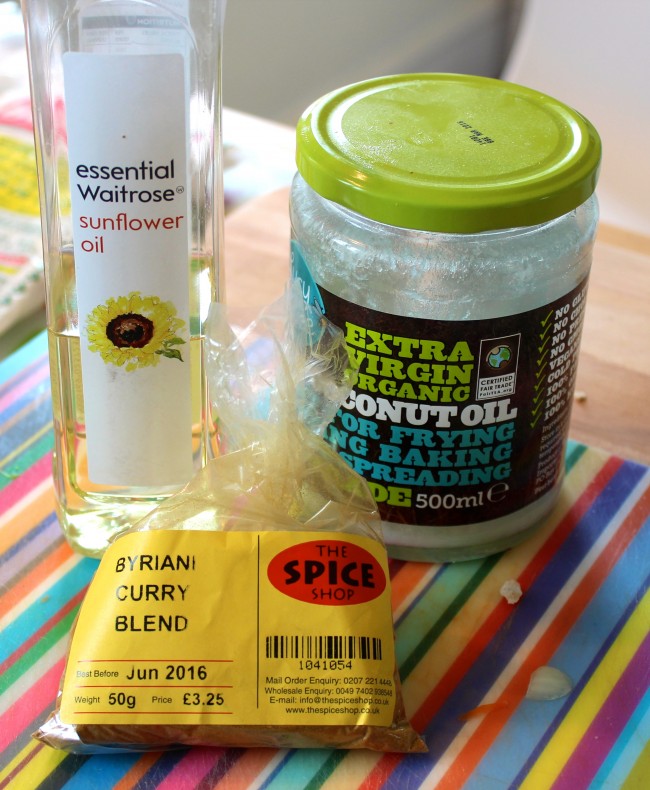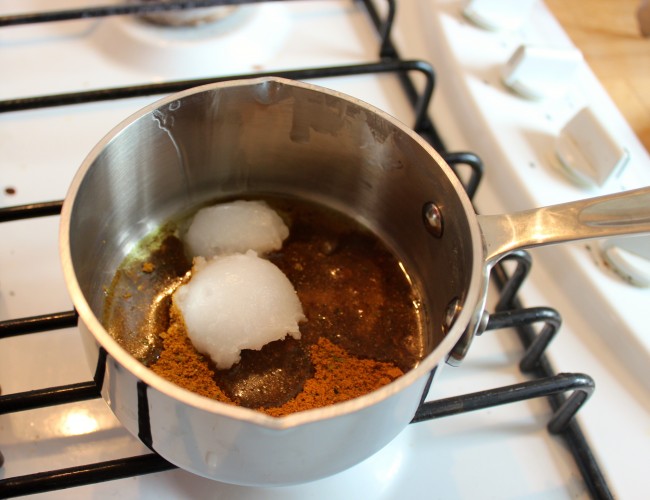 Cook, stirring, for 2 minutes, or until very fragrant but not burned. Remove from the heat, cover, and rest for 15 minutes.
Strain the oil through a fine-meshed sieve lined with a coffee filter and reserve. I unfortunately didn't have a coffee filter (no one drinks filter coffee in Europe sadly!), but it worked fine with just the sieve.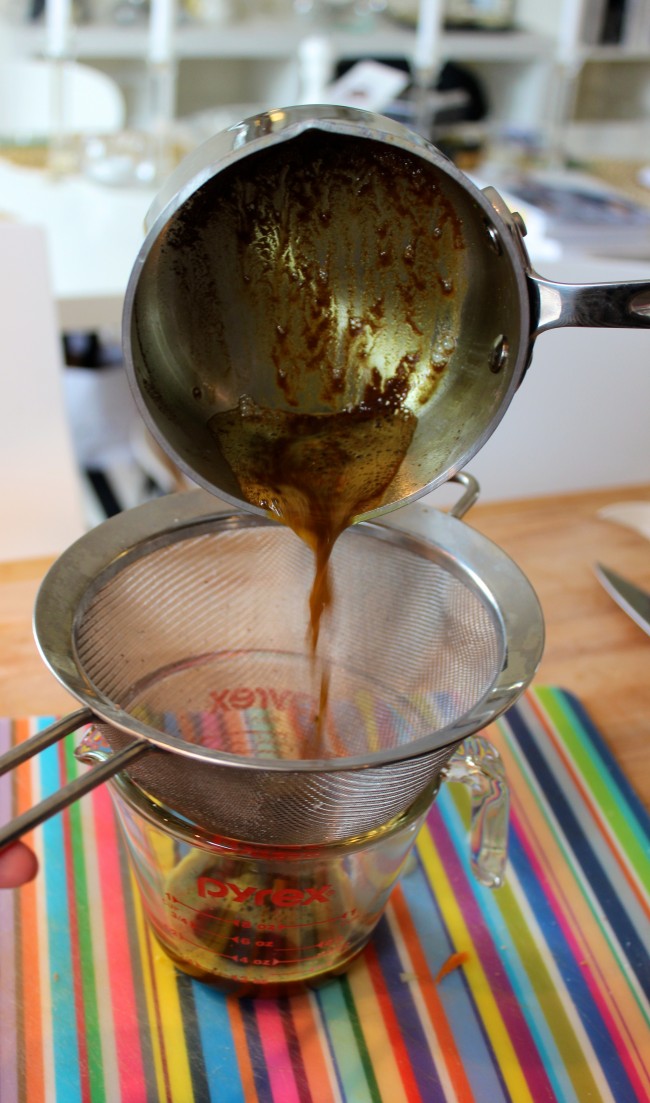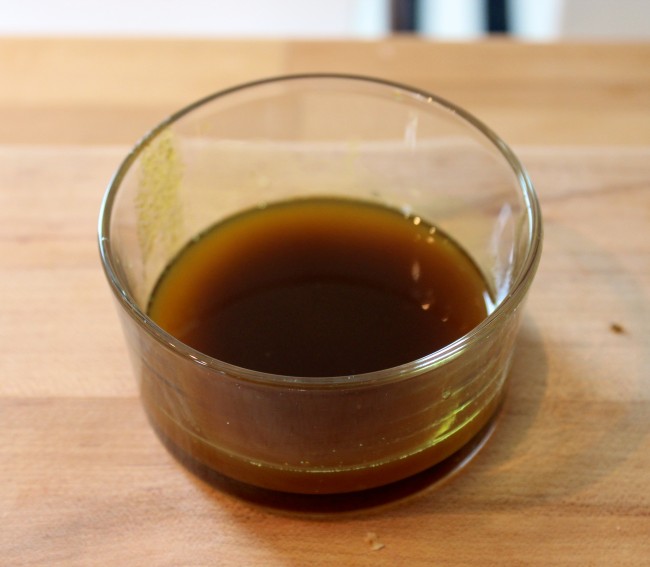 For the Lobster
Pour the court bouillon into a large stockpot, bring to a boil, and place a bowl of ice water on the side.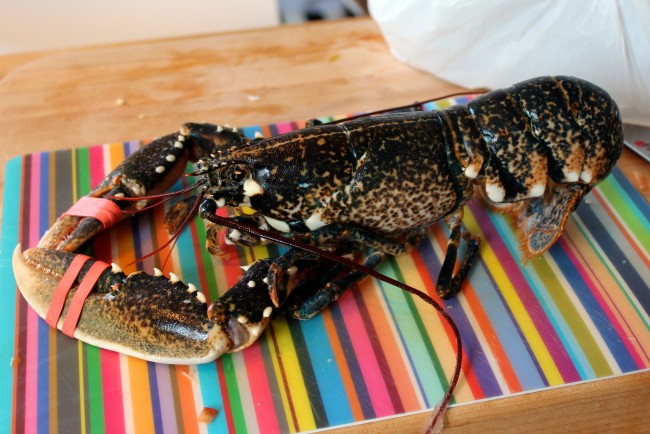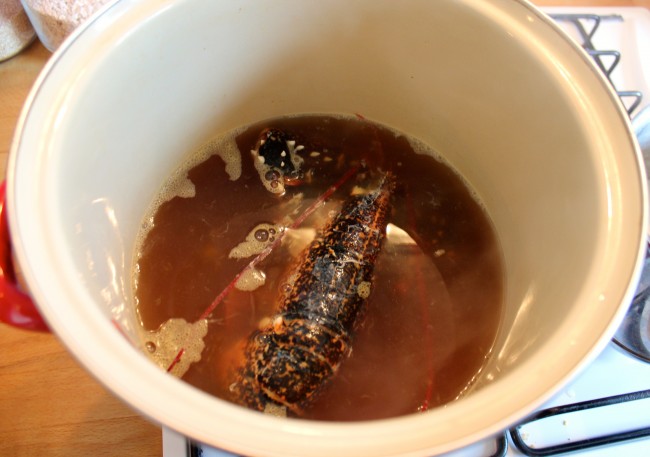 Boil the lobster for 1 minute, then remove them with tongs and rinse under cold water.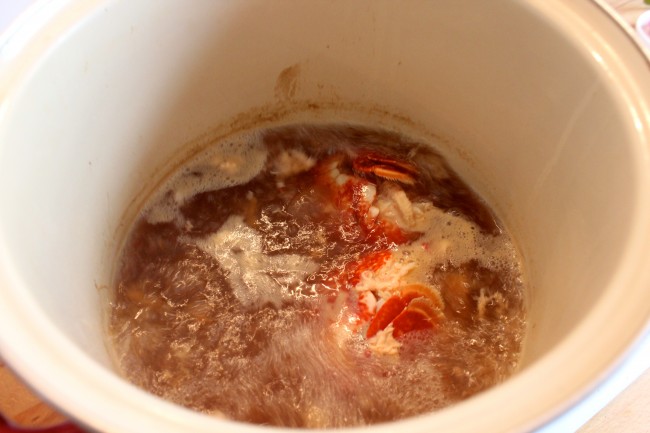 Twist the arms and tails from the lobsters. Grasp the middle fin of the ails and gently twist and pull out the veins. Boil the tails for 3 1/2 minutes more, then remove and chill in the ice water. Boil the arms for 6 minutes more; remove and chill in the ice water.
Crack the tails and arms and extract the meat. Pick and discard any cartilage from the claws and knuckles. Slice the tails in half lengthwise. Chop the claws into 1/8-inch dice. Reserve the lobster, chilled.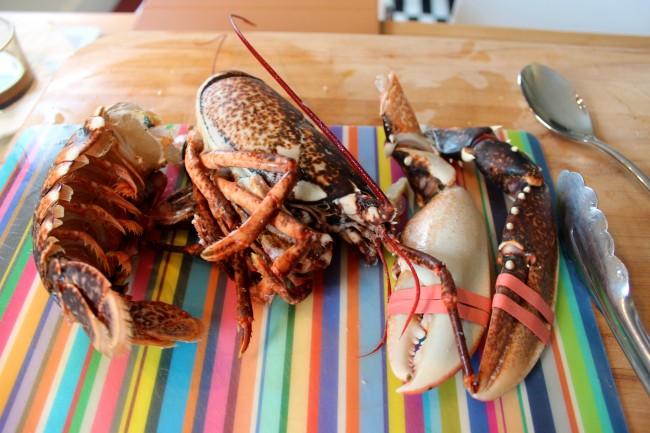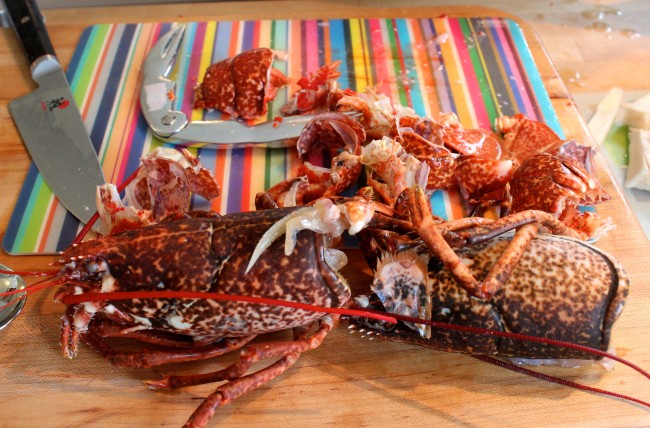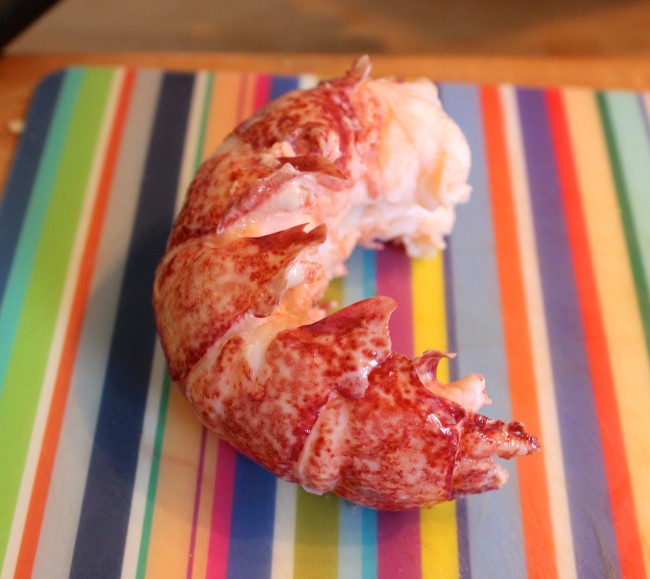 For the Coconut Chutney
First, regarding the soaking of the mustard seeds, I actually forgot to soak them overnight, so I ended up soaking them for just about an hour or so, which worked out fine. If you have the time, I would definitely soak the seeds overnight per the instructions, but even a little soaking is better than none because they go into the chutney whole.
Here is what the mustard seeds look like…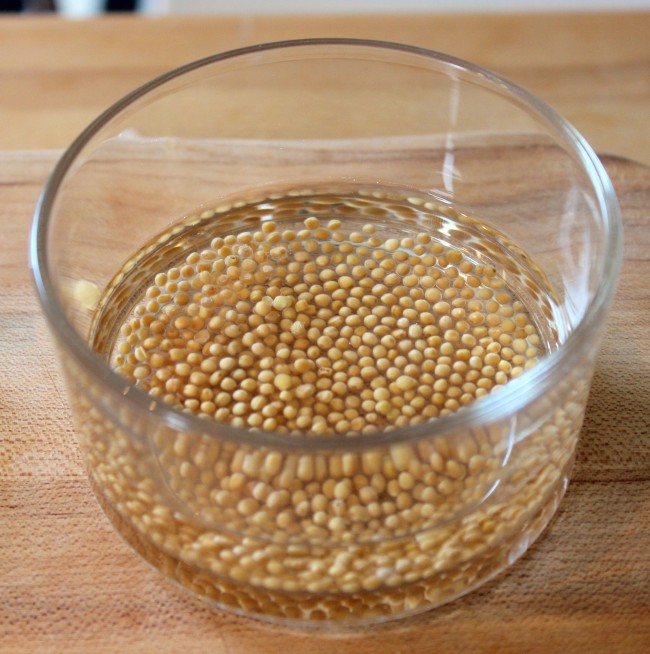 Also, the recipe calls for whole coconuts, which I unfortunately wasn't able to find, so I ended up using frozen shredded young coconut (photo below), which worked, but I would recommend tracking down whole coconuts for the full effect, if possible.
Here are the instructions for using the recommended whole coconuts for the chutney…
To open the mature coconut, puncture one of the eyes on the top of the coconut (of the three, one will always be soft enough). Pour out the water from the inside through a strainer set over a medium saucepan. Wrap the coconut in a towel and use a hammer to crack the shell into large pieces. Using a butter knife, pry the meat from the shell. With a mandoline, thinly shave 1 large piece into ribbons to garnish.
To open the young Thai coconut, use a sharp, heavy knife to carefully chop a 2-inch cap from the pointed tip. Pour out the water through the strainer into the pan. Use a spoon to scrape the meat from the shell.
Chop both coconut meats into 1/2-inch chunks and transfer to the saucepan with the juice.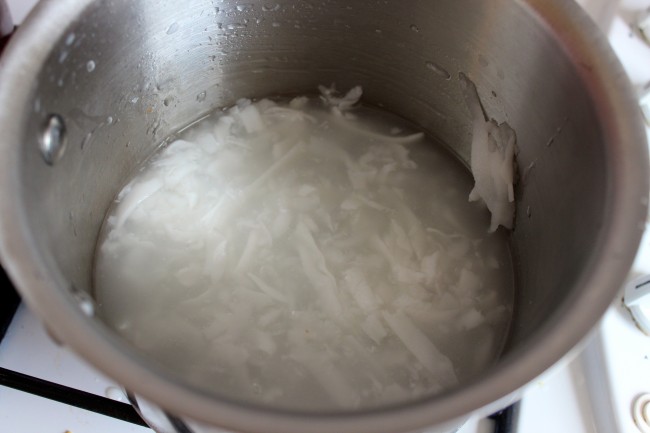 Add the heavy cream. Simmer for 45 minutes, or until the liquid has reduced by half and the coconut is tender.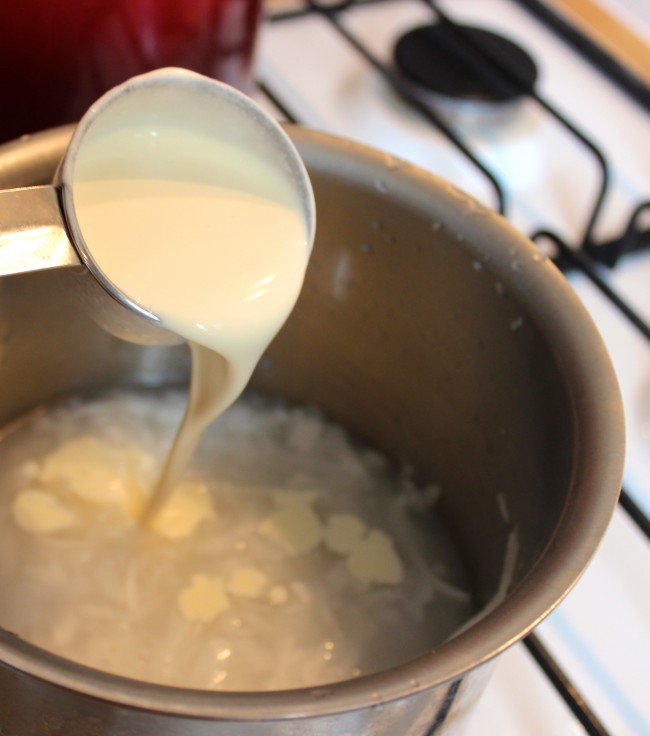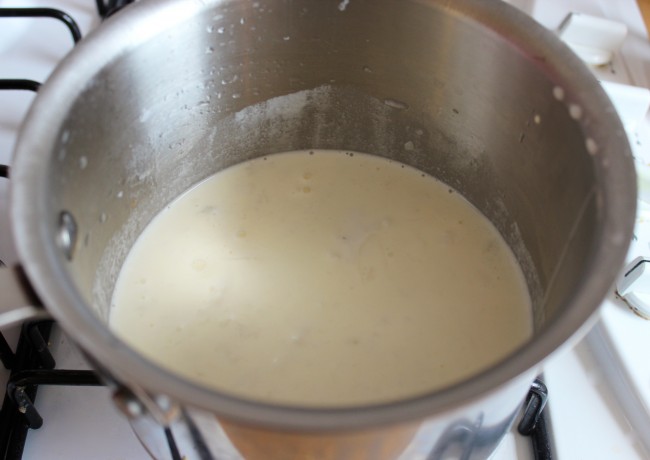 Transfer the mixture to a blender and puree until smooth but small chunks remain. Stir in the lime juice and mustard seeds and season with salt and pepper.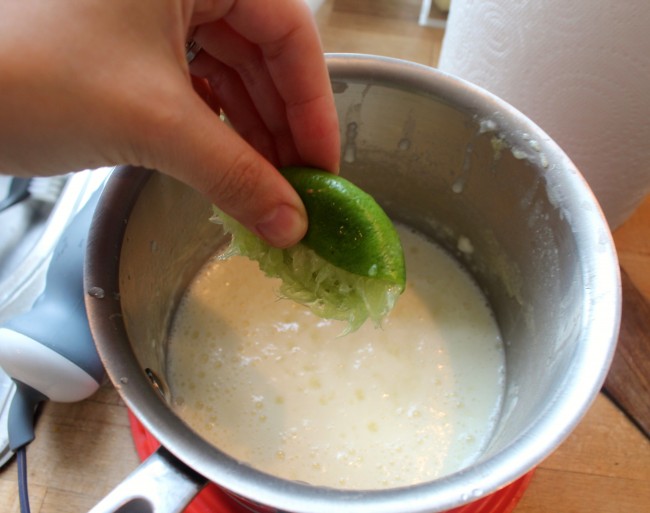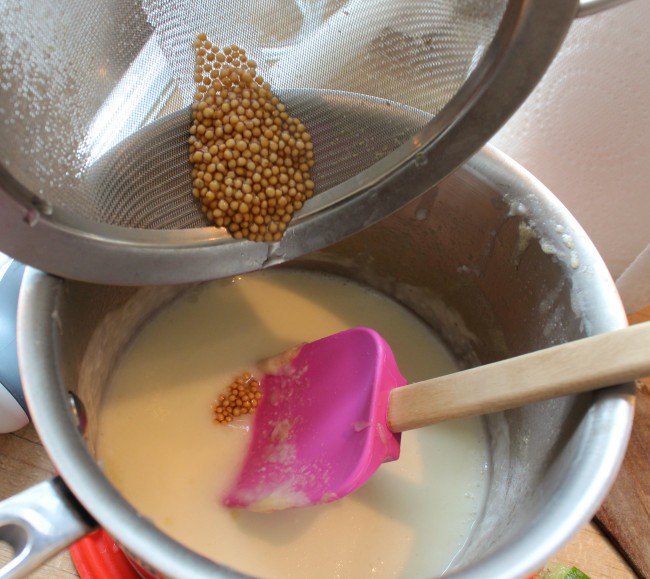 Reserve, chilled.
This chutney is delicious – it was hard not eating all of it on its own with a spoon!
For the Grilled Hearts of Palm
Heat a grill or cast-iron pan over high heat. Cut sixteen 6-inch-long by 1/2-inch-thick planks from the hearts of palm. With the remaining hearts of palm, use a mandoline to slice 16 long, thin shavings for the garnish. Cut all the remaining hearts of palm into brunoise and reserve for the samosa and romaine lettuce salad.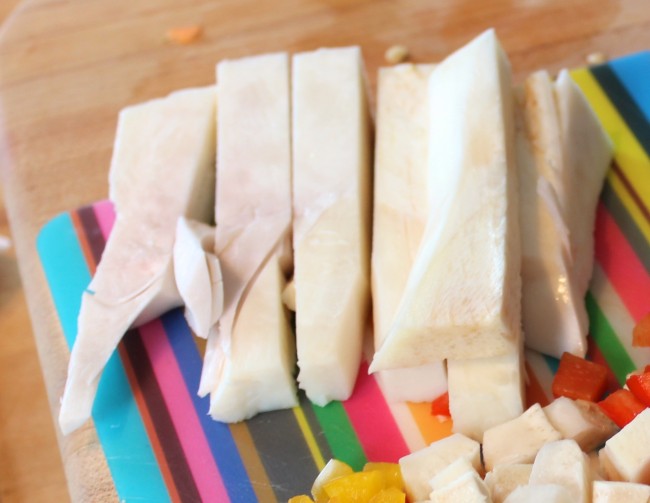 Rub the planks with the biryani masala oil and season with salt and pepper. Grill on both sides until well marked. Set aside.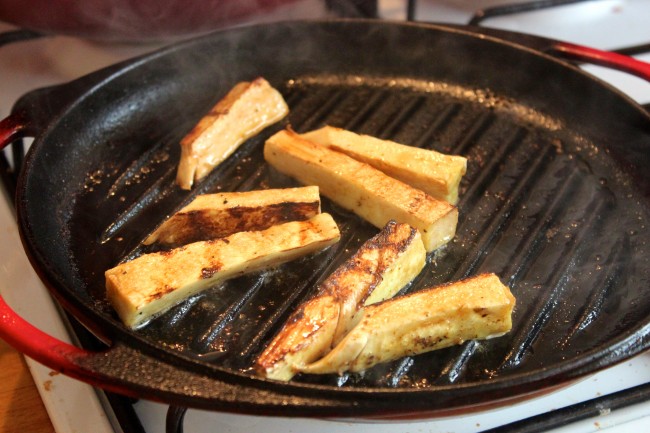 For the Lobster Samosa
Heat the coconut oil in a small saucepan over medium heat and add the brunoised hearts of palm and bell pepper. Cook, stirring, until tender, about 3 minutes. Add the biryani masala spice mix, season with salt and pepper, and stir to coat.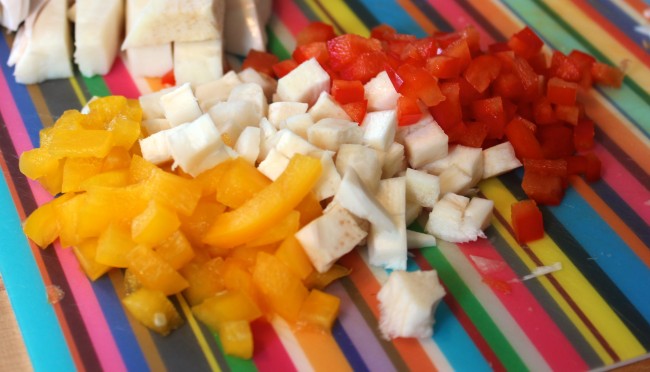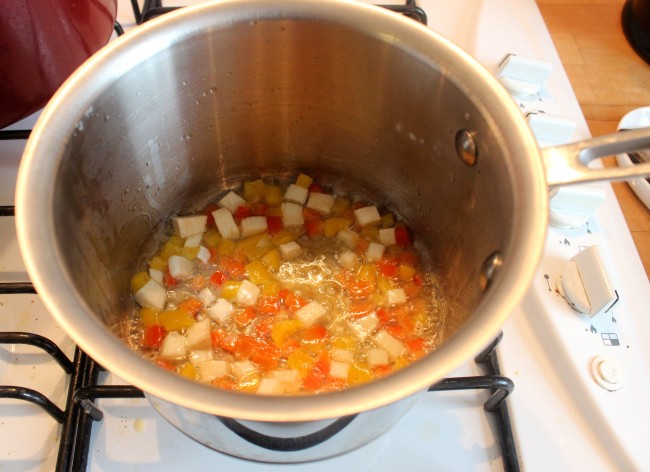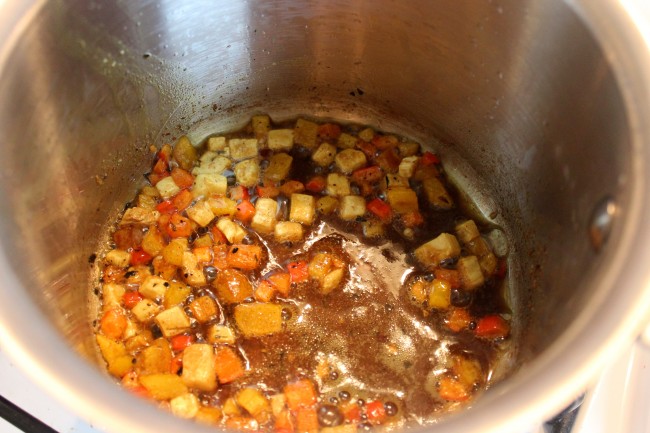 Transfer to a bowl and stir in the reserved chopped lobster claws, the lime juice, the mayonnaise, and the coconut chutney. Adjust the seasoning as necessary with salt and pepper.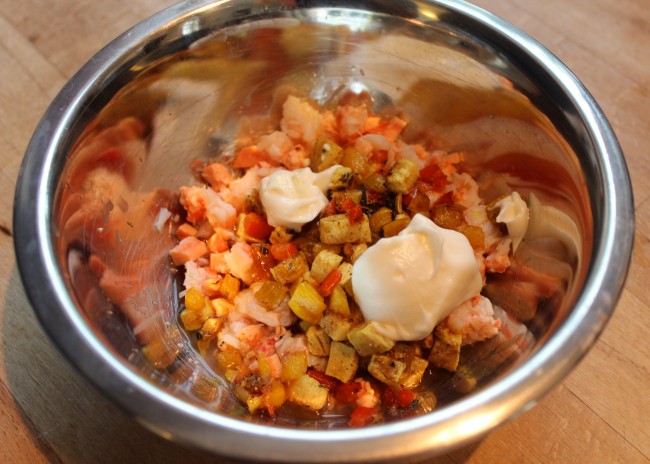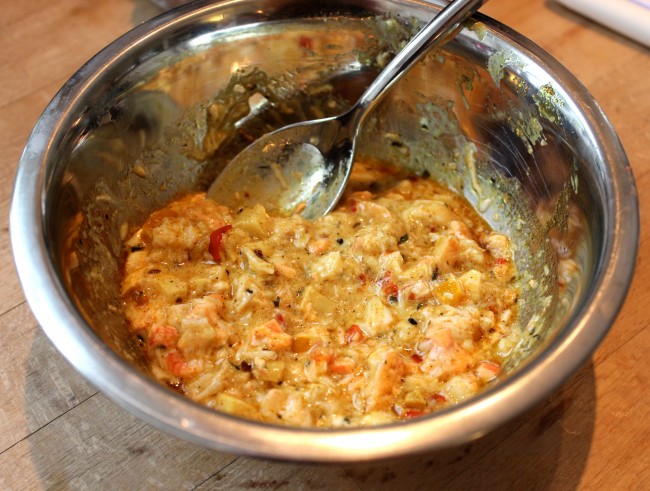 Lay the spring roll strips vertically on a cutting board and use a brush to lightly coat each with the beaten yolk.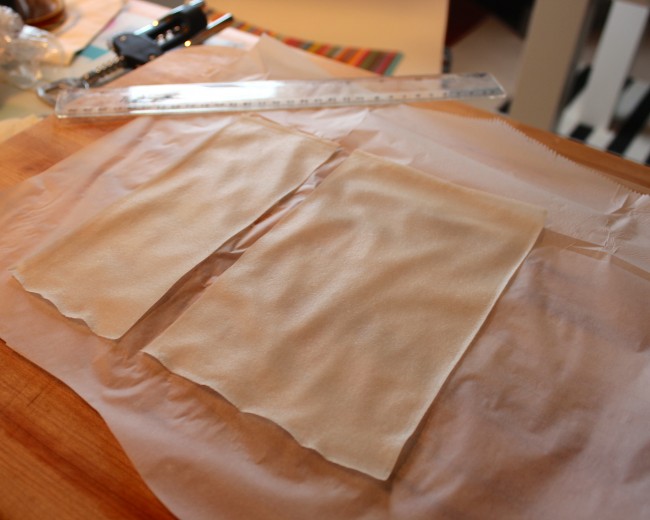 Use a spoon to equally distribute the mixture in a mound on the end of each strip. Fold the bottom right corner up to the left side to form a triangle shape, then fold the triangle forward. Continue folding in this manner to form triangular packets.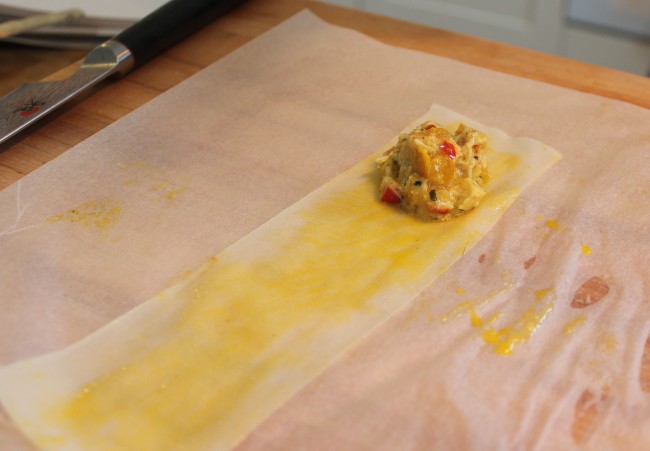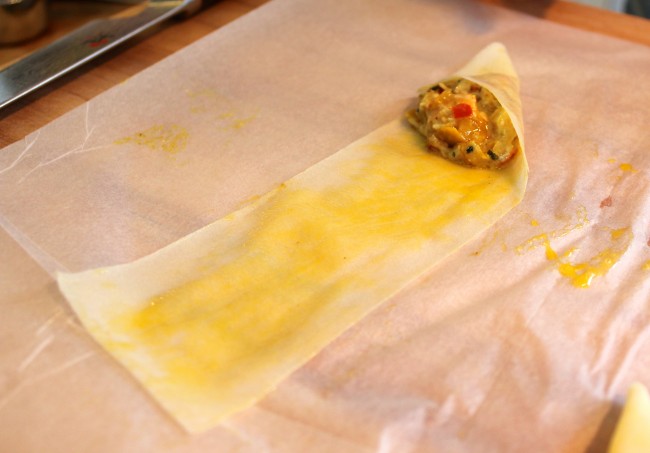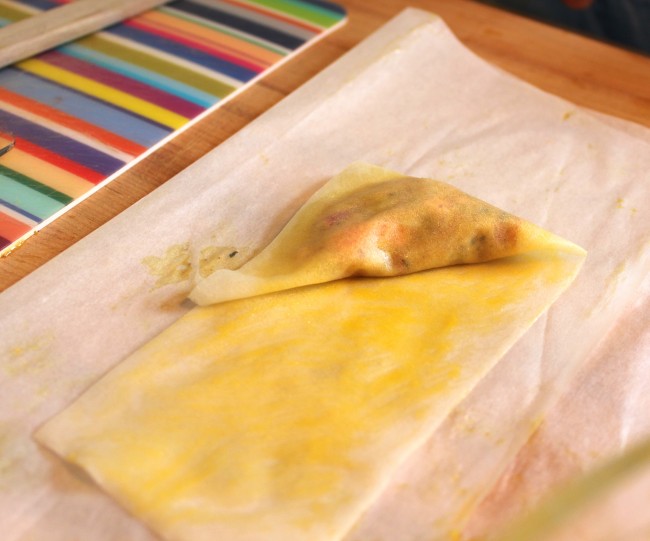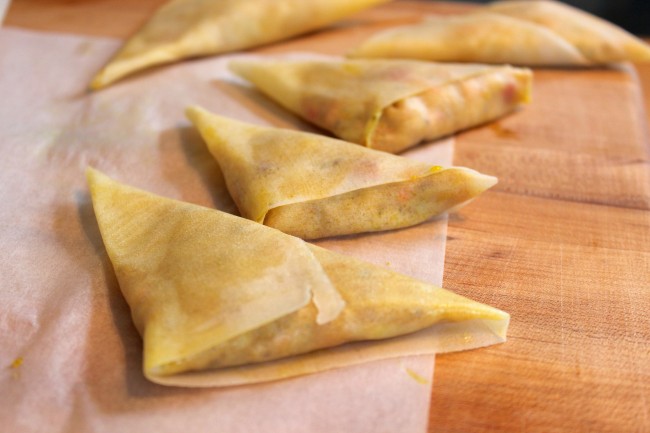 Transfer to a covered container and store, chilled.
For the Romaine Lettuce Salad
Pull away and discard any damaged outer leaves from the heads of lettuce, then rinse them with cold water. Cut each head lengthwise to form 2 flat 1/2-inch-thick slices. Set the slices on a cutting board and trim away as much core as possible without breaking them apart.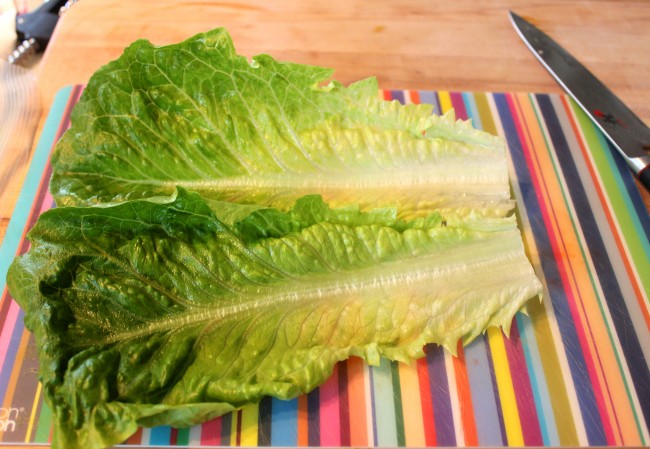 In a small bowl, stir together the remaining hearts of palm brunoise, the coconut oil, the lime juice, and the salt. Reserve, chilled, for dressing the lettuce.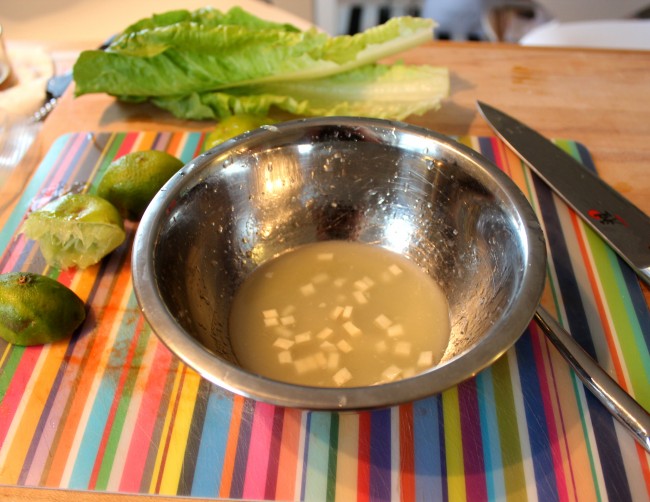 To Finish
Preheat the oven to 350 F. Fill one-third of a medium saucepan with canola oil and heat to 350 F. Fry the samosas until golden brown and then transfer them to a paper towel-lined tray. Sprinkle with salt.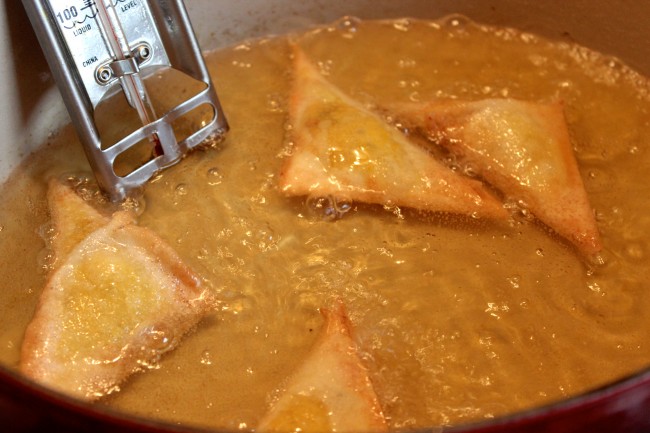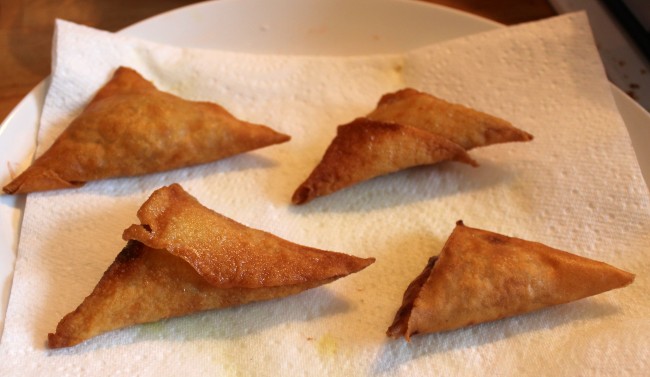 Heat the coconut oil in a heatproof saute pan over medium heat and add the lobster tails and knuckles; season with salt and pepper. Warm the lobster for 1 minute on each side without browning. Arrange the trails cut side down and coat them with the yogurt. Transfer the pan to the oven for 5 minutes. Remove and sprinkle the biryani masala spice on top of the yogurt.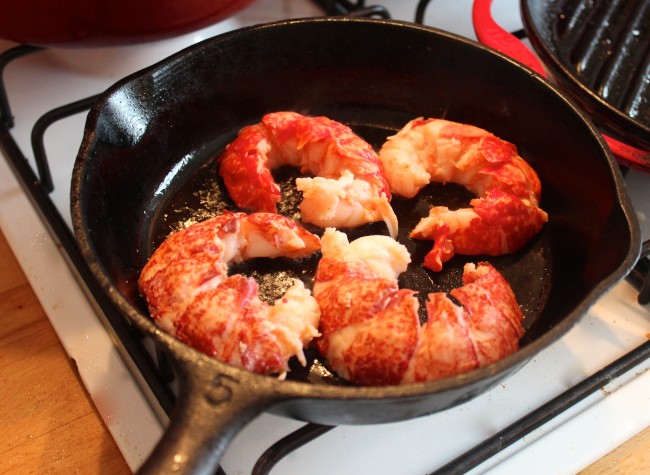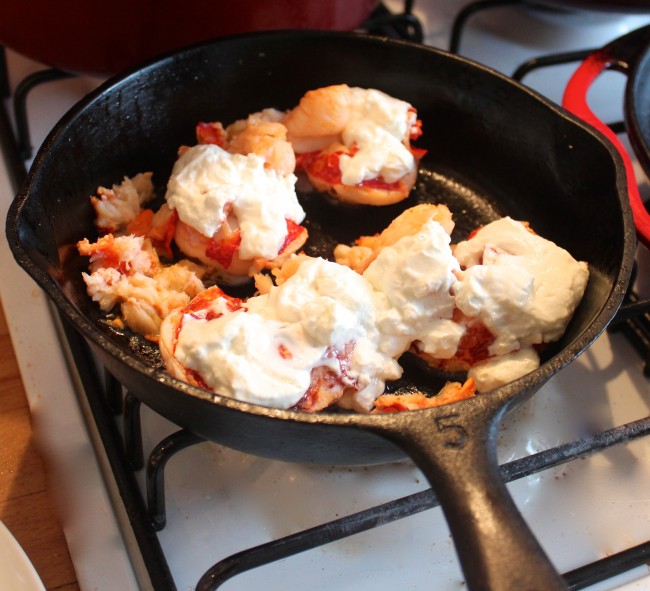 For each serving, set 1 slice of lettuce on an appetizer plate and sprinkle with the dressing, lime zest, and lime segments. Arrange 1/2 lobster tail, 2 knuckles, and 1 samosa on top of the lettuce. Spoon a line of biryani masala oil on the plate. Garnish around the lobster with 2 hearts of palm shavings, 2 coconut shavings, 2 grilled hearts of palm, and a few purple shiso leaves. Spoon a few dots of coconut chutney on the plate.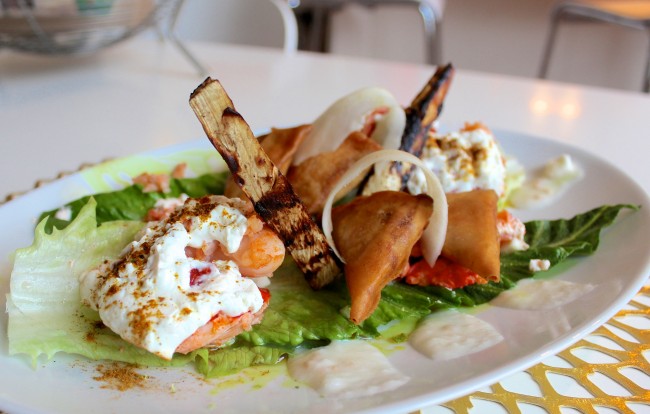 Although my finished dish doesn't look quite a precise as Daniel Boulud's, it tasted delicious and I had a blast cooking it. Now, what's next?!