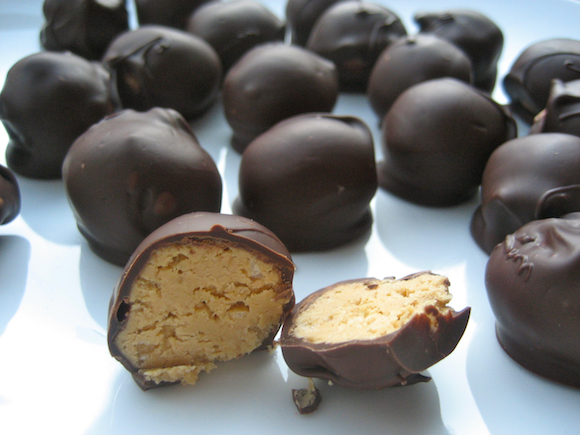 Author: Janelle
Prep time: 30 mins
Total time: 30 mins
To-die-for homemade chocolate-covered peanut butter balls.
1 16.3 oz jar (or 2 cups) Skippy creamy peanut butter
1 (1 lb) box confectioners sugar
1 stick butter (1/2 cup)
3 cups Rice Krispies
Approx 20 oz (1.25 lbs) hard chocolate for dipping, combination of dark/semisweet & milk chocolate to taste (Note: I used 2 "giant" Hershey's bars– 1 milk chocolate bar, 1 "Special Dark" chocolate–and ½ bag semisweet morsels)
Mix peanut butter, sugar, butter and Rice Krispies in electric mixer with paddle attachment until blended.
Form into 1 inch or smaller balls, spread on cookie sheets.
Chill until firm in refrigerator (overnight is okay).
Melt chocolate in microwave or double-boiler and keep melted while dipping the balls.
Dip in melted semisweet and milk chocolate until entire ball is covered, letting excess chocolate drip off.
Place dipped balls on cookie sheet lined with wax paper.
Refrigerate till hardened.
Store in covered container in cold spot or refrigerator.
Recipe by
the chic brûlée
at http://thechicbrulee.com/2011/12/13/peanut-butter-balls/