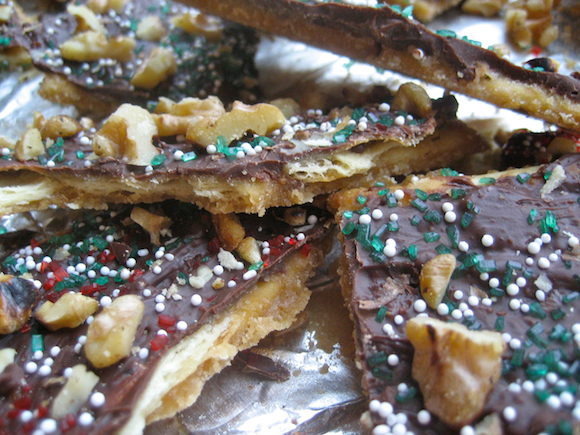 Author: Janelle
Prep time: 15 mins
Cook time: 10 mins
Total time: 25 mins
An easy recipe for delicious toffee made with saltine crackers.
35-40 Saltine Crackers
2 sticks of butter (1 cup total)
1 cup brown sugar
2 cups of chocolate chips (1/2 semi-sweet, ½ milk chocolate or to taste)
1 cup chopped nuts, sprinkles, crushed candy canes and/or dried fruit as desired (I used chopped walnuts and colored sprinkles)
Preheat oven to 350 degrees.
Cover a cookie sheet with aluminum foil and spray generously with nonstick cooking spray.
Place the crackers in a single layer on the cookie sheet, leaving no empty spaces in between them.
Combine butter and brown sugar in a saucepan over medium-high heat and bring to a boil. Stir while the butter melts and boil for 3 minutes.
Pour mixture over saltines. Cover completely with syrup.
Baked for 7 minutes or until bubbly.
Remove from oven.
Sprinkle with chocolate chips.
Pop back into oven (that has been turned off) for 1 – 3 minutes or until the chocolate is melted.
Spread chocolate evenly with a knife like frosting.
While the chocolate is still warm, sprinkle with toppings (chopped nuts, dried fruit and/or sprinkles).
Chill in refrigerator.
Break into irregular pieces.
Store in airtight container in cool spot.
Recipe by
the chic brûlée
at http://thechicbrulee.com/2011/12/21/saltine-toffee/