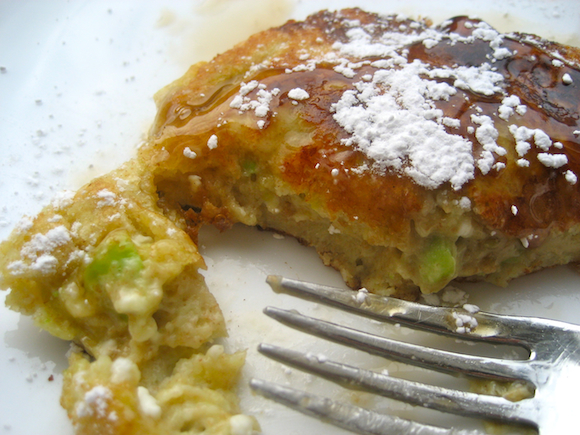 Fluffy Avocado Cottage Cheese Pancakes
Author: Janelle
Prep time: 10 mins
Cook time: 4 mins
Total time: 14 mins
Avocado is the secret ingredient in these delicious pancakes.
1 cup lowfat cottage cheese
1¼ cup low-fat plain Greek yogurt
3 eggs, separated yolks and whites
½ medium avocado, peeled, pitted and diced
½ cup white, all purpose flour
½ cup whole-wheat flour
¼ teaspoon baking soda
1 tablespoon white, granulated sugar
Dash salt
Cooking spray, canola oil or butter, for frying
Maple syrup, for serving
In a bowl, combine wet ingredients (cottage cheese, Greek yogurt and egg yolks). Fold in diced avocado, making sure not to crush or mash – they should remain distinct in the batter.
In a separate bowl, combine dry ingredients (white flour, whole wheat flour, baking soda, sugar and salt).
Add dry ingredients into wet ingredients, stirring only until combined. In a separate bowl, whisk egg whites by hand until frothy but not dry. Lightly fold egg whites into pancake mixture – egg whites should remain distinct in the batter (this is what makes the pancakes fluffy). Batter will appear very thick.
Heat a lightly oiled or buttered large skillet over medium-high heat.
Spoon ½ cup of batter for each pancake onto hot skillet and cook for about 1-2 minutes or until browned. Flip with a spatula and cook for another 1-2 minutes until browned on the other side.
Serve with a dusting of powdered sugar and your favorite maple syrup.
Recipe by
the chic brûlée
at http://thechicbrulee.com/2012/01/20/fluffy-avocado-cottage-cheese-pancakes/