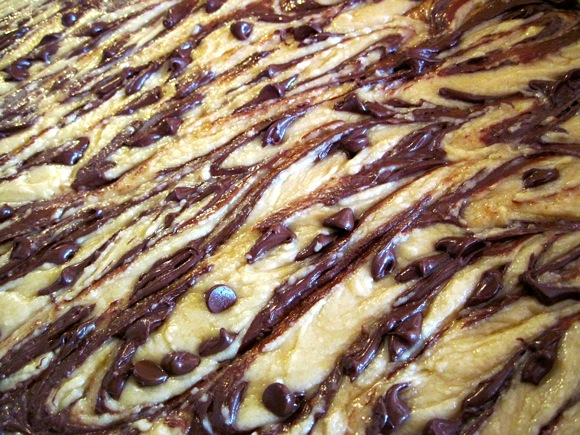 A Chocolate Chip Cookie Shake-up: Toll House Marble Squares
Author: Janelle
Prep time: 10 mins
Cook time: 16 mins
Total time: 26 mins
A chocolate chip cookie "cake" that is gooey and decadent.
2 cups plus 4 tablespoons of flour
1 teaspoon of salt
1 tsp. baking soda
1 cup butter, softened
10 tablespoons of granulated sugar
12 tablespoons of brown sugar
1 teaspoon of vanilla extract
2 eggs
½ tsp. of water
1 cup chocolate chips
1⁄2 cup of chopped walnuts, optional
Pre-heat oven to 375 degrees.
Whisk flour, baking soda and salt. Set aside
Blend butter, sugars vanilla and water with mixer.
Beat in eggs.
Add flour mixture and mix well.
Stir in nuts if you are using them.
Spread batter in a greased 9 x 13 pan.
Sprinkle with chocolate chips.
Bake 2 minutes.
Remove from oven and run knife through the batter to swirl and marbelize the chips.
Return to the oven and continue baking for 12 to 14 minutes.
Cut into bars when cool.
Recipe by
the chic brûlée
at http://thechicbrulee.com/2012/02/29/4011/