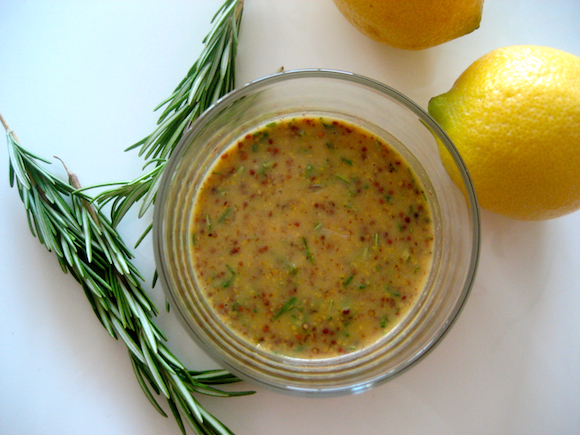 Lemon Dijon Herb-Crusted Grilled Pork Tenderloin
Author: Janelle
A summer grilling favorite... try my recipe for tangy lemon dijon herb-crusted pork tenderloin: a mix of vibrant herbs and mustard rubbed onto juicy pork tenderloin.
1 pork tenderloin (approximately 1 pound)
2 lemons, juiced
1 lemon, zest grated
1 tablespoon honey
2 teaspoons garlic, finely minced
1 tablespoon dijon mustard
2 tablespoons whole grain mustard
1 tablespoon extra virgin olive oil
2 teaspoons fresh thyme, chopped
1 tablespoon fresh rosemary, chopped
Ground black pepper
Salt
First, prepare the marinade. Combine grated lemon rind, lemon juice, honey, garlic, dijon mustard, whole grain mustard, olive oil, thyme, rosemary, and a few shakes of ground black pepper and salt.
Reserve about 3-4 tablespoons of the marinade on the side (you will use this later once the pork is cooked). Add the remaining marinade to a 1 gallon ziplock bag along with the raw pork tenderloin. Seal the bag completely. Refrigerate meat and extra marinade overnight.
Next, preheat grill to a medium-high heat. Cook for approximately 20 minutes or until internal temperature reaches 140 degrees Fahrenheit. Let rest for 5 – 10 minutes.
Once cooked, slice meat into ¼ – ½″ slices and brush the reserved marinade on top for the finishing touch.
Recipe by
the chic brûlée
at http://thechicbrulee.com/2012/05/17/lemon-dijon-herb-crusted-grilled-pork-tenderloin/