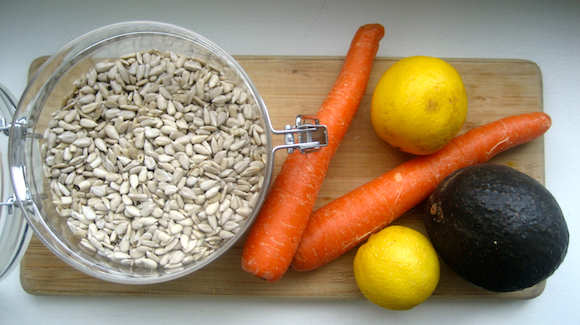 Cumin Roasted Carrot & Avocado Salad
Author: Janelle
Inspired by a dish at famed NYC eatery ABC Kitchen, this recipe for Cumin Roasted Carrot & Avocado is a vibrant start to any meal.
1 pound of carrots, peeled or scrubbed
1 ripe avocado, halved, pitted and peeled
3 tablespoons raw sunflower seeds
⅓ cup plain Greek yogurt, lowfat or whole as desired
2 lemons, halved
1 teaspoon garlic, minced
½ teaspoons cumin, ground
¼ teaspoon red pepper flakes
1 teaspoon fresh thyme, chopped
1½ teaspoon Kosher salt
1 teaspoon freshly ground black pepper
1 tablespoon red wine vinegar
¼ cup + 1 tablespon extra virgin olive oil
1½ cups baby spinach leaves or other greens (arugula or watercress works well too)
1 tablespoon orange juice
Preheat oven to 400 degrees F.
Bring a large pot of water to a boil. Boil carrots for approximately 20 minutes or until tender.
Meanwhile, make the marinade. In a small mixing bowl combine garlic, cumin, red pepper flakes, thyme, salt and pepper. Then, add red wine vinegar and slowly whisk in ¼ cup of the olive oil until thickened. Reserve marinade.
Toast sunflower seeds by placing them in a dry skillet over medium-low heat for 3-5 minutes until fragrant, making sure not to burn the seeds. Remove from heat and let cool.
Drain carrots and carefully arrange in a single layer in a roasting pan or dutch oven. Spoon marinade generously over carrots. Cut one of the lemons in half and place cut side down over the carrots. Roast in oven for 25 minutes uncovered.
Slice avocado into long, thin slices. Reserve.
Once carrots are finished roasting, prepare vinaigrette. Juice remaining 1 lemon and combine with orange juice and the juice of the lemon halves that roasted with the carrots. Whisk in 1 tablespoon olive oil.
Prepare salad by placing a few spinach leaves (or other greens) on a plate and stacking carrots on top. Add avocado slices and a dollop of yogurt. Sprinkle with toasted sunflower seeds. Drizzle 1 – 2 tablespoons of the vinaigrette over the salad. Add salt and pepper if needed.
Recipe by
the chic brûlée
at http://thechicbrulee.com/2012/06/05/cumin-roasted-carrot-avocado-salad/