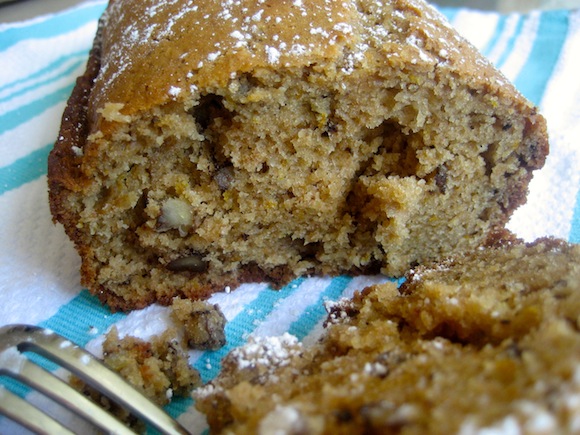 Author: The Chic Brûlée
Total time: 1 hour 15 mins
The Chic Brûlée invites you to try a recipe for Walnut Rooibos Tea Loaf, a healthy and delicious sweet bread recipe, made with tea! Try cooking with tea, one of the latest culinary trends...
Canola oil cooking spray
½ cup prepared Thé Des Vahines Rooibos tea by Le Palais des thés at room temperature
1¼ cups white flour (you can use gluten-free flour as well)
¾ cup almond flour
1 tsp baking powder
½ tsp baking soda
¼ tsp salt
⅓ cup unsweetened applesauce
¼ cup canola oil
2 large eggs
¼ cup sugar
⅓ firmly packed brown sugar
2 tsp grated orange zest
⅔ cup chopped walnuts
Preheat the oven to 350 degrees F. Coat an 8-inch x 4-inch loaf pan with cooking spray and set aside.
Prepare the tea. In a heatproof measuring cup, steep 1 tablespoon Thé Des Vahines Rooibos in ½ cup of 194 degrees (not quite boiling) water for five minutes. Strain out the tea leaves and cool to room temperature.
In a small bowl, whisk together the white flour, almond flour, baking powder, baking soda, and salt.
In another bowl, combine the applesauce, oil, and tea. Set both bowls aside.
In a mixing bowl, beat the eggs with an electric mixer until well blended and airy, about one minute. Add the white and brown sugars, beat together, then add wet ingredients. Add the dry ingredients and zest and mix until they are combined with the other ingredients; there will be many small lumps. Using rubber spatula, blend in most of the small lumps, taking care not to over-mix.
Stir in the nuts. Scoop the batter into the prepared baking pan.
Bake for 45-55 minutes or until a straw inserted into the center of the loaf comes out clean. Cool in the pan on a wire rack for 15 minutes. Turn the loaf out of the pan and cool completely.
This tea loaf is best served after wrapping in foil for 8-24 hours, which allows flavors to ripen and loaf to become more moist.
Recipe by
the chic brûlée
at http://thechicbrulee.com/2012/06/29/walnut-rooibos-tea-loaf/