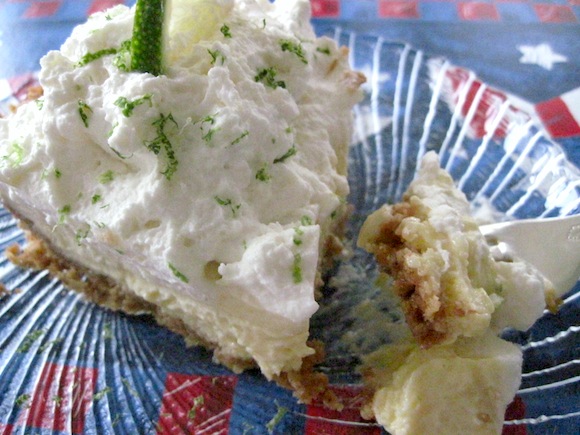 Author: the chic brûlée
Creamy, tangy key lime pie with a crunchy graham cracker crust and fluffy fresh whipped cream.
2 cups graham cracker crumbs (honey or original)
1 stick butter, melted
¼ tsp cinnnamon
8 egg yolks
2 (14 oz) cans of sweetened condensed milk
1 cup key lime juice, such as Nellie's
Freshly grated zest of 1 lime
2 cups heavy cream, chilled
¼ cup powdered sugar
1 teaspoon pure vanilla extract
Preheat the oven to 350 degrees.
Prepare the crust. Finely crush graham crackers in ziplock bag with rolling pin or other method. Measure crushed crumbs to equal 2 cups. In a large bowl, combine crumbs, melted butter and cinnamon.
Press crumbs along sides of bottom of a 10″ pie dish until spread evenly.
Bake crust for 5 minutes at 350 degrees, making sure the crust doesn't brown.
In a mixer, beat egg yolks on high speed for 5 minutes until thick and lemon-colored. Add condensed milk.
Then, add key lime juice and grated zest.
Pour filling into crust. Bake at 350 degrees for 15 minutes.
Let cool 10 minutes then refrigerate.
Just before serving, beat chilled heavy cream, vanilla and powdered sugar in a large bowl with an electric mixer until stiff peaks form. Serve pie topped with cream. Add thin lime slices and extra freshly grated lime zest to decorate as you wish.
Recipe by
the chic brûlée
at http://thechicbrulee.com/2012/07/12/perfect-key-lime-pie/