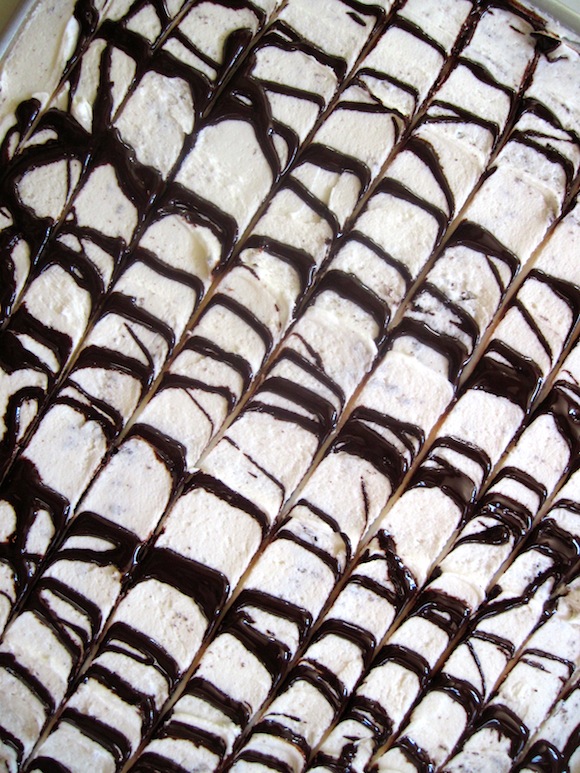 Drizzled Dark Chocolate Sheet Cake
Author: the chic brûlée
Prep time: 15 mins
Cook time: 25 mins
Total time: 40 mins
A decadent (and easy!) dark chocolate sheet cake with fluffy vanilla buttercream and drizzled chocolate.
1 box Duncan Hines Dark Chocolate Fudge Cake Mix (or similar)
1 cup water
⅓ cup vegetable oil
3 large eggs
½ cup butter, softened
3¾ cups powdered sugar
4 tablespoons milk
1 teaspoon vanilla extract
Approximately 2 packets of pre-melted unsweetened chocolate such as Nestle Toll House Pre-Melted Choco Bake
First off, prepare the cake. Preheat oven to 350°F. Grease sides and bottom of 13 x 9-inch sheet pan with shortening or oil spray and flour lightly.
Blend cake mix, water, oil and eggs in a large bowl at low speed until moistened (about 30 seconds). Beat at medium speed for 2 minutes. Pour batter into sheet pan and bake immediately.
Bake for 20-25 minutes or until toothpick inserted in center comes out clean.
Meanwhile, make frosting. In an electric mixer fitted with the paddle attachment, beat butter, powdered sugar, milk and vanilla until light and fluffy, 3 to 4 minutes, scraping down sides of the bowl as needed. If too thick, add more milk until frosting is spreading consistency.
Cool cake in pan on wire rack for 15 minutes. Cool completely before frosting.
Frost cake with buttercream frosting evenly while cooled cake is still in the pan.
Once cake is frosted completely, carefully drizzle even lines of pre-melted chocolate horizontally across the 9″ (short) side of cake, keeping about 1-2″ inches in between lines. You can "round the corner" in between lines so you do not have to pick up the melted chocolate and start new lines.
Then, create a grid by taking a tooth pick and gently brushing the toothpick in straight lines in the opposite direction (vertically) down the 13″ (long) side of the cake, leaving about 1″ between the toothpick indentations. Make sure not to pierce the toothpick all the way down into the cake, only go so far as to pierce the frosting, but not any further.
Chill in refrigerator for 2 hours or more. Serve chilled in medium-sized squares.
Recipe by
the chic brûlée
at http://thechicbrulee.com/2012/07/09/drizzled-dark-chocolate-sheet-cake/