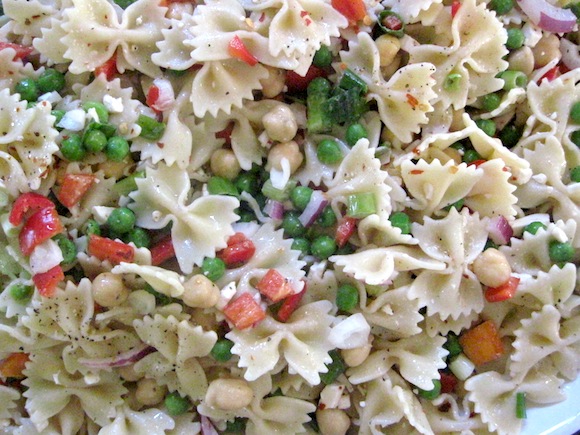 Mediterranean Bow-Tie Pasta Salad
Author: the chic brûlée
A flavorful Greek pasta salad, perfect to accompany a summer meal.
1 pound farfalle or "bow-tie" pasta
1 cup feta, cubed or crumbled
½ cup red pepper, diced
1 small red onion, quartered and thinly sliced
⅓ cup kalamata olives, pitted and halved
½ cup frozen green peas, thawed
1 can chickpeas, drained
½ cup extra virgin olive oil
¼ cup red wine vinegar
1 teaspoon garlic, minced
½ teaspoon salt
¼ teaspoon freshly ground black pepper
1 tsp crushed red pepper, as desired
¼ teaspoon dried oregano
3-4 scallions, chopped
Cook pasta al dente according to package directions.
Prepare dressing by combining red wine vinegar, garlic, salt, pepper, crushed red pepper and oregano and then slowly whisking in the olive oil in a steady stream.
Drain pasta and while it's still warm, toss into a large mixing bowl. Add feta, diced red bell pepper, thawed peas and chickpeas. Then, add dressing and toss everything together. Sprinkle with scallions Add extra salt and/or pepper if needed.
Place in a large serving bowl and serve room temperature. If you are making it in advance, you can refrigerate it, but it is best served room temperature. Add kalamata olives just before serving.
Recipe by
the chic brûlée
at http://thechicbrulee.com/2012/07/16/mediterranean-bow-tie-pasta-salad/