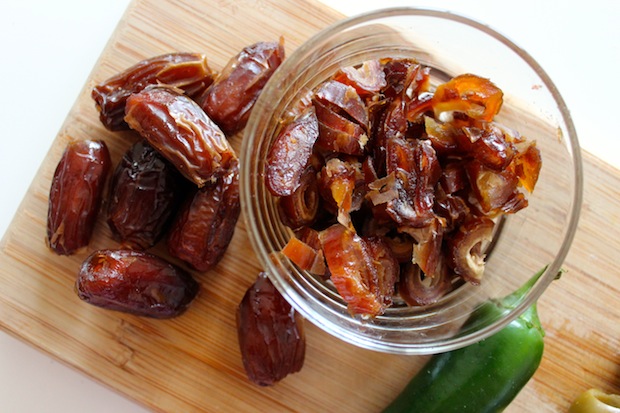 Author: the chic brûlée
A Latin American favorite - spicy pork and veal picadillo with fresh homemade salsa and crispy tostones.
3 tablespoons olive oil
½ pound ground pork
¼ pound ground veal
1 teaspoon ground cumin
½ teaspoon ground cinnamon
½ teaspoon salt
½ teaspoon dried oregano leaves
½ teaspoon crushed red pepper
¼ teaspoon ground allspice
½ cup chopped yellow onion
1 yellow or orange bell pepper, seeded and chopped
½ jalapeno, seeded and stemmed
1 tablespoon minced garlic
3 tablespoons tomato paste
2 tablespoons cider vinegar
1½ tablespoons light brown sugar
¼ cup dates (or currents, as desired)
4 teaspoons chopped green olives
1 cup water
Heat the olive oil in a medium nonstick skillet over high heat. Combine the ground pork, ground veal, cumin, cinnamon, salt, oregano, crushed red pepper, and allspice, and cook, using a spoon to break up any clumps, until the meat is golden brown and cooked through, about 6 minutes.
Add the onion, bell pepper, and jalapeno and cook until soft, about 4 minutes.
Add the garlic and cook for 1 minute, stirring constantly.
Add the tomato paste, vinegar, brown sugar, dates, and olives, and stir to thoroughly combine.
Stir in the water and reduce the heat to medium.
Continue to cook, stirring occasionally, until the sauce is very thick and the flavors have come together, about 15 minutes.
Serve the meat with Tostones and Fresh Salsa, if desired.
Recipe by
the chic brûlée
at http://thechicbrulee.com/2012/07/18/pan-latin-picadillo/