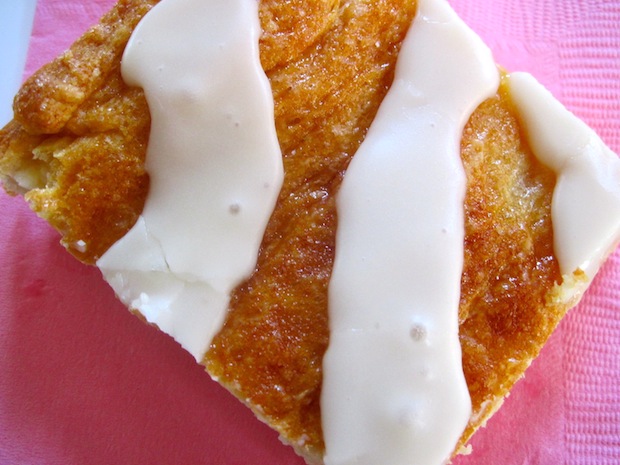 Author: Janelle
Prep time: 20 mins
Cook time: 25 mins
Total time: 45 mins
The easiest cheese danish ever that is a guaranteed hit!
2 cans refrigerated crescent rolls, such as Pillsbury
2 8-ounce packages cream cheese
¾ cup granulated white sugar, plus more for sprinkling
1 teaspoon pure vanilla extract
1 ½ teaspoons fresh lemon juice
2 teaspoons sour cream
1 egg
1 egg white, for brushing
Glaze
1 cup powdered sugar
2-4 teaspoons milk (adjust based on desired consistency)
1 tablespoon butter, softened
1 teaspoon pure vanilla extract
Preheat oven to 350 degrees F.
Spray a 13 x 9-inch baking pan with cooking spray.
Lay one package of crescent rolls in a flat layer on the bottom of the pan. Pinch the openings together so they are almost sealed. It's ok if they are not sealed completely.
Using an electric mixer, beat the cream cheese, sugar, vanilla, lemon juice, sour cream and egg together until smooth.
Pour cream cheese mixture on top of first layer of crescent rolls. Spread mixture evenly over crescent roll bottom.
Lay the second package of crescent rolls on top of the cream cheese mixture.
Brush the top with egg white and sprinkle with sugar.
Bake for 20-25 minutes until golden.
Meanwhile, make the glaze. Combine powdered sugar, milk, butter and vanilla and mix well until smooth. Place in a ziplock bag and snip a small hole at the end of the bag.
Cool danish and drizzle with glaze.
Recipe by
the chic brûlée
at http://thechicbrulee.com/2012/07/31/heavenly-cheese-danish/