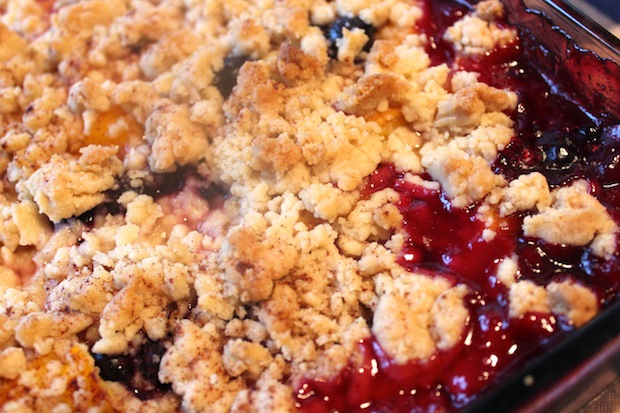 Author: Janelle
Prep time: 15 mins
Cook time: 50 mins
Total time: 1 hour 5 mins
A recipe for a blueberry peach crumble.
For The Filling
6 cups peaches, peeled and cut into ½-inch wedges
1 cup blueberries
¾ cup granulated sugar
1 tablespoon lemon juice, plus grated lemon zest
4 teaspoons cornstarch
½ teaspoon coarse salt
¼ teaspoon almond extract
¼ teaspoon cinnamon
grated lemon zest
For The Topping
6 tablespoons unsalted butter, room temperature
¼ cup light-brown sugar
1 cup all-purpose flour (spooned and leveled)
½ teaspoon coarse salt
Ground cinnamon, for sprinkling
Preheat oven to 375 degrees.
Make the filling: Combine peaches, blueberries, granulated sugar, lemon juice, lemon zest, cornstarch, salt, almond extract and cinnamon.
Transfer to an 8-inch square baking dish.
Make topping: In a large bowl, using a mixer, beat butter and brown sugar on medium until light and fluffy. Add flour and salt and, with your hands, mix until large pieces form. Scatter over filling and dust with ground cinnamon.
Bake until center is bubbling, 40 to 50 minutes, tenting loosely with foil after 30 minutes. Let cool 20 minutes before serving.
Feel free to substitute blueberries for a cup of raspberries, apricot, strawberries or rhubarb. The topping freezes well if you'd like to make it in advance.
Recipe by
the chic brûlée
at http://thechicbrulee.com/2012/08/03/blueberry-peach-crumble/