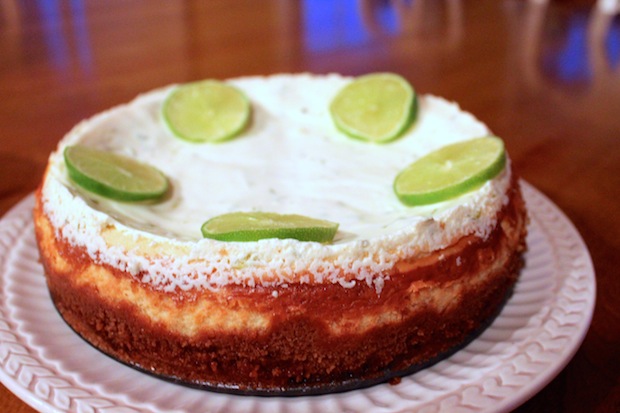 Author: Janelle
Prep time: 20 mins
Cook time: 15 mins
Total time: 35 mins
A refreshing, tangy and creamy Margarita Cheesecake.
For Crust
5 tablespoons unsalted butter, melted, plus more for pan
12 graham crackers (3-by-5 inch)
¼ cup sugar
¼ teaspoon salt
For Filling
3 8-ounce packages cream cheese, room temperature
2 cups sour cream, divided
1¼ cup sugar, divided
3 tablespoons Triple Sec
3 tablespoons gold tequila
3 tablespoons freshly squeezed lime juice, divided
2½ teaspoons grated lime zest, divided
4 large eggs
Very thin lime slices (garnish)
Make crust:
Preheat oven to 350 degrees. Butter a 9″ springform pan. In a food processor, pulse graham crackers until fine crumbs form. Add melted butter, sugar, and salt, and pulse all until combined. Press crumb mixture into bottom and about 1 inch up side of pan. Bake for 12 – 15 minutes or until set and just golden. Let cool completely on a wire rack.
Make filling:
Beat cream cheese until light and fluffy in an electric mixer. Add 1 cup of sour cream, 1 cup of sugar, Triple Sec, tequila, 2 tablespoons lime juice and 2 teaspoons lime zest and beat all until smooth. Gradually add eggs and beat until combined. Pour filling into cooled crust.
Bake until softly set, about 50 minutes. Maintain oven temperature. While baking, make sour cream topping. Mix remaining 1 cup sour cream, ¼ cup sugar, 1 tablespoon lime juice and ½ teaspoon lime zest in small bowl. Pour over cheesecake. Using spatula, gently smooth top. Bake cheesecake 5 minutes longer. Transfer pan to rack and cool completely.
Refrigerate until chilled, at least 4 hours or overnight. Run a hot knife around edge of pan to release. Garnish cake with thinly sliced lime slices.
Recipe by
the chic brûlée
at http://thechicbrulee.com/2012/08/13/margarita-cheesecake/