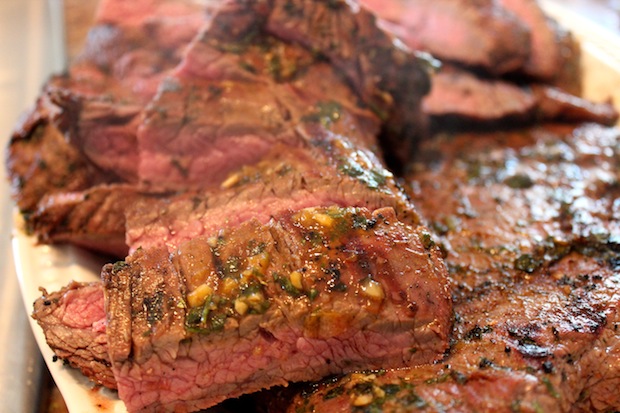 Author: Janelle
Prep time: 15 mins
Cook time: 6 mins
Total time: 21 mins
2 pounds flank steak
1 bunch fresh parsley, leaves only
1 bunch fresh cilantro, leaves only
5 cloves garlic
½ red onion, roughly chopped
2 teaspoons hot paprika
2 tablespoons sherry vinegar
½ cup extra virgin olive oil
1 tablespoon corase salt
1 teaspoon freshly ground black pepper
First, make the chimichurri marinade: In a food processor, combine parsley, cilantro, garlic, hot paprika, vinegar, ½ cup olive oil and salt and pepper and blend until smooth. The rich red color comes from the hot paprika.
Reserve half of the marinade for drizzling on the steak after it is grilled. Take remaining marinade and add it to a sturdy plastic bag along with the steaks. Seal the bag carefully and make sure the steaks are coated well. Marinate for at least one hour or up until overnight.
Preheat grill to medium-high. Grill steak over medium-high heat until cooked to medium-rare, about 6 minutes per side. Let steak rest for 12 minutes, so all of the juices are sealed in.
Drizzle chimichurri sauce over the steaks. Using a sharp knife, cut thin slices against the grain at a 45-degree angle - this is imperative to ensure tenderness. Serve steak on its own or in fajitas with your favorite toppings.