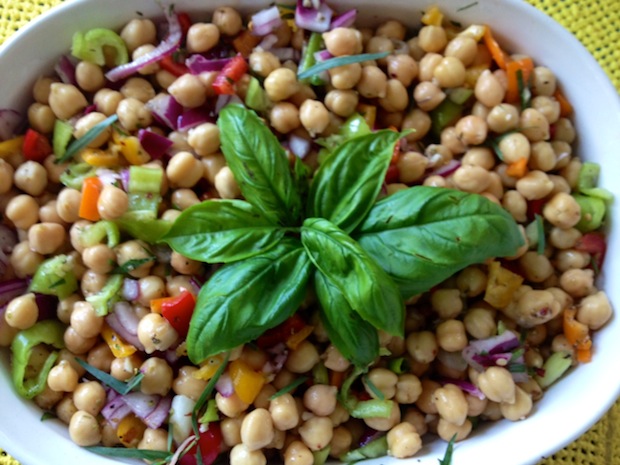 Chickpea Salad with Fresh Herbs
Author: Janelle
A light and refreshing chickpea salad with fresh herbs.
2 cans chickpeas (garbanzo beans), drained and rinsed
½ red onion, finely chopped
¾ cup peppers, assorted colors, diced
2-3 scallions, snipped
2 teaspoons garlic, minced
½ teaspoon fresh oregano, chopped (or 1 teaspoon dried oregano)
1 teaspoon fresh parsley or basil, chopped (plus more for garnish)
coarse salt, to taste
coarse ground black pepper,to taste
3-4 tablespoons extra virgin olive oil, to taste
3-4 tablespoons red wine vinegar, to taste
First, drain and rinse canned chickpeas.
Prep all of your ingredients: chop red onion, peppers, scallions, garlic and herbs.
Toss all ingredients together with the chickpeas in a large bowl.
Drizzle olive oil and red wine vinegar over everything. Add salt and pepper to taste. Toss to combine.
Garnish with a few leaves of basil or sprigs of parsley as you wish.
Refrigerate well before serving.
Recipe by
the chic brûlée
at http://thechicbrulee.com/2012/08/23/chickpea-salad/