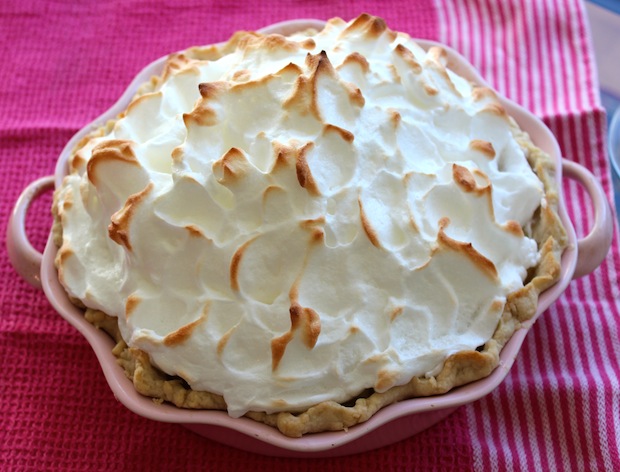 Author: Janelle
Prep time: 20 mins
Cook time: 19 mins
Total time: 39 mins
A comforting, creamy coconut cream pie topped by golden brown meringue.
Crust
1 ¾ cup Wondra flour
1 tsp. salt
¾ cup crisco or other vegetable shortening
¼ cup cold water
Filling and Topping
2¼ cups whole milk
¾ cup sugar, plus ¼ cup for the egg whites
3 eggs, separated
¼ cup cornstarch
1 teaspoon vanilla
1¾ cups toasted coconut
1 tablespoon butter
First, make pie crust:
Preheat oven to 425ºF.
Stir flour and salt, add Crisco shortening and mix with electric mixer on low speed adding water at end.
Form into flattened ball, wrap in waxed paper and chill.
Then, roll out dough with a rolling pin on waxed paper dusted with Wondra and topped with another piece of waxed paper.
Place in 9″ pie plate and crimp the edges.
Pierce pie crust all around with tines of fork and then put on tin foil "collar" to keep edges from over-browning.
Bake at 425ºF for 7-11 minutes or until golden. Let cool.
Then, make filling:
Preheat the oven to 350ºF. Spread coconut on a rimmed baking sheet and bake, until golden, about 5 – 9 minutes. Stir a couple times in between. Let toasted coconut cool.
In a saucepan, whisk 2 cups of the milk and ¾ cup sugar together over medium heat. Bring the liquid up to a simmer.
Separate the eggs and whisk the egg yolks together (the whites will be saved for the meringue topping). Temper the hot milk into the egg yolks by taking the hot milk mixture and, working with just a few teaspoons at a time, pouring it into the egg yolks as you whisk continuously. Then, whisk the egg mixture into the hot milk mixture.
In a small bowl, dissolve the cornstarch in the remaining milk. Whisk the cornstarch mixture (or "slurry") into the hot milk mixture. Bring the liquid up to a boil and reduce to a simmer. Cook the mixture, stirring constantly, until the filling is thick, about 5 to 6 minutes.
Fold in the vanilla, coconut, and butter. Mix well.
Pour the filling into the prepared pan and cool the pie completely.
Lastly, make the meringue topping:
Preheat the oven to 400ºF. Using an electric mixer with a whip attachment, whip the egg whites to soft peaks. Add the remaining sugar and whip the egg whites to stiff peaks.
Spread the egg whites over the top of the pie, making sure to cover the surface all the way up to the edges to prevent shrinking.
Place the pie in the oven for about 3 to 4 minutes, or until the meringue is golden brown.
Recipe by
the chic brûlée
at http://thechicbrulee.com/2012/08/31/best-coconut-cream-pie/