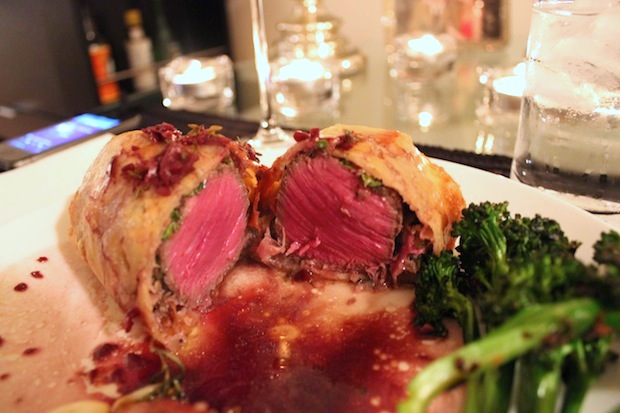 Truffle Beef Wellington for Two
Author: Janelle
Prep time: 40 mins
Cook time: 40 mins
Total time: 1 hour 20 mins
A decadent meal for traditional beef wellington for two, with a dab of truffle butter for added richness.
Main
2 (6-ounce) filet mignons, about 1½″ thick
½ teaspoon salt
¼ teaspoon freshly ground black pepper
½ tablespoon extra virgin olive oil
8 thin slices of prosciutto
½ teaspoon thyme leaves, chopped
2 tablespoons white truffle butter
One-quarter (17¼-ounce package) frozen puff pastry (about a ½ sheet), thawed
½ large egg beaten with 1 teaspoon water for an egg wash
Mushroom Duxelles
½ tablespoon unsalted butter
1 tablespoon minced shallots
¼ teaspoon minced garlic
1 sprig fresh thyme, leaves only
5 ounces button mushrooms, wiped clean, stemmed, and finely chopped
⅛ teaspoon salt
⅛ teaspoon freshly ground black pepper
Wine Sauce
1 cup Madeira wine
2 tablespoons minced shallots
1 teaspoon minced thyme leaves
1 cup beef or veal stock
2 tablespoons butter
Salt and pepper
First, make the Mushroom Duxelles and set aside. Add mushrooms, shallots, garlic, and thyme to a food processor and pulse until finely chopped. Heat the butter in a medium skillet over medium-high heat. Add the shallot and mushroom mixture and saute for 8 – 10 minutes or until most of the liquid has evaporated. Season with salt and pepper and set aside to cool before using.
Next, begin assembling the Wellingtons. Preheat the oven to 425 degrees F. Line a baking sheet with parchment paper and set aside.
Season both sides of each filet with ¼ teaspoon of the salt and ⅛ teaspoon of the pepper.
Heat the oil in a large heavy skillet over medium-high heat. Add the beef filets and sear for 1 minute on each side for medium-rare. When the beef is seared, remove from heat, and smear the beef with truffle butter. Transfer to a plate to cool completely.
Meanwhile set out your prosciutto on 2 sheets of plastic wrap (plastic needs to be big enough so you can wrap each filet in it) on top of your cutting board. Shingle the prosciutto on each sheet so it forms a rectangle that is big enough to encompass each entire filet of beef.
Using a rubber spatula cover evenly with a thin layer of duxelles. Season the surface of the duxelles with salt and pepper and sprinkle with fresh thyme leaves.
Once beef has cooled slightly, roll it in the duxelles-covered prosciutto using the plastic wrap to tie it up tightly. Twist the ends of the plastic wrap to seal the beef completely and hold it in a nice log shape. Set in the refrigerator for 30 minutes to ensure it maintains its shape.
Roll out the puff pastry on a lightly floured surface and cut half of it into two 7-inch squares.
Remove the beef from the refrigerator and cut off the plastic wrap. Place one filet, in the center of a puff pastry square.
Using a pastry brush or your finger, paint the inside edges of the pastry with egg wash. Fold the pastry over the filet as though wrapping a package and press the edges to seal. Place the packages seam-side down on the prepared baking sheet. Brush the egg wash over the tops and sides of each package, add some coarse salt.
If desired, affix dough garnishes with egg wash. For a simple decoration, roll dough bits into a long, thin spaghetti like string and make swirls on each Wellington.
Bake until the pastry is golden brown and an instant-read thermometer registers 140 degrees F for medium-rare, about 20 minutes.
Meanwhile, make the wine sauce. In a saucepan, bring Madeira, shallots, and thyme to a boil. Reduce to a simmer and cook until only ⅓ cup remains. Add the stock; continue to reduce, over medium heat, until slightly thickened. Whisk in the butter. Season, to taste, with salt and pepper.
Remove Beef Wellingtons from the oven and let rest for 10 minutes before serving.
Place the Beef Wellingtons in the center of 4 large plates, and accompany with the Madeira wine sauce and vegetables of choice.
Recipe by
the chic brûlée
at http://thechicbrulee.com/2012/09/07/truffle-beef-wellington-for-two/