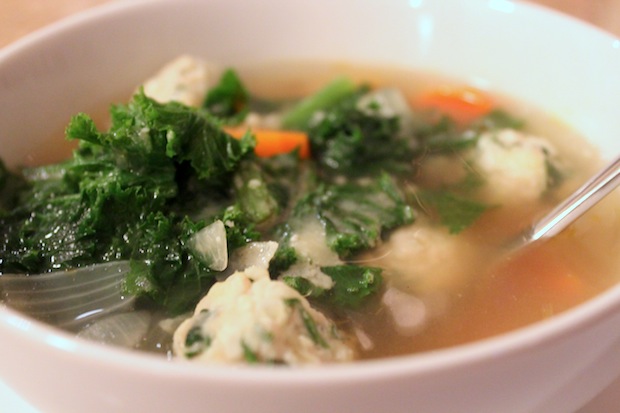 Lightened Up Italian Wedding Soup
Author: Janelle
Prep time: 30 mins
Cook time: 20 mins
Total time: 50 mins
A recipe for a lightened up version of Italian Wedding Soup, made with healthy ground turkey, hearty greens and tasty vegetables.
Meatballs
1 medium white or yellow onion, grated
⅓ cup fresh Italian parsley, chopped
1 large egg
2 teaspoons garlic, minced
1 teaspoon salt
½ teaspoon freshly ground black pepper
¼ cup panko breadcrumbs
¼ cup Parmigiano-Reggiano cheese, grated
1 pound ground turkey breast
Soup:
1 tablespoon extra virgin olive oil
3 carrots, diced
1 cup white or yellow onion, minced
12 cups chicken broth
1 pound curly endive, coarsely chopped (you can substitute spinach or escarole if you'd like)
Parmigiano-Reggiano, grated, for garnish
Salt and freshly ground black pepper
First, prepare the meatballs:
Stir the onion, parsley, egg, salt, pepper, panko breadcrumbs and grated cheese in a large bowl to blend. Stir in the ground turkey and gently combine. With a teaspoon, shape the meat mixture into 1-inch meatballs and place onto a baking sheet.
Next, make the soup:
Heat the extra virgin olive oil over medium-low heat in a large heavy-bottomed soup pot. Add the onion and carrots, and saute until softened, 5 to 6 minutes, stirring occasionally.
Add the chicken broth and bring to a boil.
Add the raw meatballs and curly endive and simmer until the meatballs are cooked through and the curly endive is tender, about 8-10 minutes.
Season the soup to taste with salt and pepper.
Ladle the soup into bowls and serve. Finish soup with grated Parmigiano-Reggiano on each serving.
Recipe by
the chic brûlée
at http://thechicbrulee.com/2012/11/20/lightened-up-italian-wedding-soup/