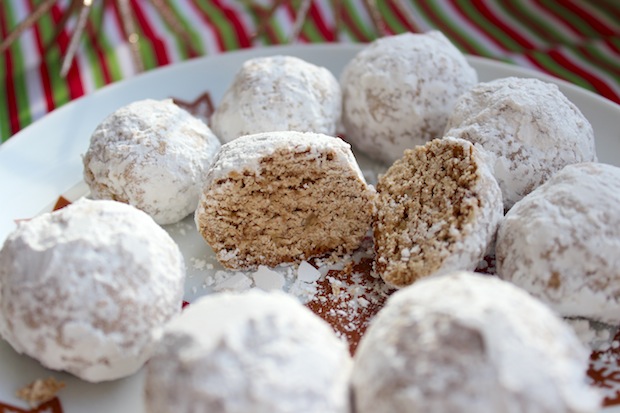 Author: Janelle
A delicious, spicy cookie for Christmastime.
½ tsp ground cinnamon
½ tsp ground cloves
½ tsp ground nutmeg
¼ tsp freshly ground black pepper
¼ tsp ground ginger
¼ tsp ground cardamom
¼ tsp baking soda
1¼ cups white flour
1¼ cups whole wheat flour
2 eggs, large
1 cup dark brown sugar, packed
⅓ cup walnuts, finely chopped
⅓ cup powdered sugar, for rolling
Preheat oven to 375ºF.
Prep 2 cookie sheets by spraying with cooking spray or lining with parchment paper.
In a medium bowl, stir together the dry ingredients: cinnamon, cloves, nutmeg, black pepper, ginger, cardamom, baking soda, white flour and wheat flour.
Using an electic mixer set on medium speed, beat together the brown sugar and eggs until light and fluffy, about 4 minutes.
Reduce the speed of the electric mixer to low. Gradually add the dry ingredients and beat until completely blended. Batter will be very dry and crumbly – this is how it should to be! Slowly add in the chopped walnuts and beat until combined.
Using damp hands, pinch off dough in tablespoon amounts; roll into 1-inch balls. Arrange balls 1½ inches apart on prepared baking sheets. It will make about 45 balls. Make sure your hands have water on them while rolling the balls – it will help tremendously to bind the dough together.
Bake for 11 – 14 minutes, or until just starting to become golden.
Transfer sheets to a wire rack to cool, about 15-20 minutes.
Working in batches, carefully roll cookies in powdered sugar until covered completely.
Let cool completely on wire rack. Store in an airtight container.
Recipe by
the chic brûlée
at http://thechicbrulee.com/2012/11/30/pfeffernusse/