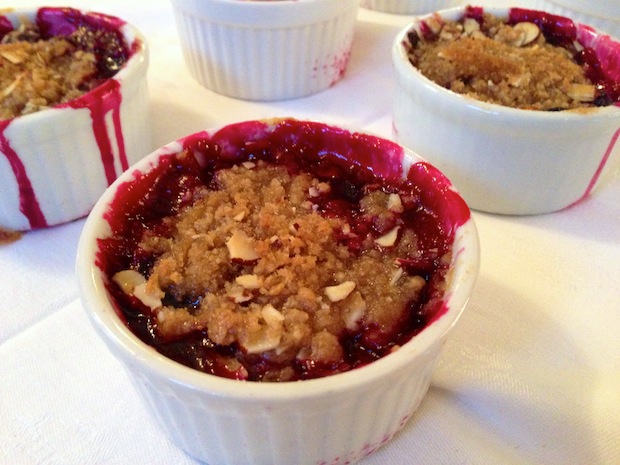 Mini Blueberry Almond Crisps
Author: Janelle
A recipe from Carla Hall for scrumptious Mini Blueberry Almond Crisps
For the Crumble:
1 cup Brown Sugar
1 stick Butter (chilled and cubed)
¾ cup All-Purpose Flour or Quick-Cooking Oats
½ teaspoon Cinnamon
⅓ cup sliced Almonds
For the Blueberry Filling:
¼ cup Sugar
1 Lemon (zest and juice)
3 cups Blueberries (fresh or frozen)
1 teaspoon Salt
1 tablespoon Cornstarch
Preheat the oven to 350 degrees.
First, prepare the crumble. Place all the crumble ingredients into a food processor and process until butter has been cut into the size of peas.
Next, prepare the filling. Toss the blueberry filling ingredients together, sprinkling on the cornstarch last. Toss to combine thoroughly.
Spray small ramekins with baking spray. Spoon about half a cup of blueberry filling into each ramekin. Top with about 3 tablespoons of crumble.
Place ramekins on a baking sheet and put in the oven for about 20 to 25 minutes. Serve with a scoop of whipped cream, ice cream, or lemon frozen yogurt.
Recipe by
the chic brûlée
at http://thechicbrulee.com/2013/01/17/mini-blueberry-almond-crisps/