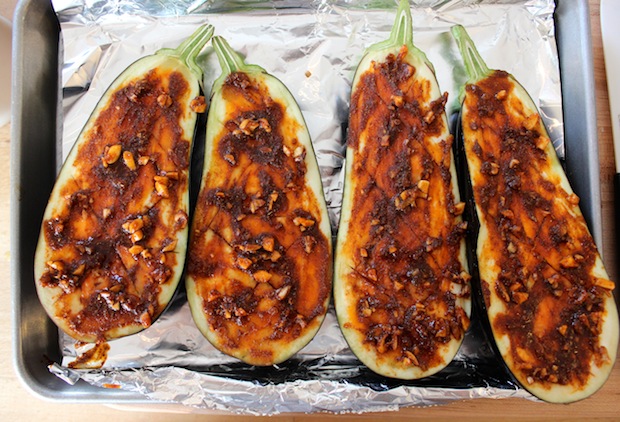 Chermoula Eggplant With Bulgur and Yogurt
Author: Janelle
Enjoy this North-African-inspired vegetarian dish featuring roasted eggplant, bulgur salad and a yogurt topping.
2 cloves garlic, crushed
2 teaspoons ground cumin
2 teaspoons ground coriander
¾ teaspoon ground cinnamon
1 teaspoon chili flakes
1 teaspoon sweet paprika
1 teaspoon grated lemon rind ¼ cup olive oil, plus extra for drizzling
2 medium eggplants
1 cup bulgur
1 tablespoon fresh cilantro, chopped, plus extra to finish
2 teaspoons fresh mint, chopped
⅓ cup pine nuts, toasted
3 green onions, chopped
½ red onion, sliced very thinly
1½ tablespoons freshly squeezed lemon juice
½ cup plain Greek yogurt
Salt
Preheat oven to 400 degrees.
To make the chermoula, mix together in a small bowl the garlic, cumin, coriander, chili, cinnamon, paprika, lemon rind, ¼ cup olive oil, and ½ teaspoon salt.
Cut the eggplants in half lengthwise. Score the flesh of each half with deep, diagonal crisscross cuts, making sure not to pierce the skin. Spoon the chermoula over each half, spreading it evenly, and place the eggplant halves on a baking sheet, cut side up. Put in the oven and roast for 40-50 minutes, or until the eggplants are completely soft.
Cook bulgur according to package directions (cooking times vary based on type of bulgur).
Place cooked bulgur in a large bowl and add the herbs, pine nuts, green onions, red onions, lemon juice and a pinch of salt and stir to combine. Drizzle with extra virgin olive oil. Taste and add more salt if necessary. Let stand for at least 30 minutes for flavors to meld.
Serve the eggplants warm. Place ½ eggplant, cut side up, on each individual plate. Spoon the bulgur on top generously, allowing some to fall from both sides. Spoon over some yogurt, sprinkle with cilantro and finish with a drizzle of olive oil.
Recipe by
the chic brûlée
at http://thechicbrulee.com/2013/07/10/chermoula-eggplant-with-bulgur-and-yogurt/