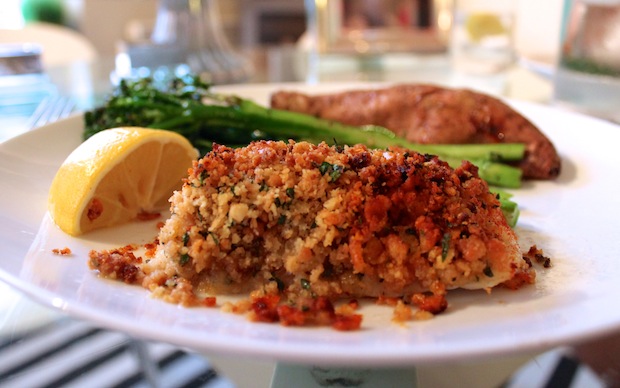 New England Baked Cod with Ritz Cracker Crumbs
Author: Janelle
My recipe for Baked Cod is a tried and true family favorite perfect to enjoy year round. The secret to the crunchy, golden crumb topping is to use Ritz Crackers instead of boring old breadcrumbs. I added Parmesan cheese, garlic, parsley and pepper to the crumb mixture to give it lots of flavor.
1 lb. boneless, skinless cod filets
Butter, for greasing
1 cup crushed Ritz crackers
¼ cup parmigiano reggiano cheese, grated
1 teaspoon garlic, minced
2 tablespoons fresh chopped parsley
Black pepper, a few grinds to taste
Dash of cayenne pepper, if desired
3 tablespoons butter
½ tsp. paprika
Lemon wedges
Preheat oven to 375 degrees F (190 C).
Grease your baking dish with butter.
Rinse cod and pat dry.
Place cod in baking dish.
In a bowl, combine cracker crumbs, cheese, garlic, black pepper, cayenne pepper and parsley. Mix until combined.
In a medium size saucepan, melt butter over low heat. Turn off heat and then add the crumb mixture to the pan. Mix until the butter and crumbs are combined.
Spoon crumb mixture generously over the cod. Dust with paprika.
Bake for about 20 minutes or until fish is cooked through and the crumbs are browned.
Recipe by
the chic brûlée
at http://thechicbrulee.com/2013/07/25/new-england-baked-cod-with-ritz-cracker-crumbs/