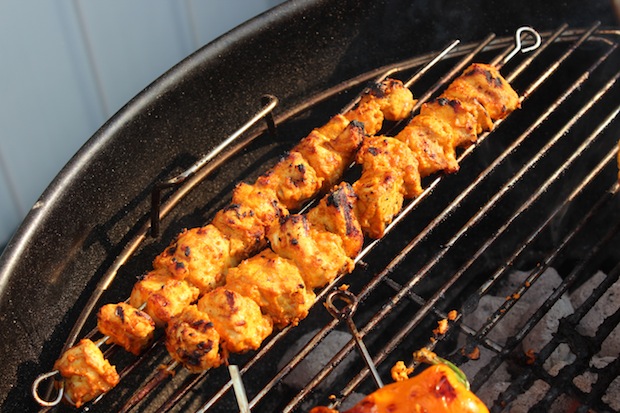 Author: Janelle
A recipe for the popular Indian classic, grilled tandoori chicken.
1 lb. of boneless, skinless chicken breast, cut into 1″ cubes
2 tablespoons vegetable oil
½ cup diced white or yellow onion
2 tablespoon fresh garlic, minced
2 tablespoon fresh ginger, minced
1 teaspoon ground cumin
1 teaspoon garam marsala
1 teaspoon turmeric
1 teaspoon ground coriander
1 tablespoon paprika
1 teaspoon salt
Pinch of cayenne pepper or siracha sauce
½ cup of plain yogurt
Juice of 1 lemon
First, make the marinade. In a blender or food processor, combine vegetable oil, onion, garlic and ginger until blended.
Add cumin, garam marsala, turmeric, coriander, paprika, salt and cayenne pepper. Blend well. Add yogurt and lemon and blend until totally combined.
Next, place cubes of chicken in a resealable plastic bag along with all of the marinade. Marinade for at least 5 hours or up until overnight.
Once you are done marinating, skewer the chicken cubes, leaving as much sauce on the chicken as you can.
Heat up your grill. Grill for about 10 minutes on each side, basting in between, or until cooked throughout, but still tender.
Recipe by
the chic brûlée
at http://thechicbrulee.com/2013/07/22/grilled-tandoori-chicken/