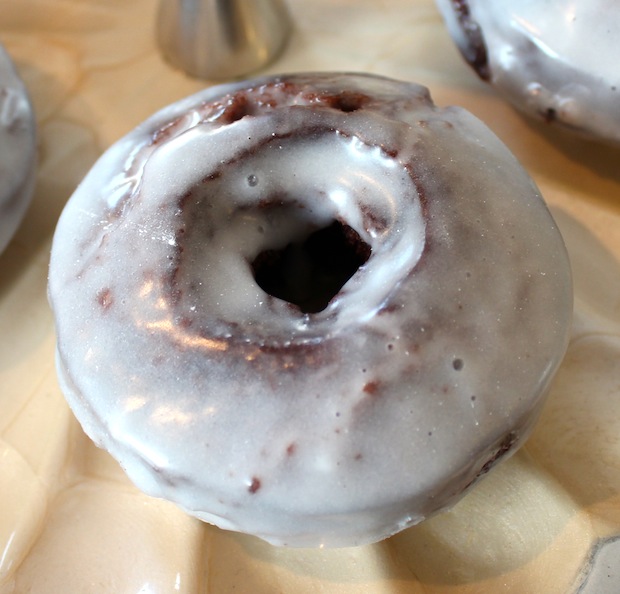 Frosted Chocolate Cake Doughnuts
Author: Janelle, Recipe by Stephen Collucci
Prep time: 1 hour
Cook time: 30 mins
Total time: 1 hour 30 mins
Moist and chocolately chocolate cake doughnuts with sweet, gooey glaze
Doughnuts
3 cups all-purpose flour
1 cup unsweetened cocoa powder
1 cup sugar
2 teaspoons baking powder
1 teaspoon baking soda
¼ teaspoon ground cinnamon
1 teaspoon salt
1 large egg
3 large egg yolks
¾ cup buttermilk
1 teaspoon vanilla extract
⅓ cup vegetable oil
Vegetable oil, for frying
Glaze
2 cups confectioners' sugar
4 tablespoons whole milk
First, in the bowl of an electric mixer fitted with a paddle attachment, combine 1 cup of the flour, cocoa, sugar, baking powder, cinnamon and salt. Next, add the egg and yolks and mix well. Add the buttermilk, vanilla, and oil, and mix until combined.
Slowly add the remaining 2 cups of flour and mix until just combined (do not over mix!).
Scrape dough from bowl and place onto a large piece of parchment paper. Place an equal size piece of parchment paper over the dough and roll it out using a rolling pin until it is about ½″ thick.
Chill the dough (still covered in parchment paper) in the refrigerator for 30 minutes – 1 hour or until the paper can be pulled off without sticking to the dough.
Dust some flour over your work surface.
Remove the top sheet of paper and flip the dough onto your work surface. Remove the second piece of paper and dust the top of the dough with flour. To create the tubular shapes, I used a nifty 2½″ doughnut cutter, but you can also use a biscuit or other round cutter if you do not have a doughnut cutter.
Prepare a baking sheet dusted with flour. Cut out your doughnuts – and don't forget to save the doughnut holes as well!! Place the cut doughnuts onto the baking sheet.
Now, it's time to start frying. Heat at least 2″ of oil in a heavy bottomed pot until a deep fry thermometer reaches 350°F. Using a thermometer is crucial for getting the oil to the optimal temperature for frying the doughnuts.
Prepare a second baking sheet lined with a couple layers of paper towels.
Fry the doughnuts in batches. If it's your first time frying doughnuts, start with 1 at a time until you get the hang of it. Fry for 1 to 1½ minutes on each side, or until they are slightly red-brown all over. If you decide to fry the doughnut holes as well (why not!), fry them for about 30 seconds on each side.
Drain on paper towel lined baking sheet.
Prepare glaze by mixing together confectioners' sugar and milk in a medium sized bowl.
While doughnuts are still slightly warm (and drained), dip both sides in glaze.
Place on cooling rack to set.
Recipe by
the chic brûlée
at http://thechicbrulee.com/2013/08/30/frosted-chocolate-cake-doughnuts/