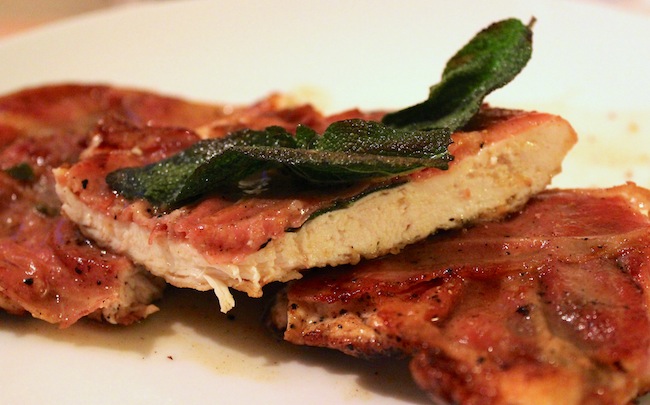 Author: Janelle
2 boneless, skinless chicken breast fillets
70 grams (about 6 slices) prosciutto di Parma
10 fresh sage leaves
All-purpose flour, for dusting
2 tablespoons olive oil
2 tablespoons butter
1 cup dry white wine
½ cup chicken broth
Lightly pound chicken between 2 sheets of wax or parchment paper until it is flat and about double it's size (be sure to use the flat side of a meat pounder).
Place 3 sage leaves on each piece of chicken.
Place prosciutto slices over the chicken and lightly press them onto the chicken.
Lightly dust both sides of the chicken with flour and some salt and pepper.
Heat olive oil in a large skillet (preferably something with shallow sides).
Fry the sage leaves for about 30 seconds, flipping in between, making sure not to burn them. Remove from pan and place on paper towels to drain. Set aside.
Add 1 tablespoon of the butter to the pan.
Once melted, add 1 of the chicken breasts to the pan, prosciutto side up, and cook over medium-high heat for 3 minutes until browned.
Flip and cook for another 1-2 minutes. Remove from pan and set aside. Add remaining 1 tablespoon of the butter to the pan. Repeat with the second chicken breast.
Add wine to pan and reduce for about 1 minute, making sure to scrape the bottom of the pan. Add chicken broth and bring to a boil. Reduce for another 1 -2 minutes or until slightly thickened.
Return chicken to pan and simmer in the sauce for 2-3 minutes.
To serve, spoon some of the wine sauce on each piece of chicken and top with a couple fried sage leaves.