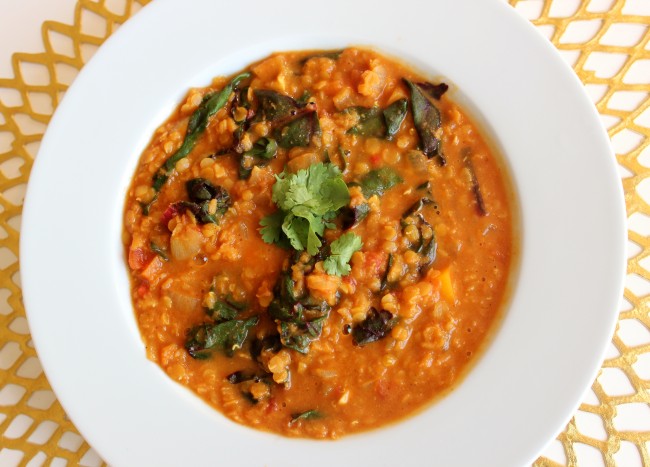 Curried Coconut Lentil Soup
Author: Janelle
A recipe for a hearty, warming, (and healthy!) curried coconut lentil soup.
2 tablespoons coconut oil
1 large onion, finely chopped
2 carrots, chopped
3 cloves garlic, minced
1½ tbsp fresh ginger, grated
1½ tablespoons tomato paste
2 tablespoons good-quality curry powder
1 teaspoon sea salt
½ – 1 fresh chili, finely chopped (optional, to taste)
3 cups vegetable broth
1 400ml can full-fat coconut milk
1 400g can diced tomatoes
1½ cups red lentils, dry
2-3 handfuls of swiss chard, washed and chopped (can use spinach or kale, if you wish!)
Chopped cilantro (coriander)
Chop up your onions, carrots, garlic, ginger and chili (if using).
Heat the coconut oil in large stockpot over medium heat.
Add the onions and cook for about 5 minutes or until softened, but not browned.
Add the carrots and cook for an additional 4-5 minutes.
Stir in the garlic, ginger and chili and cook for an additional 1-2 minutes.
Add the curry powder, salt and tomato paste and cook for about 1 minute, or until fragrant.
Add coconut milk, vegetable stock, tomatoes and lentils and bring to a boil. Reduce to a simmer and simmer, covered, for 20-30 minutes or until lentils are very tender. If the soup is getting too dry, add a little more vegetable stock or water until it reaches a good consistency.
Add the swiss chard and cook for an additional 5 minutes until wilted.
Serve immediately with chopped fresh cilantro (coriander) to garnish.
Recipe by
the chic brûlée
at http://thechicbrulee.com/2014/09/14/curried-coconut-lentil-soup/