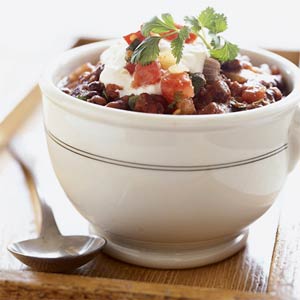 Get ready for a healthy twist on a favorite southern comfort food, chili. This recipe is full of nutritious vegetables and has a mix of spices that really packs a punch. Veggie chili is surprisingly easy to make and extremely satisfying. Serve over brown rice or cornbread and top with plain greek yogurt, avocado and shredded Monterrey jack cheese for a scrumptious meal.
Vegetarian Chili
Adapted from Emeril Lagasse
Ingredients
2 tablespoons canola oil
1 1/2 cups chopped yellow onions
1 cup chopped red bell peppers
2 tablespoons minced garlic
2 to 3 serrano peppers, stemmed, seeded, and minced, depending upon taste
1 medium zucchini, stem ends trimmed and cut into small dice
2 cups fresh corn kernels (about 3 ears)
2 tablespoons chili powder
1 tablespoon ground cumin
1 1/4 teaspoons salt
1/4 teaspoon cayenne
1 can black beans, rinsed and drained
1 can red kidney beans, rinsed and drained
1 (24-ounce) can diced tomatoes
1 cup pale beer
1/4 cup chopped fresh cilantro leaves
plain greek yogurt, garnish
Diced avocado, garnish
Monterrey jack cheese, shredded, garnish
Directions
In a large, heavy pot, heat the oil over medium-high heat. Add the onions, bell peppers, garlic, and serrano peppers, and cook, stirring, until soft, about 3 minutes. Add the zucchini and corn and cook, stirring, until soft and the vegetables give off their liquid and start to brown around the edges, about 6 minutes. Add the chili powder, cumin, salt and cayenne, and cook, stirring, until fragrant, about 30 seconds. Add the pale beer to deglaze pan. Add the tomatoes and stir well. Add the beans, stir well, and bring to a boil. Reduce the heat to medium-low and simmer, stirring occasionally, for about 30 minutes.
Remove from the heat and stir in the cilantro. Adjust the seasoning, to taste.
To serve, place 1/4 cup of brown rice (or a slice of cornbread) in the bottom of each bowl. Ladle the chili into the bowls over the rice or conrbread. Top each serving with a dollop of plain greek yogurt and spoonful of avocado. Sprinkle with shredded Monterrey jack cheese and serve.