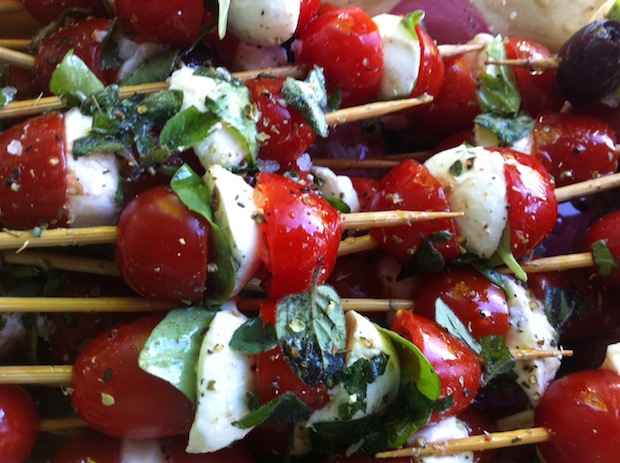 I have a great recipe today for an easy, healthy and delicious summer appetizer that is fun to make. Instead of making a traditional tomato and mozzarella salad, try using skewers to create fun, pick-me-up "Caprese Sticks" that your guests will love. You can add variations to this recipe based on your favorite Caprese salad ingredients. I included Kalamata olives on some of my skewers for an extra twist!
Caprese on a Stick
Ingredients
2  boxes cherry tomatoes (red or yellow)
12 bocconcini (small mozzarella balls), about 8 ounces
1 bunch basil
salt (coarse ground or Kosher)
black pepper
extra virgin olive oil
oregano (use fresh if you have it, if not dry works well)
Kalamata olives, pitted (optional)
long pointed wooden skewers
Directions
Prepare ingredients. Cut cherry tomatoes in half and cut mozzarella balls in half.
Skewer alternating tomato halves, mozzarella, basil leaves and kalamata olives (if using). Repeat with the remaining cheese and tomatoes.
Arrange on platter and drizzle extra virgin olive oil, coarse salt, coarse ground black pepper, and oregano over skewers.
Feel free to be creative with the placement and amount of tomatoes or mozzarella based on your preferences.