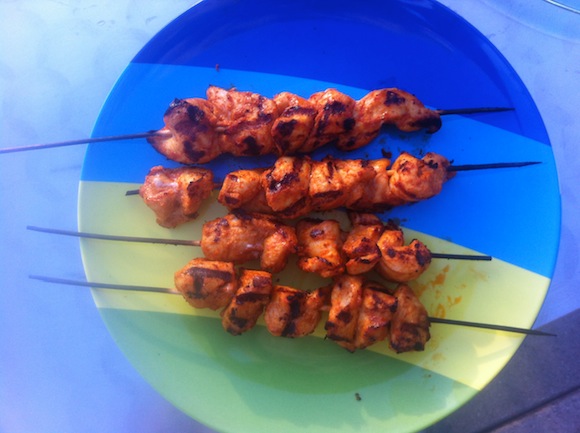 Last night my boyfriend made me a delicious dish that has me dreaming of warm summer nights — Red Curry Chicken Kabobs with Minty Yogurt Sauce. This recipe is so easy to make and bursting with bold flavors. With the base of Thai red curry paste, he made a zesty marinade that coated the chicken beautifully. The dish is finished off with a refreshing and healthy mint and lime yogurt dipping sauce. We added a heirloom tomato side salad and a few grilled vegetables (corn on the cob and grilled onion and red peppers) to make a healthy, mouth-watering summer meal. This recipe is a summer-must. Enjoy!!
Red Curry Chicken Kabobs with Minty Yogurt Sauce
Recipe Courtesy of Kerry Simon via Food & Wine Magazine
Ingredients
2 1/2 tablespoons Thai red curry paste
1/2 cup vegetable oil
Kosher salt
2 1/2 pounds skinless, boneless chicken breast halves, cut into 1-inch cubes
3/4 cup plain low-fat yogurt
1/4 cup low-fat mayonnaise
1 tablespoon honey
1 tablespoon fresh lime juice
1 tablespoon finely chopped mint

Directions
In a large bowl, mix the curry paste with the oil and 2 teaspoons of salt. Add the chicken cubes and toss to coat.
Let stand at room temperature for up to 2 hours or cover and refrigerate overnight.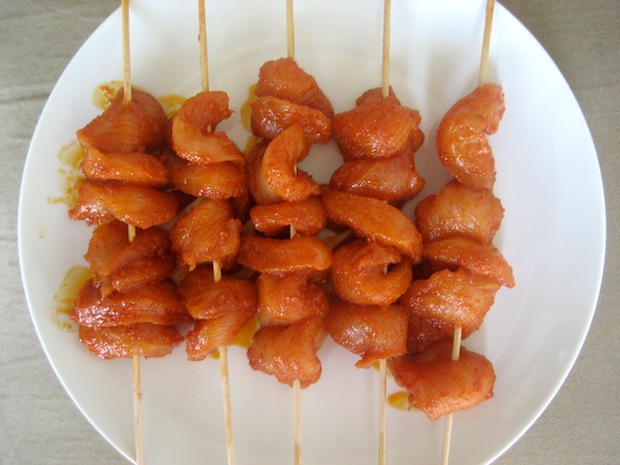 Light a grill. In a medium bowl, whisk the yogurt with the mayonnaise, honey, lime juice and mint and season with salt.
Thread the chicken onto 10 skewers, leaving 1/4 inch between the cubes. Grill over moderately high heat, turning frequently, until lightly charred and cooked through, about 8 minutes. Serve the kebabs with the minty yogurt sauce on the side.
Notes: One serving 228 cal, 8 gm carb, 12 gm fat, 2.6 gm sat fat, 29 gm protein, less than 1 gm fiber.