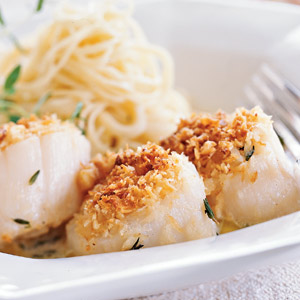 With summer in full swing, I wanted to share one of my favorite easy and elegant summer seafood meals — Baked Scallops. This dish is so easy to make, but at the same time delicious, bursting with flavor and sure to impress your family and friends. I got this recipe from a well-known seafood market in a shoreline Connecticut town. This market has some of the freshest seafood in the area, and features this recipe to enjoy with their tasty scallops. Serve this meal with a side of rice pilaf or couscous and your favorite vegetables.
Baked Scallops
Old Saybrook Seafood
Ingredients
1 1/2 pounds fresh scallops (4-5 per person)
3/4 stick butter, melted
1 cup crushed Ritz crackers
1 tsp minced garlic, more to taste
3 tablesppons chopped fresh parsley
1/4 cup grated Parmesean cheese
1/2 teaspoon Paprika
black pepper, a few grinds to taste
dash of cayenne pepper, if desired
Lemon Wedges
Directions
Preheat oven to 375 F
Wash the scallops and pat dry
Mix together ritz cracker crumbs, minced garlic, parsley, paprika, black pepper, cayenne pepper (if using) to make the crumb mixture
To prepare the scallops, first roll them in melted butter and then roll in crumb mixture
Place scallops in buttered baking dish
Spoon any remaining crumb mixture on top of scallops
Top with sprinkled, grated Parmesan cheese
Serve with lemon wedges
Bake at 375 F for 12-15 minutes until scallops are firm and crumbs are golden on top.