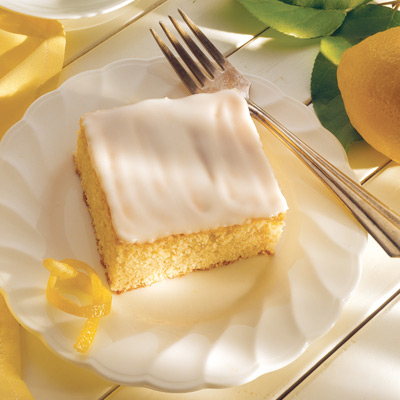 If you are looking for a light cake that doesn't make a huge portion, look no further than this delicious Lemon Snack Cake. Tangy, moist cake is topped with a sweet, fluffy frosting and, best of all, it can all be made in one pan! Simply mix the dry ingredients in your 8-inch baking pan, and then add lemon zest, egg, and margarine to the mixture. While the cake is baking, prepare your homemade frosting and spread onto cake once cool. I like to serve in small square pieces for a delicious light dessert any time of day. Enjoy!
Lemon Snack Cake
Recipe Courtesy Land O'Lakes
Ingredients
Cake
1 1/4 cups all-purpose flour
1 cup sugar
1 1/2 teaspoons baking powder
1/2 teaspoon salt
1 Land O Lakes® All-Natural Egg
2 teaspoons freshly grated lemon zest
1/4 cup Land O Lakes® Margarine, melted
3/4 cup milk
Glaze
3/4 cup powdered sugar
1 tablespoon margarine, melted
2 to 3 teaspoons lemon juice
Directions
Heat oven to 350°F. Combine flour, sugar, baking powder and salt in lightly greased 8-inch square baking pan. Make 2 indentations in flour mixture. Set aside.
Combine egg and lemon zest in small bowl with fork; pour into 1 indentation. Pour 1/4 cup melted margarine in other indentation. Pour milk over all; mix well. (Some lumps will remain.)
Bake for 30 to 35 minutes or until toothpick inserted in center comes out clean. Cool completely.
Combine powdered sugar, 1 tablespoon melted margarine and enough lemon juice for desired glazing consistency in small bowl. Spread glaze over cooled cake.