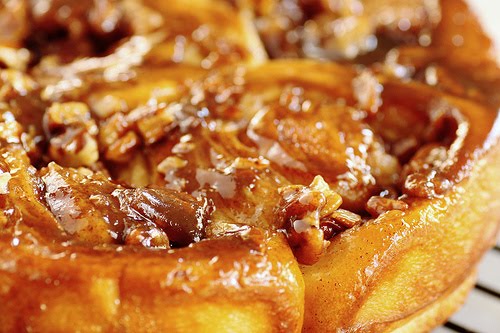 As a lover of sweet breakfast dishes, I am always thrilled to find new and easy recipes for breakfast and brunch ideas. My boyfriend's Mom makes a scrumptious Sticky Bun Cake that I look forward to every time I visit. The cake is made using plain frozen bread rolls that, when baked together, form a complete cake in the shape of a bundt pan. The fun begins the night before by preparing the frozen bread rolls and sweet topping in a bundt pan, and simply leaving the pan in a cold oven overnight. The next morning, you bake the cake for 20-25 minutes and enjoy the heavenly smell of brown sugar and cinnamon filling the house! The cake is then inverted onto a plate, so the hot topping spreads all around the top of the cake. Served hot out of the oven, the cake has a crunchy top and sides overflowing with syrupy sugar and cinnamon, and a moist and light inside.
Sticky Bun Cake
Ingredients:
18 frozen bread/dinner rolls
1 small cook and serve vanilla pudding (not instant)
1/2 cup brown sugar
1 teaspoon cinnamon
1 stick butter, melted
raisins and/or lightly chopped nuts (pecans or walnuts recommended)
Directions:
NIGHT BEFORE
Mix together cook and serve vanilla pudding, brown sugar and cinnamon. Set aside.
Spray bundt pan with cooking spray.
Put raisins (if using) and/or nuts in bottom of pan.
Place frozen dinner rolls in bundt pan over the raisins.
Sprinkle mixture of vanilla pudding, cinnamon and brown sugar on top of rolls.
Pour melted butter over everything.
Place in cold oven overnight.
NEXT MORNING
Bake 350 degrees for 20-25 mins. May need foil on top during last 5-10 mins if getting too dark.
Turn over onto dinner plate immediately after baking.
Serve warm.