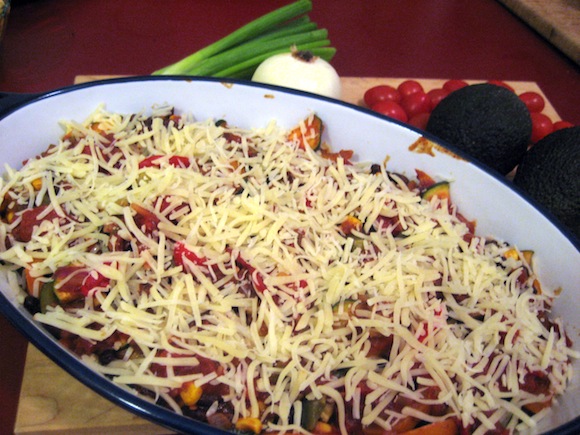 For a delicious and easy way to enjoy healthy Mexican food at home, nothing is better than my Mexican Tortilla Casserole. Loaded with vegetables and tasty Mexican spices, this is a perfect weeknight meal that is so easy to throw together. You can make it with all vegetables or add shredded chicken from a small roasted chicken you can find at your supermarket. Either way, this dish is packed with flavor and is a guaranteed hit. Although most Mexican Casseroles include several flour or corn tortillas, I found a recipe that uses only crushed tortilla chips on the bottom layer for a crunchy bottom crust. Once baked, the chips crisp up perfectly and provide a base for the casserole. Feel free to experiment with different variations – you can substitute shredded chicken for ground beef, ground turkey or even ground chicken – just brown the meat in a sauté pan before you add to the casserole and the rest will be the same.
Mexican Tortilla Casserole
Ingredients:
1 1/2 cups crushed tortilla chips (you can used baked)
1 pound shredded cooked chicken meat from a small roasted chicken (if using meat)
1 can (15 1/2 ounces) black beans, drained
1 can (15 1/2 ounces) kidney beans, drained
1 can (15 1/4 ounces) corn kernels, drained
1 cup medium heat taco sauce or 1 (14-oz) can stewed or fire roasted tomatoes
1 cup prepared salsa
1 cup chopped red onion
1 red bell pepper, cut into 1/4-inch dice
Juice of 1 lime
1 tablespoon minced garlic
2 teaspoons chili powder
2 teaspoons ground cumin
Salt and freshly ground black pepper, to taste
Jarred jalapeno peppers, sliced (if using)
6 ounces grated Monterrey Jack cheese
6 ounces grated sharp Cheddar cheese
Garnishes:
1 cup sour cream or plain Greek yogurt
2 scallions, finely chopped
Directions:
Preheat oven to 350°F.
Grease a 13×9-inch baking dish (or spray with cooking spray), then scatter the crushed tortilla chips evenly on the bottom.
Preheat a large skillet over medium high heat. Add 2 tablespoons extra-virgin olive oil. Saute bell pepper, onion, garlic, cumin, chili powder for 5 minutes or until lightly browned. Add taco sauce, black beans, kidney beans, corn, lime juice and combine. Heat the mixture through for about 2 minutes. Season with salt, to taste.
Place half the mixture evenly in the baking dish on top of the crushed chips. Pour 1/2 of salsa evenly on top. Combine the cheeses, then sprinkle half over the mixture.
Cover with the remaining half of the chicken-and-bean mixture and pour the remaining salsa on top. Sprinkle the remaining cheese over the top.
Bake for 30 minutes.
Let stand for 5 minutes before serving.
Serve with chopped scallions and a side of sour cream or plain yogurt.