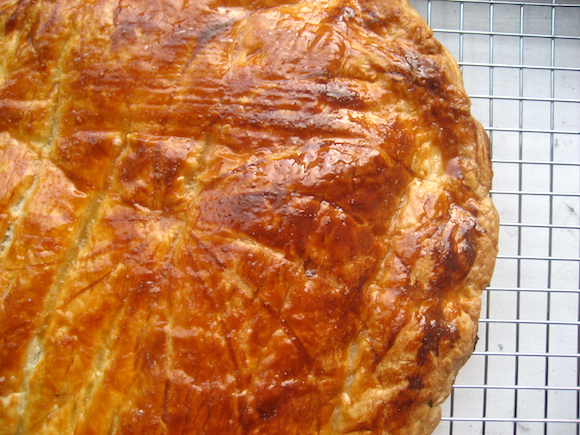 The French are smart. After Christmas, once the endless Bûche de Noëls and truffles au chocolat are devoured and forgotten till next year, the French fill the newly formed dessert void with a brilliant confection, Galette des Rois. In Paris, bakeries reopen on January 2nd with their shelves full of these much-awaited cakes. Traditionally eaten only to celebrate the day of Epiphany on January 6, when the Three Kings came to Bethlehem, Galette des Rois is so popular that pâtissiers usually serve this scrumptious cake the entire month of January.
With limited puff-pastry experience, this weekend I ambitiously set out to make a Galette des Rois or "King's Cake." Using a combination of various recipes I found, I was able to bake the cake beautifully. A Galette des Rois is, simply put, rich almond cream (frangipane) enveloped by layers of buttery, flaky puff pastry. Once baked, the cake takes on a glossy, golden brown color and the contrast of the flaky puff pastry and sweet almond cream is to-die-for. If you like French pastries and desserts, particularly almond croissants, you will love this cake.
The fun part of this cake is the tradition associated with it. In France, la feve (usually a small trinket) is inserted and baked into the cake for one lucky guest to randomly receive. In older days, bakers would insert a fava bean, "la feve," so whatever the trinket may be, it is still called la feve to this day. If your slice of cake contains la feve, then you are crowned king or queen of the day and are awarded with a gold paper crown to wear in your honor!
Although I didn't use la feve in my cake (I just wanted to eat it!), I have included full instructions to take on the tradition below as well as some tips and hints I learned while baking this rich, buttery dessert. I hope you'll enjoy baking Galette des Rois, I guarantee it will taste just like you bought it from a Paris bakery.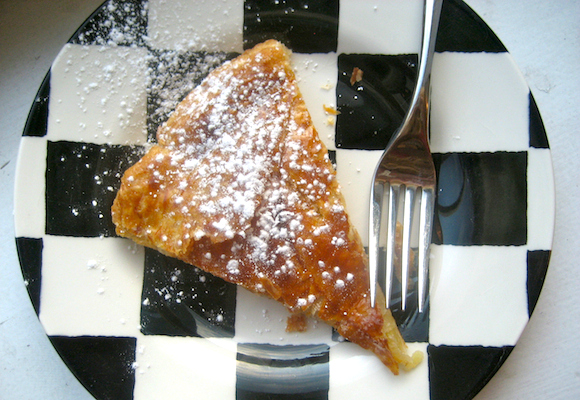 Galette des Rois
INGREDIENTS
Puff Pastry
– 2 sheets of all-butter puff pastry, thawed if frozen (Approx 1 (17.3-ounce) package)
For the Frangipane Cream
– 9 tablespoons unsalted butter, softened
– 2/3 cup granulated white sugar
– 3/4 cup almond meal (*or very finely ground blanched almonds, as I used)
– 1 tablespoon corn starch
– 1/2 teaspoon sea salt
– 2 large eggs
– 1 teaspoon pure almond extract
– 1 teaspoon pure vanilla extract
– 1 tablespoon of rum, optional
For The Finishing Touches
– 1 egg yolk
– 1 tablespoon confectioner's sugar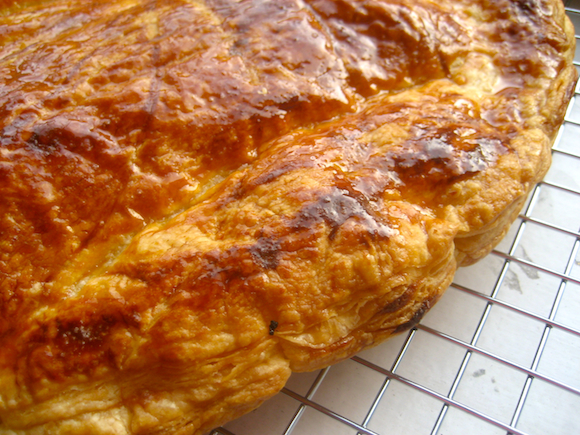 DIRECTIONS
Make the Frangipane Cream:
– First off, if you are grinding your own almonds to create almond meal like I did, use a food processor on the highest setting to grind whole, blanched almonds until very fine. There should be no lumps or large pieces. *If you are using pre-bought almond meal, skip this step of course.
– In an electric mixer, beat softened butter until creamy.
– In a separate bowl, combine almond meal, sugar, cornstarch and salt until all lumps are removed.
– Slowly add dry mixture to butter and mix until smooth.
– Add almond extract and vanilla extract (or rum, if using) to mixture and then slowly add eggs, one at a time, and mix well until smooth
– Refrigerate frangipane cream for about one hour until chilled.
Prepare the Galette:
– Roll out 2 sheets of puff pastry and cut each sheet into a circle. You can use a dinner plate as a guide. Make one circle approximately 12″ in diameter and the other circle slightly larger (about 1/4″ inch larger all around)
– Place the smaller circle on a baking sheet lined with parchment paper.
– Beat 1 egg yolk with a drop of water to create an egg wash. Using a pastry brush, brush one inch around the edge of the circle with egg wash, making sure not to go all the way to the edge (this will affect how it rises when baking).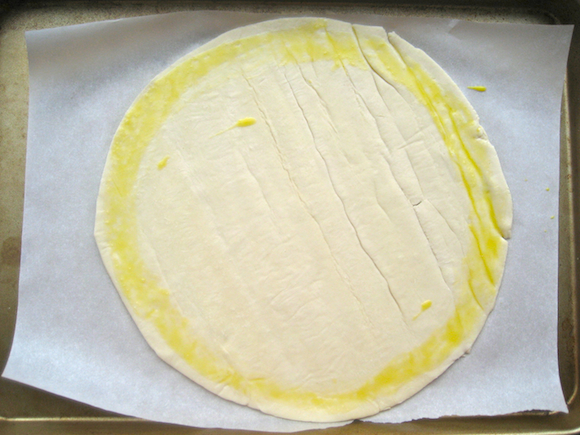 – Using a spatula, place frangipane cream in center of circle and spread evenly, making sure not to cover any of the egg-washed edges.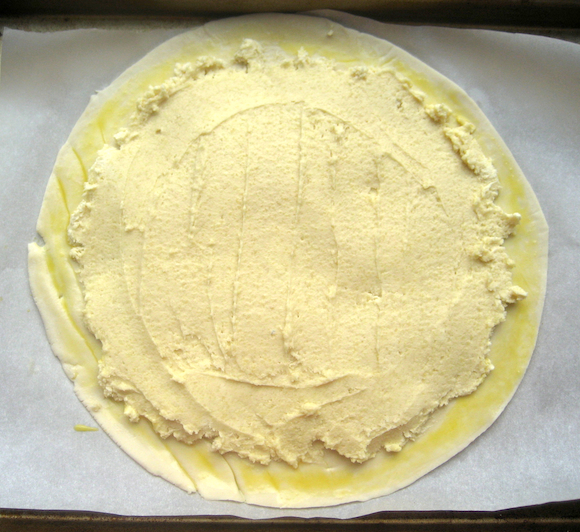 – If using, place the "la feve" (a dry fava bean or a small, oven-safe trinket) near the edge so it will not be easily found when cutting the cake.
– Place the second puff pastry circle evenly over the cream.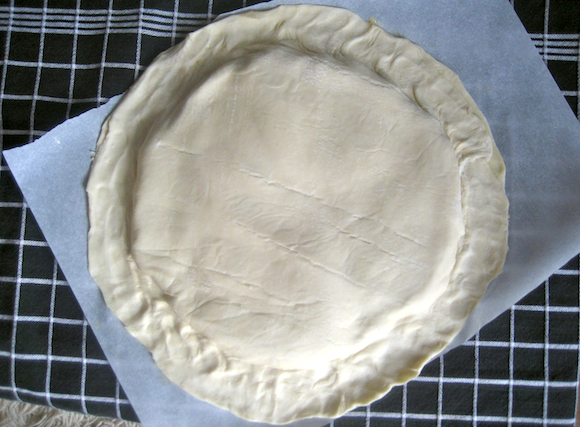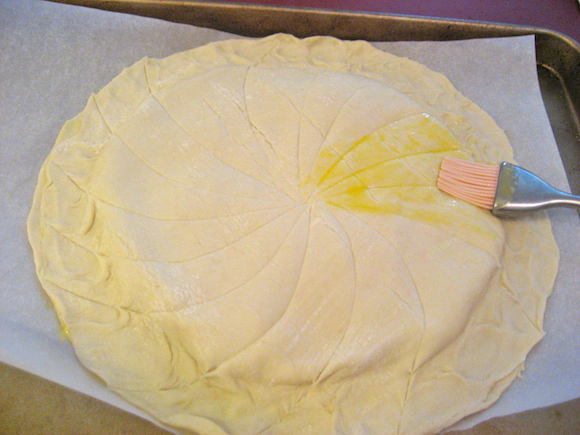 – Press all around the edges to glue the sheets together, making sure the edges are sealed so the mixture doesn't slip out when cooking (learned this the hard way!). Press softly in the center to evenly spread the filling.
– Using the dull end of a knife, score a decorative design over the dough, making sure not to puncture through the dough to the filling. I made a sun ray design by starting in the center and lightly drawing arcs evenly all the way around.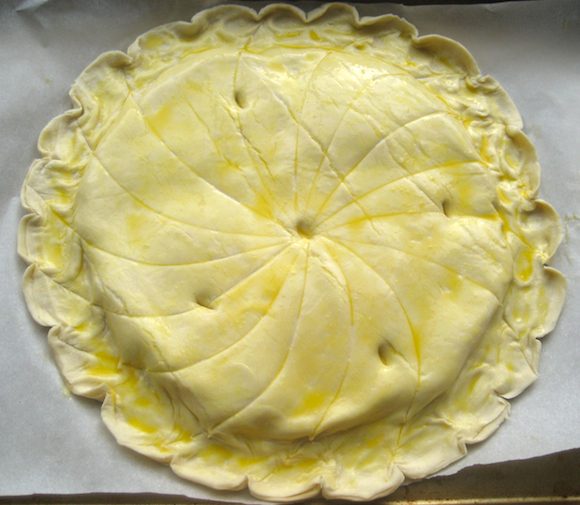 – Next, turn up the edges by using the dull side of a knife to push the dough inward where each sun ray ends, turning it up slightly and further sealing the edges.
– Brush the surface with egg wash, being careful not to put any on the outer edges.
Bake the Galette:
– Bake the galette in the center of a preheated 400 degree oven for 25 minutes. Keeping the oven on, briefly take the cake out so you can quickly brush it with a sugar glaze to make it shiny (prepare a glaze by mixing 1 tablespoon confectioner's sugar with 1 tablespoon boiling water). Brush glaze all over cake and put back into oven for 5-10 minutes or until golden brown all over.
– Let cool on wire rack.
– Serve warm with a gold paper crown on top, if using.