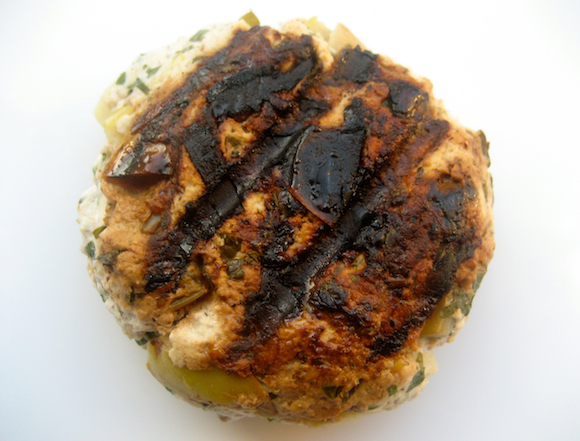 I have been hearing rave reviews of Oprah's favorite turkey burger from Donald Trump's lavish private club in Palm Beach, Mar-a-Lago. Upon visiting the club, Oprah gushed, "I believe [it] may be the best turkey burger in the entire world." Enough said.   
So last night I set out to make this recipe – the ORIGINAL & AUTHENTIC Mar-a-Lago Turkey Burger – and it was sensational! Trust me, you will never need another turkey burger recipe again. My boyfriend loved it. I served the burger on a toasted whole wheat english muffin with Major Grey's Chutney, bibb lettuce and tomato with a side of heirloom tomato salad with fresh mozzarella and basil (my go to salad). The Major Grey's Chutney adds that extra zing and slight sweetness to really take it to the next level.
If you are not up for cooking, the Mar-a-Lago Turkey Burger is available at the Trump Bar and Grille in Trump Tower in New York City, open to the public for lunch and dinner, and is also served during lunch in Chicago at Sixteen, the Trump International Hotel restaurant.
Keep reading to the find the recipe, with a few slight tweaks, for this spectacular turkey burger. Bon Appétit!
Mar-a-Lago Turkey Burger
Recipe Adapted From Oprah.com, with a few modifications!
Makes 4 small burgers

Ingredients
3 tablespoons cup thinly sliced scallions
1/4 cup finely chopped celery
1 Granny Smith apple , peeled and diced
1 tablespoon olive oil
1 pound ground turkey breast (I use all white ground turkey breast, but feel free to mix light/dark as you wish)
1 teaspoon salt
1 teaspoon black pepper
1 tsp. Tabasco chipotle pepper sauce (or more if you like spicy foods!)
1/2 lemon, juiced and grated zest
1/4 bunch parsley, finely chopped
1/4 cup Major Grey's Chutney, for topping
Directions
Sauté the scallions, celery and apples in the olive oil until tender. Let cool.
Place the ground turkey in a large mixing bowl. Add sautéed items and the remaining ingredients. Shape into 4 burgers. Refrigerate for 2 hours.
Season the turkey burgers with salt and pepper. Place on a preheated, lightly oiled grill. Grill each side for 7 minutes until meat is thoroughly cooked. Let sit for 5 minutes.
Serve with a generous smear of Major Grey's Chutney on your favorite toasted bread, English muffin, pita or hamburger roll. If desired, top with sliced tomato, bibb lettuce and red onion.