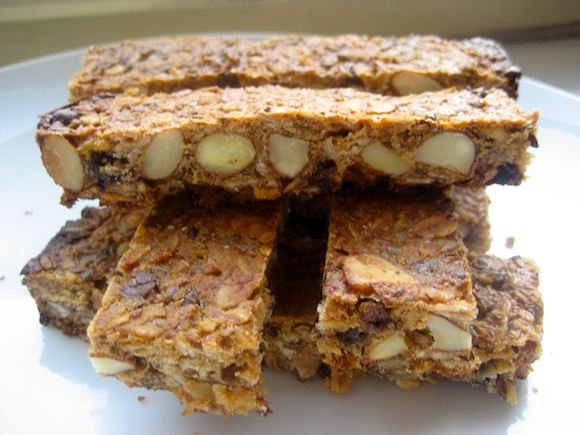 Warning: these bars are addictive!! I finally found the perfect, healthy Granola Bar recipe and I am thrilled to share it with you here. Most granola bar recipes contain loads of butter to obtain their distinct crunchiness, but this recipe only has a couple tablespoons of oil and is loaded with texture and flavor.My boyfriend and I are loving these crunchy,
sweet
, nutty treats. They are the perfect midday snack or nighttime nosh. This recipe features peanut butter, mashed bananas, honey and a variety of your fave mix-ins, including fudgy chocolate chips. Feel free to add/modify your favorite mix-ins as you wish. This is a great base recipe for endless variations. Make them today – you will not be disappointed.
Homemade Peanut Butter Banana Granola Bars
Ingredients
1-2/3 cups old-fashioned oats
1/3 cup white or whole wheat flour
1/4 tsp cinnamon
1/2 tsp salt
1/4 cup packed light brown sugar
1/4 cup honey (tip: spray measuring cup with cooking spray first so honey doesn't stick)
2 tbsp vegetable oil
2 ripe bananas, mashed
1/3 cup creamy peanut butter
1 tsp pure vanilla extract
2-3 cups of mix-ins (your choice): I used: 1/3 cup wheat germ, 1/3 cup flax seeds, 2/3 cup whole almonds, and 1/2 cup mini chocolate chips
Here are the steps. Full directions are below!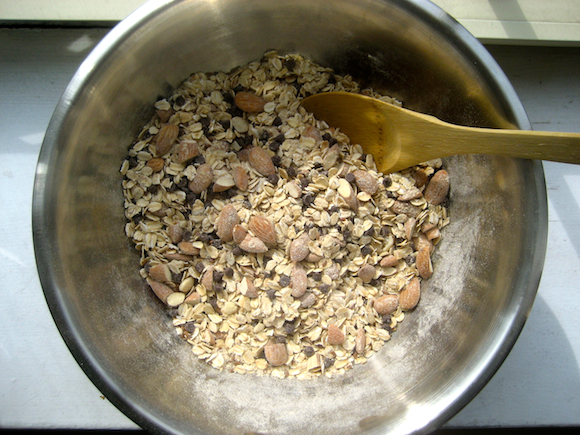 First off, combine your dry ingredients.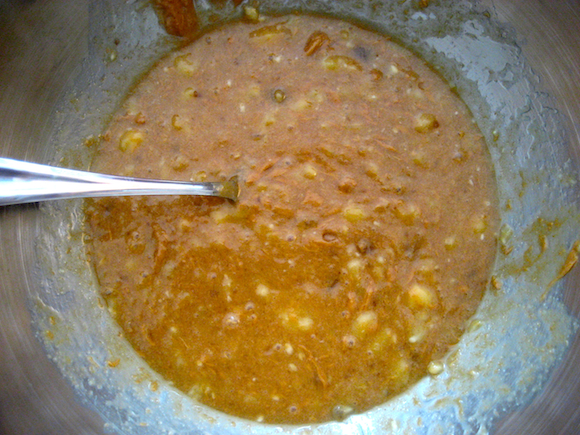 Next, combine your wet ingredients in a separate bowl.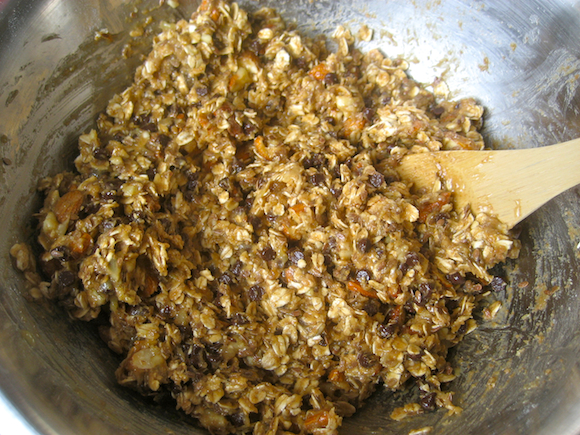 Add wet ingredients to dry ingredients and mix well until combined. Now, the mixture is ready to be poured into the parchment paper lined pan.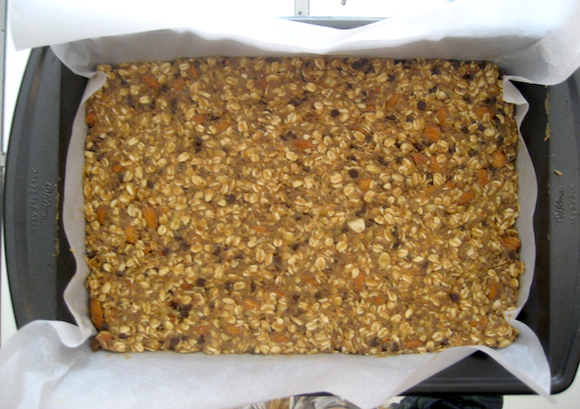 Press the mixture firmly and evenly into the pan and pop in the oven. Enjoy the sweet smells filling your kitchen!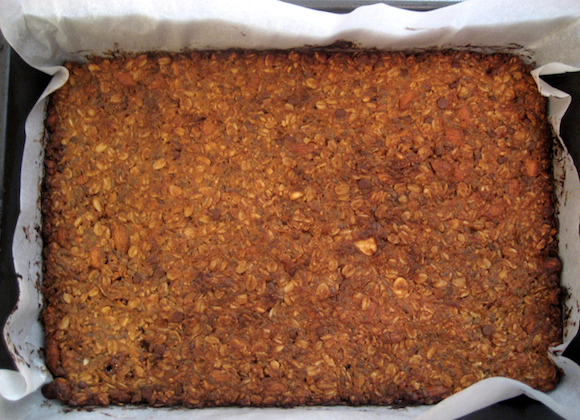 Once baked for 35 – 40 mins, the granola will be golden brown. Make sure to cool completely before cutting into bars.
Preheat oven to 350 degrees
Line a 9×13″ baking pan with parchment paper. Make sure to leave a few inches of paper hanging over the sides (this will help tremendously when you remove the baked bars from the pan)
Combine the dry ingredients: oats, flour, salt, cinnamon, dry mix-ins as desired (wheat germ, flax seeds, almonds, mini chocolate chips)
In a separate bowl, combine wet ingredients: honey, brown sugar, oil, mashed bananas, peanut butter, vanilla extract
Add wet ingredients to dry ingredients, mixing well until combined
Pour mixture into baking dish, making sure to spread evenly throughout the pan. Press the mixture down with a spatula to make sure it is firm and packed
Bake for 35 – 40 minutes or until golden brown on top
Cool completely in pan
Once cool, slice into bars of desired size
Store in airtight container in refrigerator to retain crispiness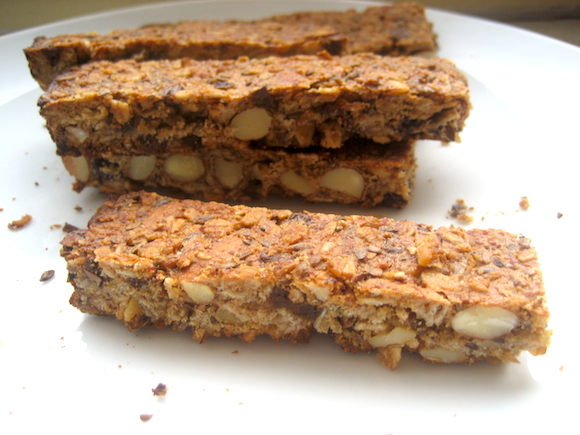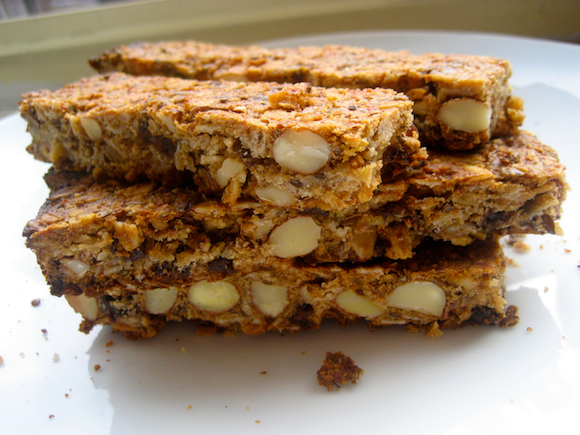 The Best Homemade Granola Bars Ever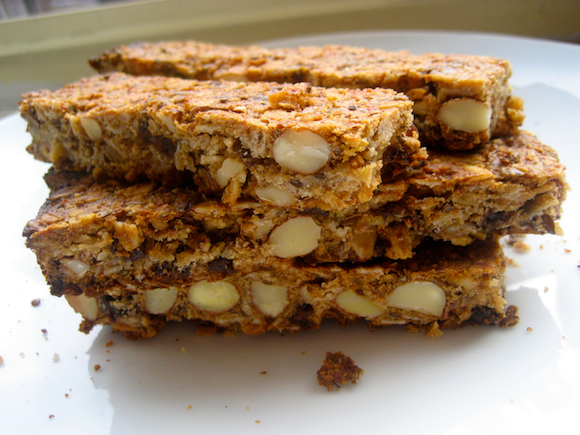 Try having just one! ;)
Ingredients
1-2/3 cups old-fashioned oats
⅓ cup white or whole wheat flour
¼ tsp cinnamon
½ tsp salt
¼ cup packed light brown sugar
¼ cup honey (tip: spray measuring cup with cooking spray first so honey doesn't stick)
2 tbsp vegetable oil
2 ripe bananas, mashed
⅓ cup creamy peanut butter
1 tsp pure vanilla extract
2-3 cups of mix-ins (your choice): I used: ⅓ cup wheat germ, ⅓ cup flax seeds, ⅔ cup whole almonds, and ½ cup mini chocolate chips
Instructions
Preheat oven to 350 degrees
Line a 9×13″ baking pan with parchment paper. Make sure to leave a few inches of paper hanging over the sides (this will help tremendously when you remove the baked bars from the pan)
Combine the dry ingredients: oats, flour, salt, cinnamon, dry mix-ins as desired (wheat germ, flax seeds, almonds, mini chocolate chips)
In a separate bowl, combine wet ingredients: honey, brown sugar, oil, mashed bananas, peanut butter, vanilla extract
Add wet ingredients to dry ingredients, mixing well until combined
Pour mixture into baking dish, making sure to spread evenly throughout the pan. Press the mixture down with a spatula to make sure it is firm and packed
Bake for 35 – 40 minutes or until golden brown on top
Cool completely in pan
Once cool, slice into bars of desired size
Store in airtight container in refrigerator to retain crispiness