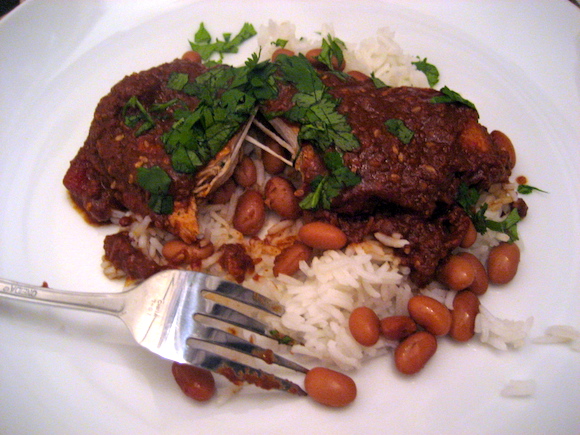 A Mexican favorite, mole sauce is an explosion of vibrant flavors and textures. I have always found the addition of chocolate into this savory recipe fascinating so I had to try it out? I wanted to keep the ingredients as traditional as possible, but use boneless, skinless chicken breasts to keep the fat and calories down. There are many different variations on mole, but I decided to do one based on chipotle peppers and adobo sauce because I love the smoky flavor. After sauteing and simmering all of the ingredients, the last step is the addition of dark chocolate – pure delight for a baker like myself! The chocolate thickens the sauce beautifully and is the perfect contrast to the savory peppers and onions. In the end, the sauce doesn't taste chocolately at all because the flavors mend together beautifully. It turned out to be authentic Mexican feast full of flavor and spiciness – I hope you enjoy!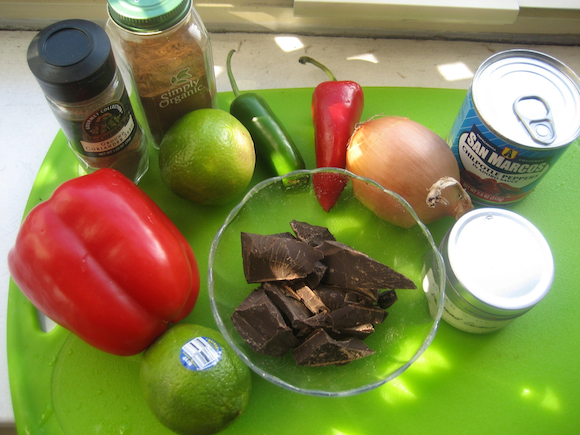 Boneless Chicken Mole
Ingredients
3 chipotle peppers + 1 tablespoon adobo sauce
1/4 cup sesame seeds
2 tablespoons ancho chile powder
1 teaspoon ground cumin
1/2 teaspoon ground coriander
1 teaspoon ground cinnamon
6 whole black peppercorns
3 tablespoons olive oil
15 whole almonds (blanched or regular)
1 14 oz can of diced tomatoes
2 teaspoons garlic, finely chopped
1 medium onion, finely chopped
1 serrano pepper, seeded and finely chopped
1 1/2 cups chicken stock
2 ounces Mexican or dark chocolate (60-70%), coarsely chopped
Salt and freshly ground pepper
1 1/2 pounds boneless, skinless chicken breasts
1/4 cup chopped cilantro (for garnish)
rice and beans (for serving)
fresh lemon juice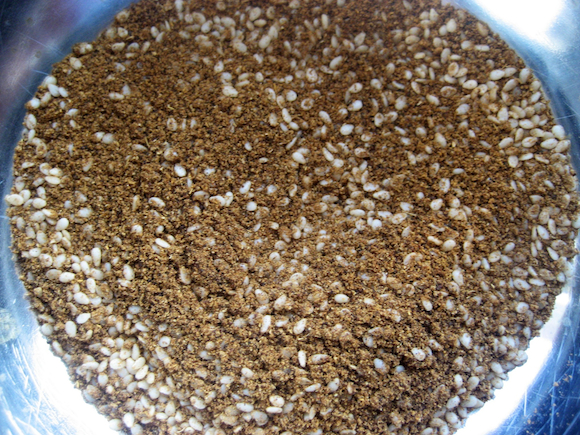 Directions
In a large skillet, toast spices and sesame seeds over low heat for about 3-4 minutes or until fragrant. Be sure to take them off the heat if they start to burn. Remove spices from pan and put in a separate bowl to cool.
Over medium heat, pour 1 tablespoon of olive oil in the same skillet and add the whole almonds. Cook for about 4-5 minutes until toasted and beginning from brown. Remove almonds from pan.
Melt another tablespoon of olive oil in the same skillet. Add onions and saute until translucent. Add tomatoes, spices, and almonds and simmer for about 7 minutes. Add chipotle peppers, adobo sauce, and chicken broth and simmer for about 1 hour, partially covered. If sauce is too thick, add 1/2 cup more chicken broth.
Remove from heat. Working in batches, put sauce in blender and puree until smooth.
Preheat oven to 350 degrees. Season chicken with salt, pepper and a squeeze of lemon juice. In a dutch oven, melt 1 tablespoon of olive oil and sear chicken breasts until browned on both sides. Pour in mole sauce and bring to a simmer. Place in oven for 20-30 minutes until chicken is tender and cooked through.
Serve with a garnish of freshly chopped cilantro and a side of rice and beans.