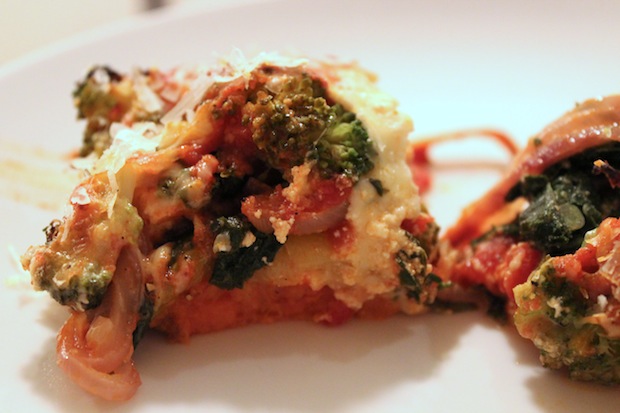 The other night I really wanted to make a hearty and comforting lasagna, but I usually avoid making it because it's traditionally high in carbs and fat. So, I put together a noodle-less "lasagna" full of healthy vegetables and all of the taste everyone loves from this Italian favorite–creamy ricotta, marinara sauce and a crispy mozzarella topping. I called it Sweet Potato "Lasagna" because the sweet potatoes are really the "secret ingredient" in this dish that makes it so delicious. There are 3 important layers: (1) roasted thin slices of sweet potatoes, (2) roasted zucchini, and finally (3) kale, onions and broccoli. The best part about this recipe is you can swap in or out your favorite vegetables for each of the layers. I found that this combination works beautifully though. Check it out!
No-Noodle Sweet Potato "Lasagna"
Ingredients
1 sweet potato, sliced into very thin round slices
1 medium red onion, sliced into thin, round slices
2 large zucchini, trimmed, sliced lengthwise in 1/4-in thick slices
1 bunch of kale, thick stems removed
1 1/3 cups broccoli florets
1 large egg, beaten
2 cups ricotta cheese, skim or whole milk
Crushed red pepper flakes, to taste
1/4 cup fresh basil, torn
1/2 cup grated Parmigiano Reggiano
4 cloves of garlic, minced
4 cups good quality marinara sauce, divided
1 1/2 cups mozzarella cheese, shredded, divided (you can use part skim if you'd like to keep the fat down)
Salt and ground black pepper
Olive oil spray
Directions
Pre-heat oven to 400°F.
First, roast the vegetables. Spray two baking sheets with cooking spray.
Place sweet potato slices and onion on one baking sheet and place zucchini slices on other sheet.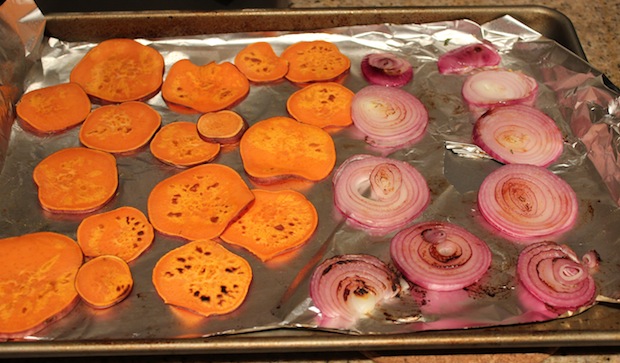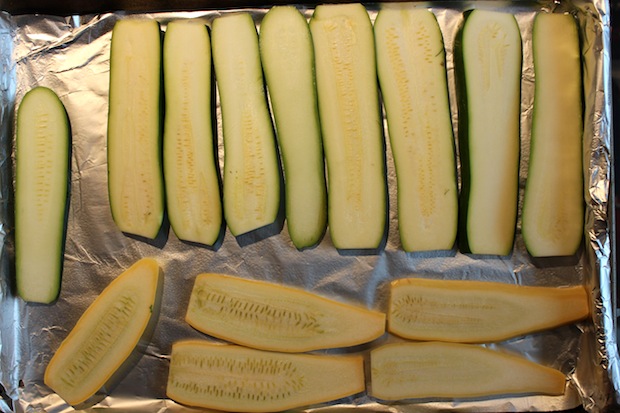 Roast 8 minutes; turn over vegetables and roast for 7 to 10 minutes more or until tender. Depending on your oven and how thick you cut the sweet potato slices, they may take a little more time than the zucchini and onions to become tender. Remove from oven and set aside. Reduce oven temperature to 350°F.
Meanwhile, pre-cook the kale. Blanch the kale for 3-5 minutes in boiling water until tender. Drain it very well so all of the water is removed (I also pressed it with paper towels to make sure it was very dry). Let cool and coarsely chop. Set aside.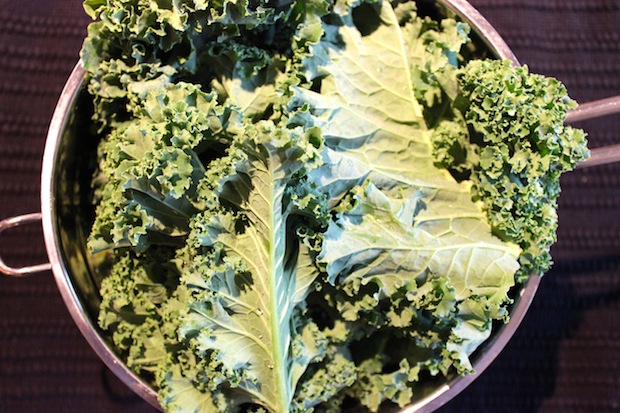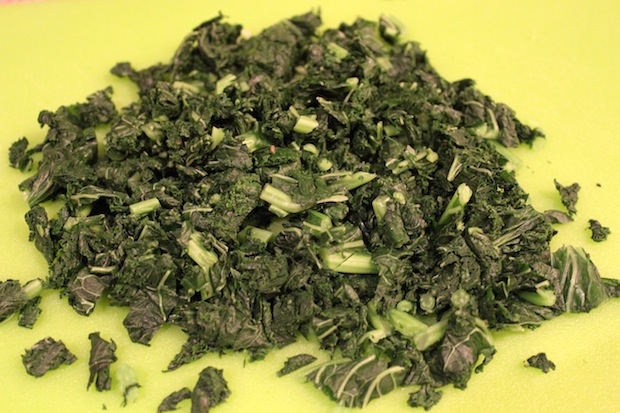 Next, blanch the broccoli florets in boiling water for 3 – 5 minutes until tender. Drain well. Let cool and coarsely chop. Set aside.
Next, prepare the cheese mixture. In a large bowl, stir together the egg, ricotta cheese, garlic, red pepper flakes (to taste), basil, Parmigiano Reggiano and a few grinds each of freshly grated pepper and salt; set aside.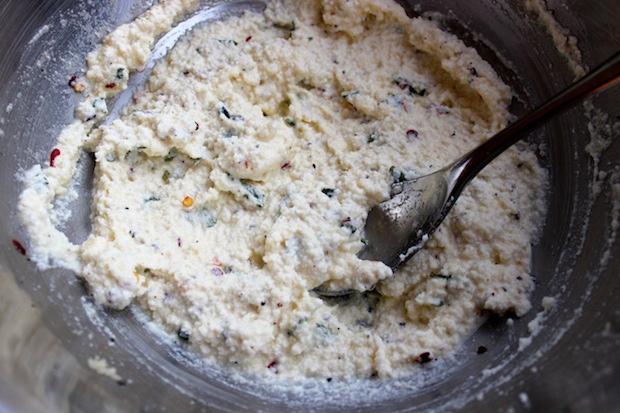 Next, start assembling your "lasagna." Coat bottom and sides of a 9×13″ baking dish with olive oil spray. There are 3 layers to this "lasagna"!
Ladle 1/2 cup of marinara sauce on bottom of pan. Layer sweet potato over sauce , overlapping a bit so the layer is covered with sweet potatoes as best as you can.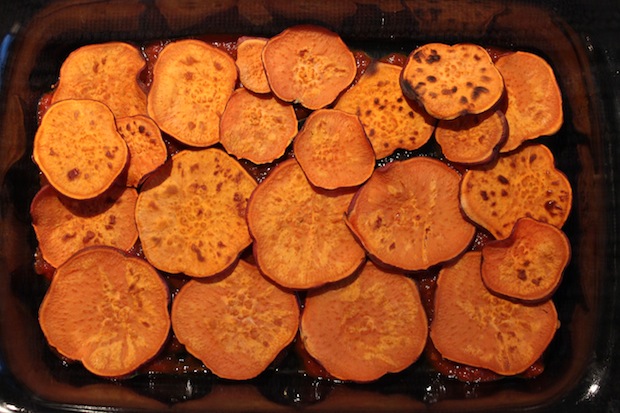 Cover sweet potato with 1 cup of marinara sauce and then spread 1/3 of the ricotta mixture on top; sprinkle with 1/4 cup of mozzarella cheese.
Top mozzarella cheese with zucchini and cover zucchini with 1 cup of marinara sauce; spread with 1/3 of ricotta mixture, top with 1/4 cup mozzarella cheese.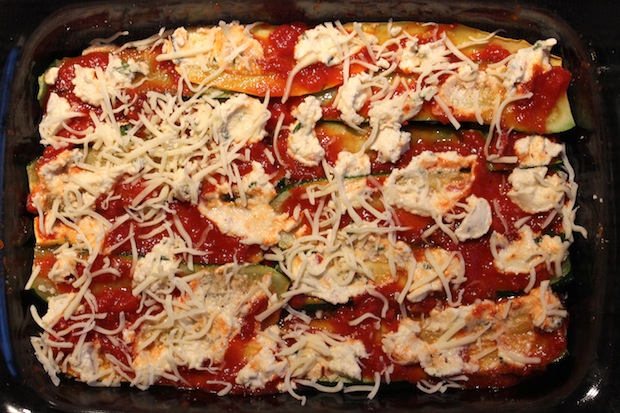 Next, add a layer of the kale and  onions.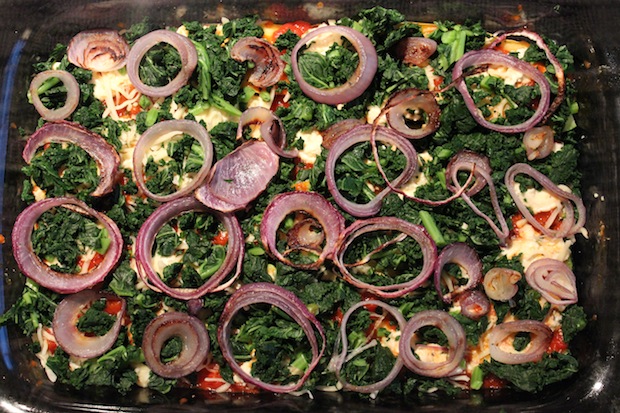 Add broccoli florets over the kale and onions. Cover with remaining 1 1/2 cups marinara sauce. Add remaining ricotta mixture. Sprinkle the remaining 1 cup shredded mozzarella cheese over the top of the dish.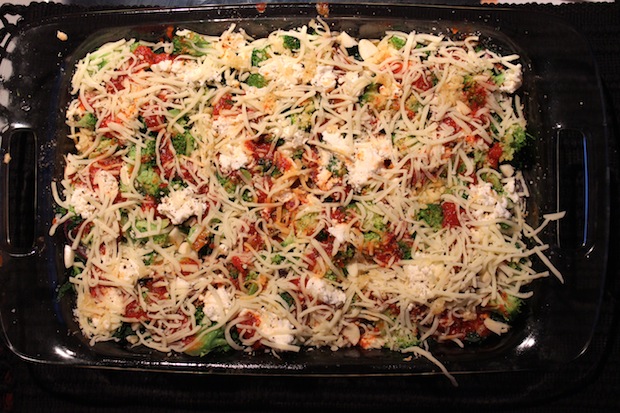 Bake for about 35 to 40 minutes at 350°F or until sauce starts to bubble and cheese is browned.
Remove lasagna from oven and let stand for 5 – 10 minutes.