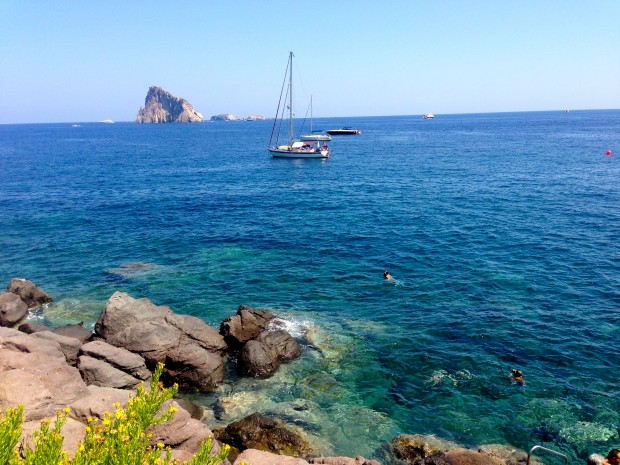 I just got back from a summer holiday on the tiny Sicilian island of Panarea. Panarea is part of Italy's Aeolian Island chain, and thanks to the abundance of gourmet restaurants, buzzy euro nightlife, haute shopping, and stunning vistas, it has become a sort of "off the beaten path" celebrity hotspot. W recently published an article that describes the island as the place "the jet set goes to escape the jet set" and I couldn't find a better way to describe it. The island is so exclusive and chic it makes Capri look like yesterday's old news.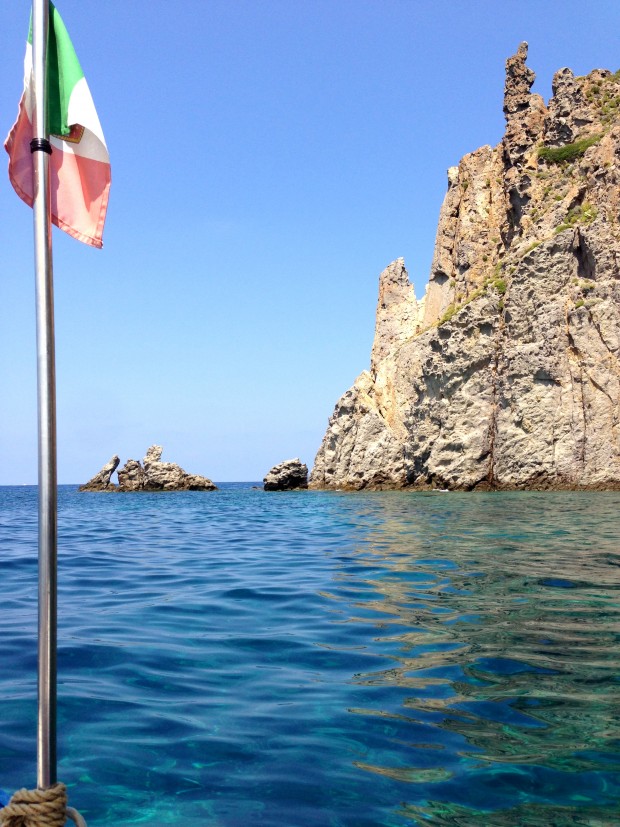 Panarea first became popular when in-the-know yachts made pitstops on the island while cruising through the Mediterranean. Soon restaurants and nightclubs were built to appeal to the discerning clientele flowing in from the nearby yachts. The best way to explore the island is in fact on a boat, where you'll be able to reach all of the secret rocky caves and snorkeling sites on remote parts of the island and also on its neighboring island, Basiluzzo. Yachts like the one below were a dime a dozen during our August trip.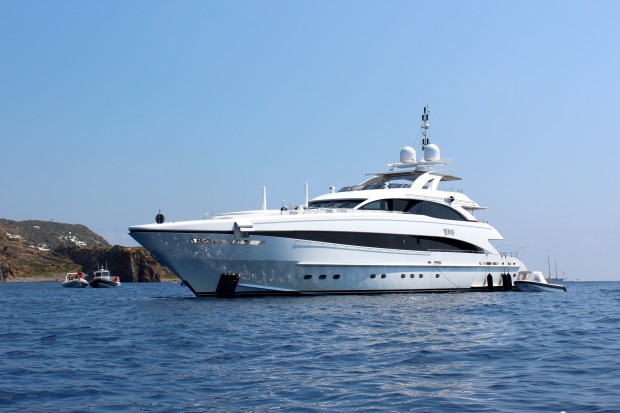 The white-washed houses and rugged island cliffs reminded me of Santorini, however, Panarea is less developed and smaller in scale. With no cars allowed on Panarea, the only modes of transportation are golf carts, Vespas and yes, walking. Speaking of walking, stilettos are frowned upon on the island, with stylish ladies preferring to wear chic, flat sandals suitable for climbing cobblestone steps and navigating the dark, windy paths lit only by torches everyone carries around at night.
Panarea is not easy (or quick) to get to either. We flew from London to Catania, Sicily, drove 1 1/2 hours to Milazzo, and then took a 2-hour hydrofoil to the island. Was it worth it? Absolutely.
Everything on Panarea is centered around the charming little port (below), where you will find a couple markets selling fresh local fruit and vegetables, along with swimwear shops, espresso bars and all-day cafés.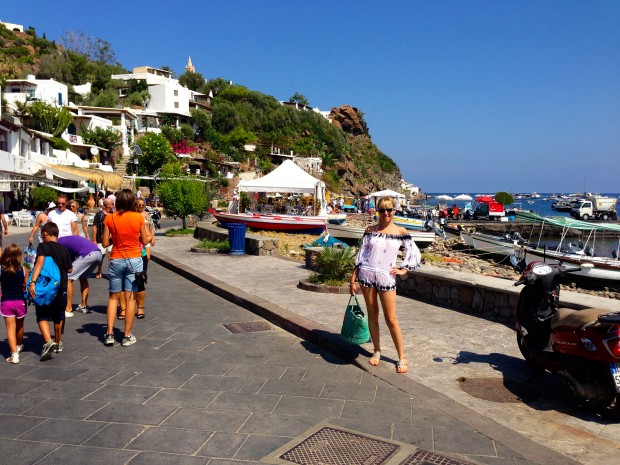 We stayed at Hotel Raya, a minimalist boutique hotel opened by Myriam Beltrami in the 60s. When you think of Mediterranean hotels, the image of this hotel comes to mind, with its gift of balancing understated and chic, and its ability to play off its most important feature, the gorgeous setting amidst crystal clear, emerald green water. The hotel gift shop is a destination in and of itself, with its rare batik dresses, sarongs and leather goods imported by Myriam herself from Bali. Raya did lack many conveniences of luxury hotels, particularly a good concierge and reliable service in the restaurants and at the pool, however it didn't take away from our experience. Panarea is the kind of place where you have to go with the flow. Va bene, right?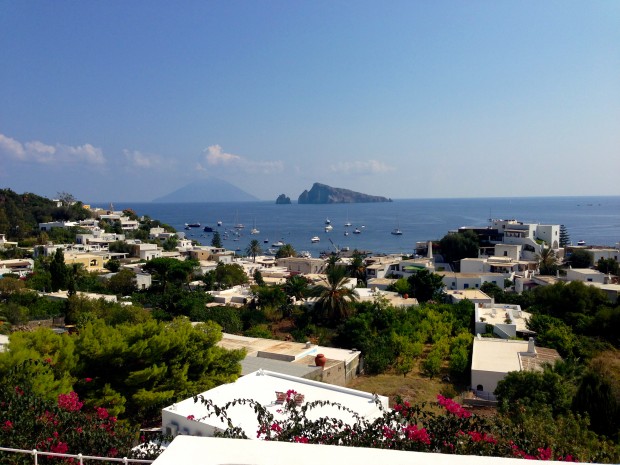 As a food blogger, I was captivated by the delicious but incredibly simple Sicilian cuisine on the island. My favorite savory snack was arancini, which is a deep fried, cone-shaped rice ball stuffed with some combination of tomato sauce, mozzarella, peas and ragù. Arancini are like street food in Sicily and you often see people eating them on the run while walking around. The outside is a crispy breadcrumb crust and the inside is full of creamy, risotto-like rice with a hearty, savory filling in the center.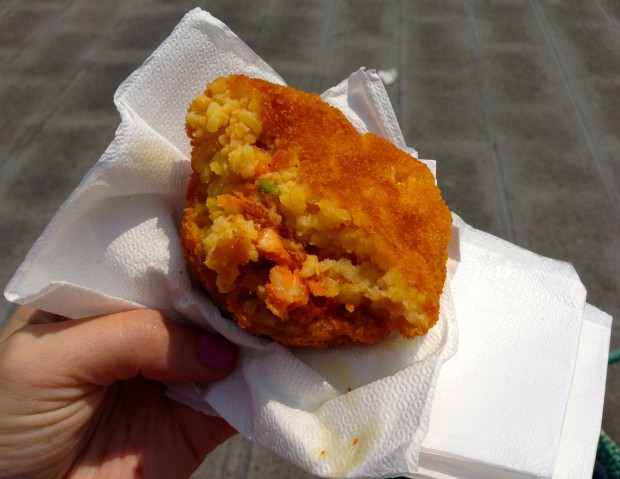 Our morning ritual was to get up and head straight over to Bar Del Porto, who served a killer granita and offered some of the best people watching on Panarea. It got to the point where we were having 2+ granite per day. I wasn't very familiar with granita until our trip to Sicily, but I am now converted for life. It's pretty much a refreshing, slushy, icy treat, eaten with a spoon, with your choice of flavorings. They have a host of options, but my favorite was mandorle (almond) or caffè (coffee). In the morning, we took the lead from all of the Italian diners near us and ordered a sweet brioche to accompany our granita.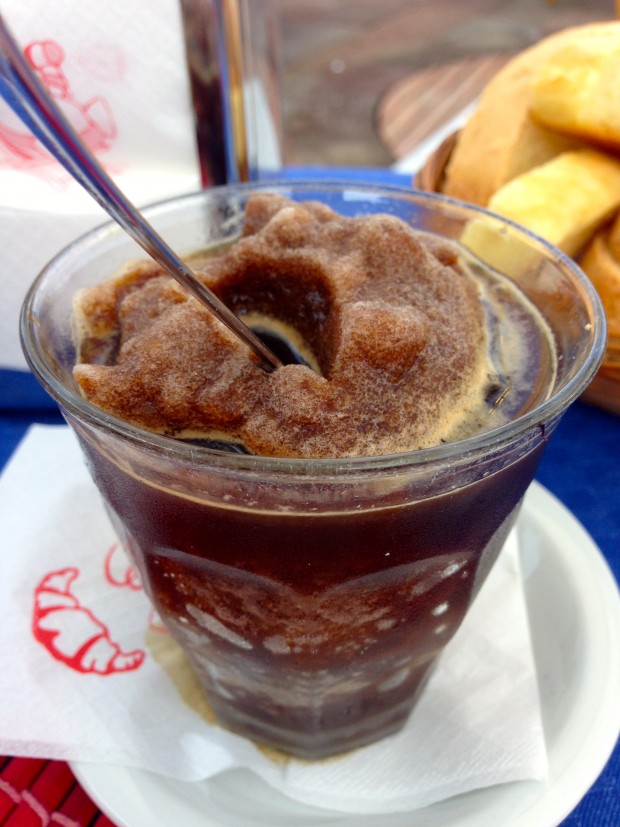 The rooftop bar at Raya was perhaps our favorite part of the trip. Every night at 7 p.m. Missoni-clad hotel guests and the day's boaters gathered on the rooftop. We sat at the bar for hours admiring the panoramic views and hoping to catch a glimpse or two of some eruptions from the active volcano of stromboli visible across the water.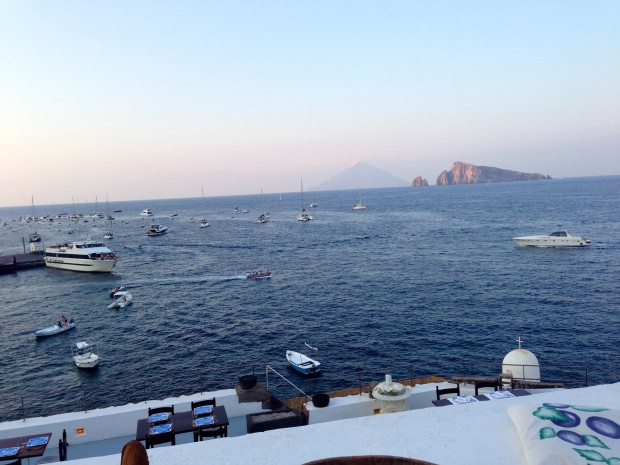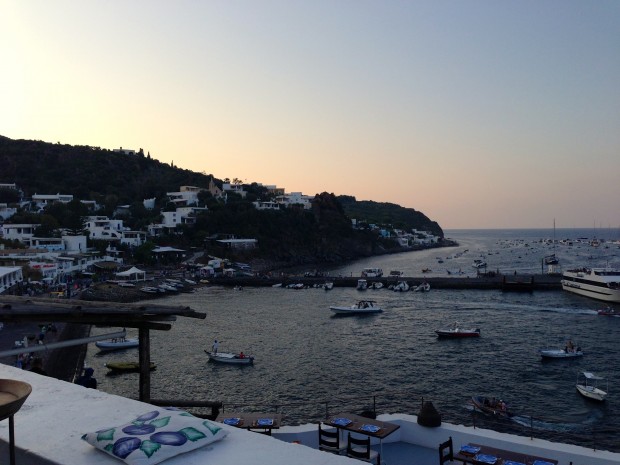 The bar at Raya gave a whole new meaning to the concept of "Bar Snacks." Once you order your drinks you are given a complimentary tray of Sicilian specialities – mini arancini, tomato bruschetta, fruit kabobs, fried olives and anchovy dip with crostini.
The island predominantly caters to well-heeled Italian and European tourists and I think Aaron and I may have been the only Americans on the island, which allowed me to brush up my Italian that has been a bit sluggish since my days as a college student in Lugano.
Our favorite restaurant on the island was Hycesia. Seriously, we liked this place so much we went 2 nights in a row. Our charming hostess Andrea ensured a lovely dining experience and we are still talking about the food weeks later.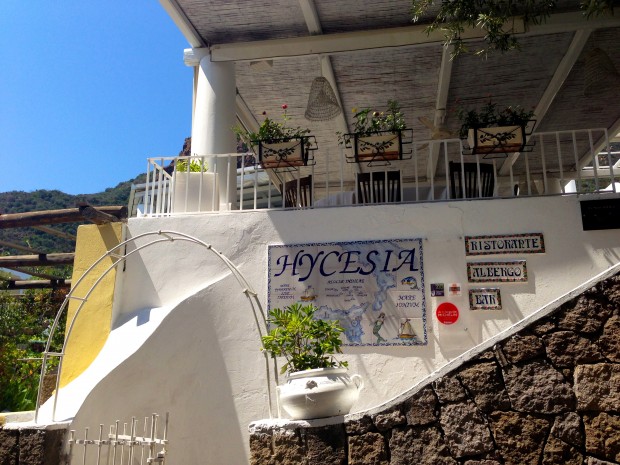 My favorite starter was one of the house specialties, eggplant cake. It is made by wrapping thin, lightly fried strips of eggplant around a ball of creamy ricotta to form a cake-like shape. It's then set atop a simple marinara sauce with a leaf of basil.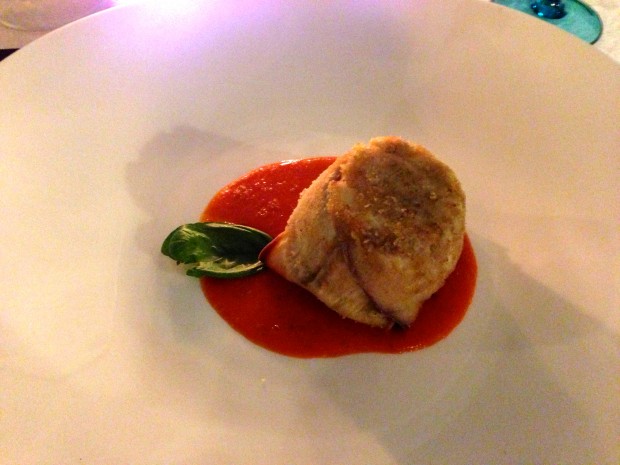 For my main course, I chose a local grilled lobster served with sage and rosemary butter. Sadly, I don't have a photo of the lobster, but take my word for it, it was delightful. Succulent, with a really large tail, the lobster was moist and fresh and the butter sauce was the ultimate accompaniment.
And for dessert, a perfect cannolo classico with a crispy shell, sweet, creamy ricotta filling and a small sprinkling of mini dark chocolate chips. It really puts all of the cannolis in America to shame.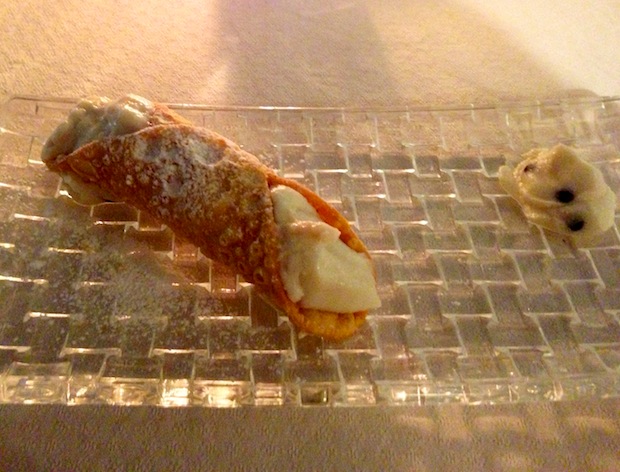 We also ate at Trattoria da Paolino, a charming restaurant run by Chef Paolino and his family. The service and ambience was so personal and genuine it felt like we were invited over to their house for dinner. I really enjoyed the torta di limone (below). Lemon desserts always taste better in Italy. Served warm, the cake's tart lemon inside was smooth and creamy and the crust was slightly crispy. You could tell it was just made. Delicious!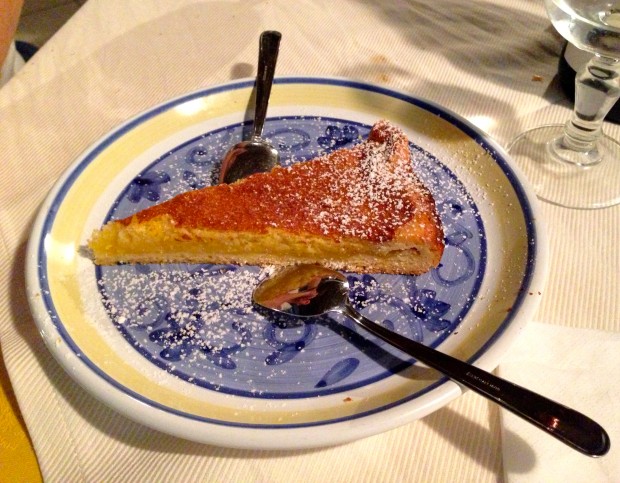 If you are in Panarea, definitely check out Da Francesco as well, a little takeaway shop a few steps up from Bar Del Porto. We stopped in here a couple times for lunch and they always have a fresh selection of just-made sicilian pizzas, eggplant parmigiano, and this couscous salad, just to name a few. Served room temperature, it's a light, fluffy salad made with shaved carrots, tomatoes, corn and peas. This is definitely something I'll be trying to reproduce at home.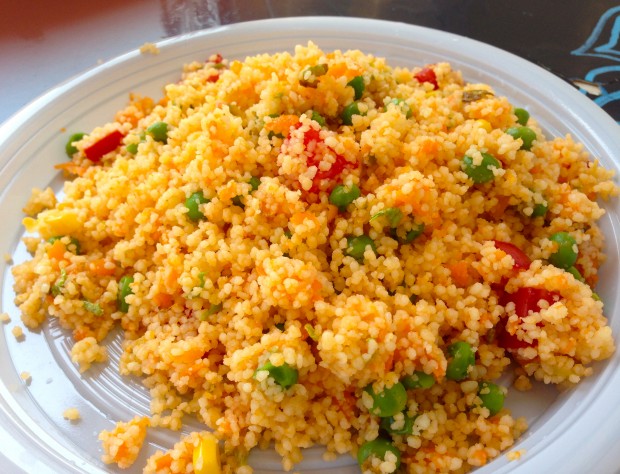 Here is Da Francesco's daily menu board and entrance…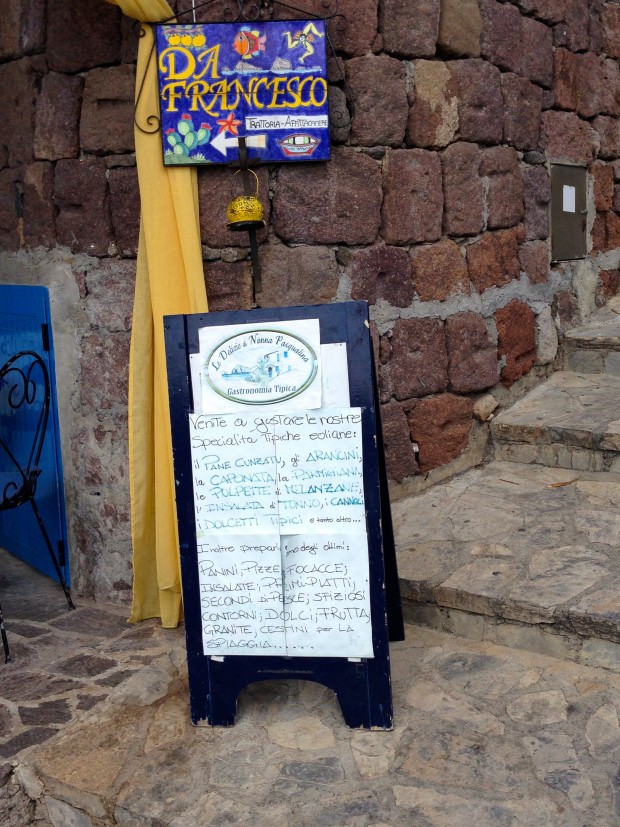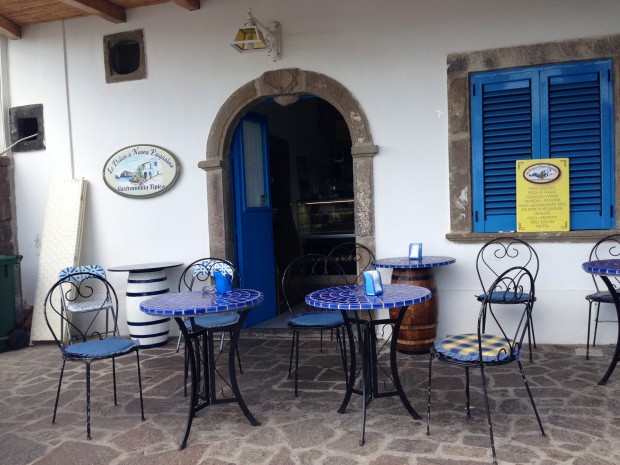 Panarea is known amongst the international fashion set for its custom made leather sandals. I couldn't leave the island without a pair of my own, so I went straight to the source, Moda Mare. You are allowed to design your own sandals by choosing your preferred color, heel height and style, all of which is on display in the form of dozens and dozens of samples. The skilled artisans in the store will then make custom fit sandals according to your size and specifications within 30 minutes (ok, it actually took a couple hours, but if you're in Panarea, who cares!). I chose a simple white leather sandal with a gold buckle and lots of skinny gladiator-style straps. For some reason, this style screamed Italian holiday to me. I can't wait to show them off on my next warm weather holiday. Check out their website Moda Mare if you are interested in ordering some of your own.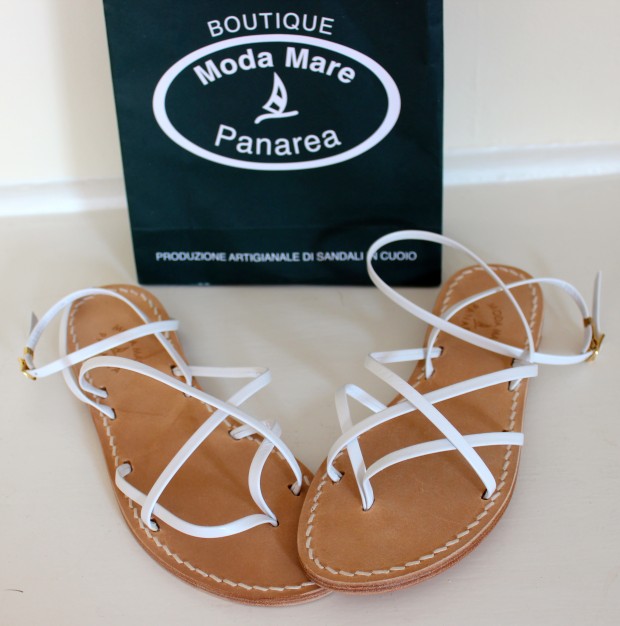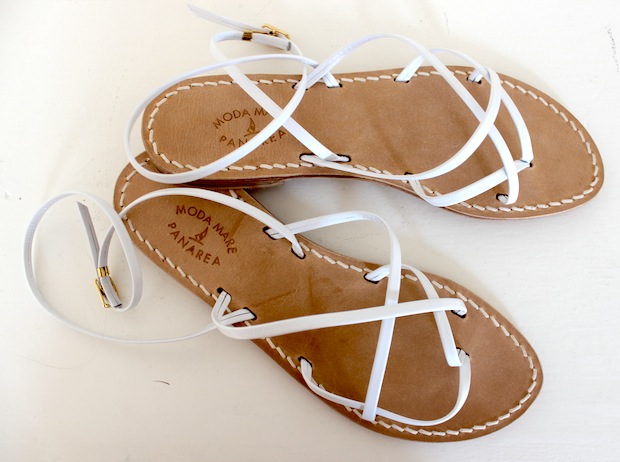 It's not hard to figure out how Panarea reached its cult status amongst stylish Europeans. If you are looking for a unique, not-at-all-touristy holiday with the chance to view (and participate in) the Italian dolce vita, I recommend Panarea hands down.