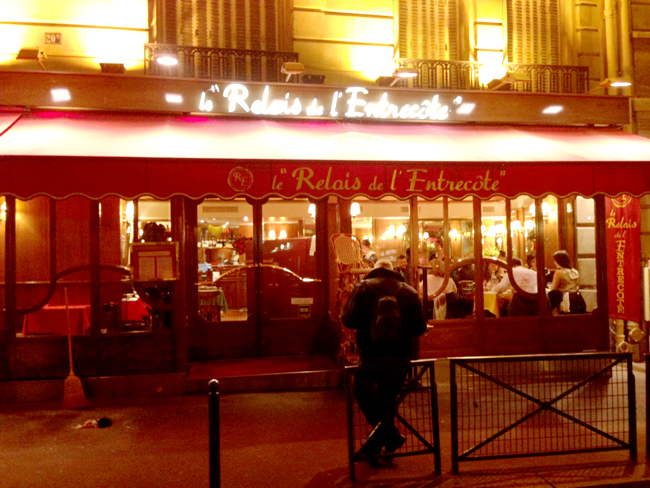 At this classic Parisian brasserie, there is no menu and vegetarians are somewhat discouraged to attend. Relais de l'Entrecôte Saint-Germain is part of a group of  3 restaurants in Paris, all specializing in (exclusively) steak frites with their famous secret sauce. I was a bit weary of this place because it seemed gimmicky and appeared way too often in tourist books and cheesy "best of" guides. Since they do not take reservations, it is not uncommon to wait several hours for a table.
After a whirlwind meal at l'Arpege the night before, my husband and I found ourselves sans resy on Saturday night in Paris. We walked by the restaurant around lunch time and again around 7pm, and alas we found a queue of dozens and dozens of hungry patrons spilling down the street in the cold.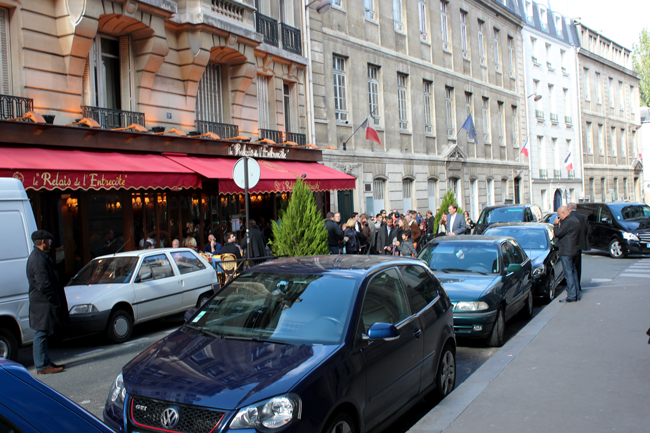 A few hours passed and a few cheese plates and glasses of Bordeaux later, we walked by Relais again around 10:30pm and the line was gone. We took this as a sign and decided to go for it. If you don't mind eating late, going around 10:30 or 11:00 p.m. is likely the only way to go to the restaurant without waiting in line.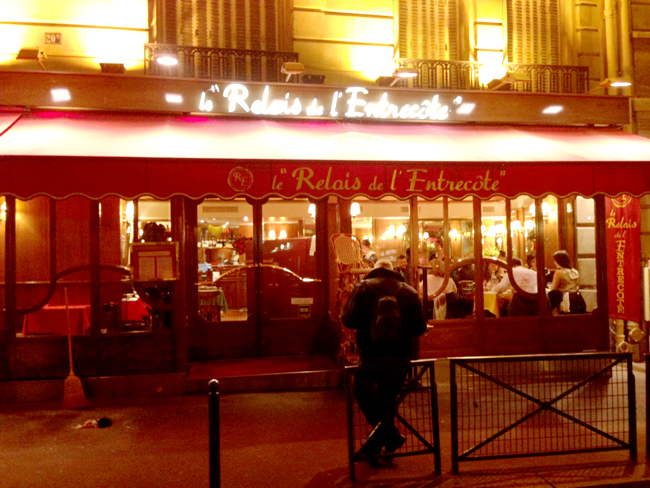 We settled into one of the closely packed tables amidst a buzzing and lively crowd, all enjoying the old-fashioned charm of the restaurant. Our waitress set down a basket of freshly cut baguette and asked us only one question – how would you like it cooked? After explaining our preferences, she scribbled down some notes on the tablecloth.
We were first served a fresh, simple salad with a tangy mustard vinaigrette and chopped walnuts.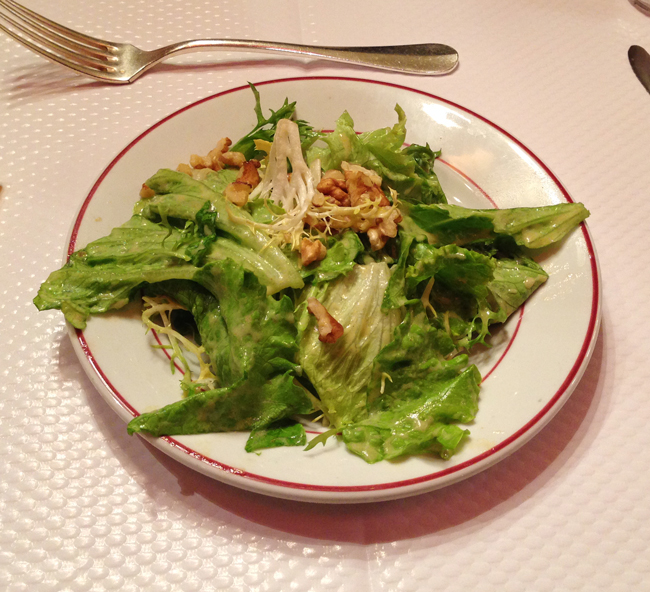 It was then time for our main course. The steak frites arrived on a small plate consisting of half of the steak cut into thick slices and a huge pile of golden shoestring fries.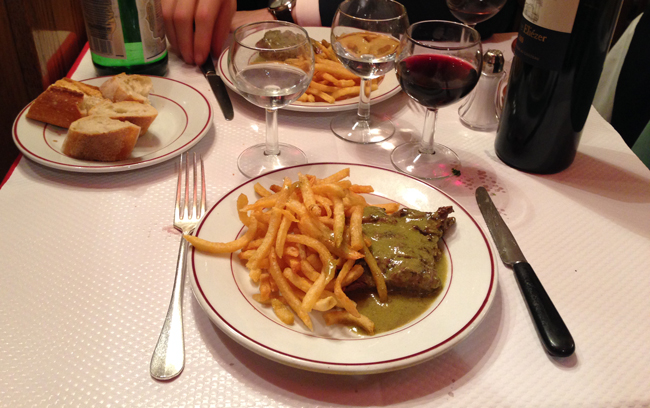 The meat was succulent and full of flavour and the special sauce really made the dish. There are all sorts of theories about what is in this secret sauce, but to me it tasted like it had parsley, garlic and olive oil in it, as well as a few other "secret" ingredients I could not identify.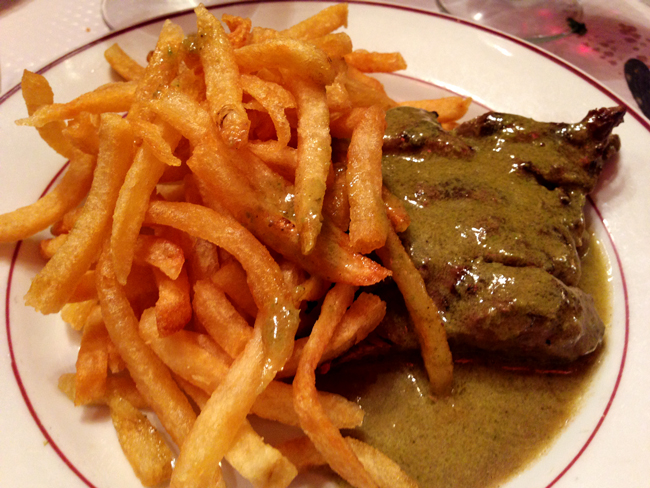 After we finished our first serving, our waitress brought over a second helping of steak (warming over a flame) as well as another heaping serving of hot frites. The fries were salty, crispy and freshly fried, without a single soggy fry in sight!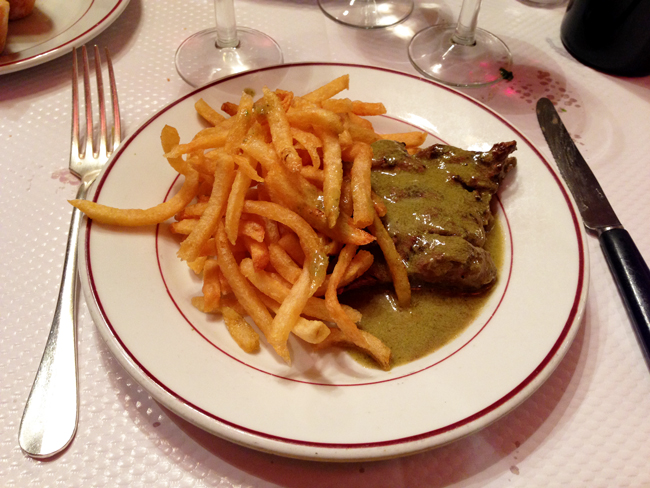 For dessert, they gave us a menu card with photos of all of the dessert selections. Unfortunately, both our first and second choices were sold out (the disadvantage of going late!), so we decided to skip it.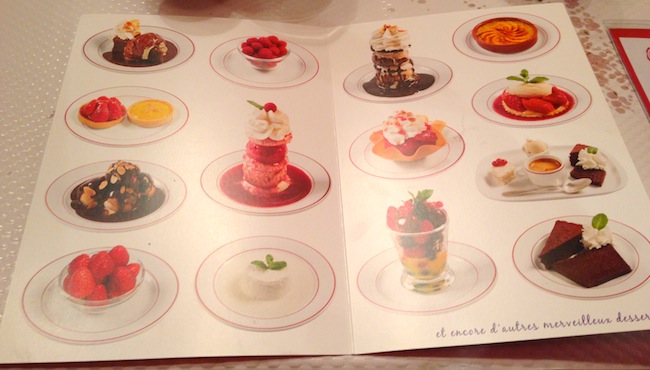 Relais de l'Entrecôte was a unique and fun experience I'd recommend to steak lovers visiting Paris. Although it is indeed a bit touristy, the food and experience delivered. I will be back to try their other locations in Paris.
Relais de l'Entrecôte Saint-Germain
20B Rue Saint-Benoît
Paris
+33 1 45 49 16 00