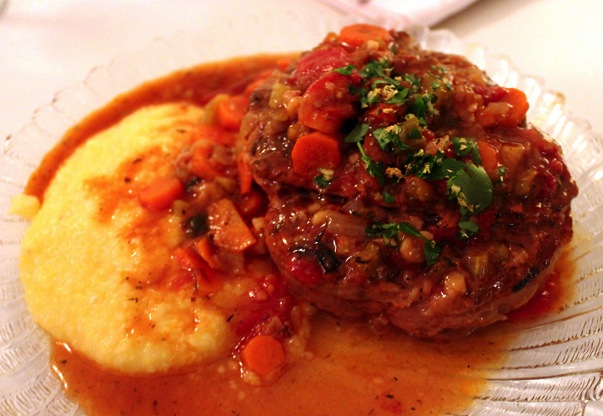 Last weekend we visited my family in America and I was delighted to help my mom and grandmother cook up a Milanese classic, veal Osso Buco. A traditional Osso Buco consists of thick-cut, bone-in veal shanks that are braised for several hours in a white wine, tomato and herb sauce, and finished with a piquant gremolata topping.
"Osso Buco" translates in Italian to "bone's hole," – you can see how this dish got its name once the veal is cooked up to perfection and all of the marrow has seeped from the bones, thus creating a rich, decadent sauce, and, yes, leaving a "bone's hole" in the center of the shanks. Because the veal is slow-cooked in this sauce, the meat becomes tender and succulent and falls easily off the bone.
This is a timeless and classic Italian recipe that tastes delicious on a cool autumn or winter night. It is essential to buy high-quality veal shanks, preferably from your local butcher or other gourmet grocery. Osso Buco is often served with a creamy risotto milanese or soft polenta, the latter of which we used the other night. The polenta soaked up all of the rich, delicious sauce and was the perfect, simple accompaniment that allowed the veal shanks to take center stage. The beauty of this dish is that you can assemble it in advance, and then simply place it in the oven 3 hours before you'd like to eat, making it ideal for a dinner party. Give this warm and satisfying Italian dish a try – you won't regret it!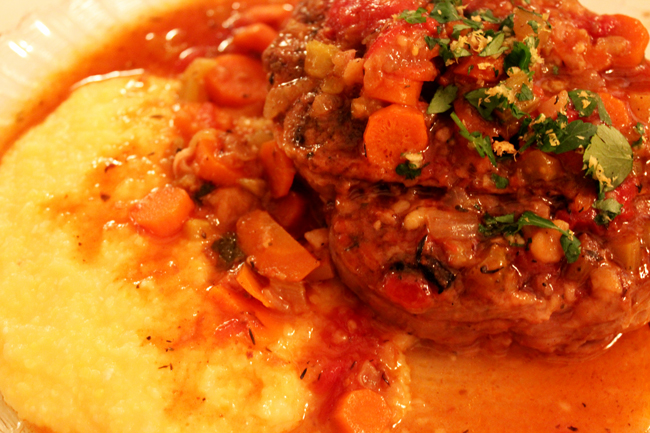 Osso Buco
Serves 6
Ingredients
6-7 pounds bone-in veal shank pieces (about 1 1/2 inches thick), preferably tied with cooking string around their circumference
Sea salt and freshly ground black pepper
All purpose flour, for dredging
4 tablespoons butter
2 cups white or yellow onions, diced
2 cups carrots, diced
1 cup celery stalks, diced
3 teaspoons fresh garlic, minced
1/2 cup olive oil (approximately)
2 cups dry white wine
1/2 cup dry sherry
1 cup chicken stock
3 cups canned diced tomatoes
1 tablespoon fresh thyme, chopped (leaves only)
1 1/2 teaspoons fresh basil, chopped (or 1/2 teaspoon dried basil)
6 parsley sprigs — coarsely chopped
2 bay leaves
Gremolata
1 tablespoon grated lemon peel
1 teaspoon garlic, finely chopped
3 tablespoons parsley, finely chopped
On the side
Polenta, cooked according to package instructions
Directions
Preheat oven to 350 degrees F.
Wash and dry veal shanks.
Dredge shanks in a mixture of flour and a few generous shakes of salt and pepper, shaking off any excess. Set aside.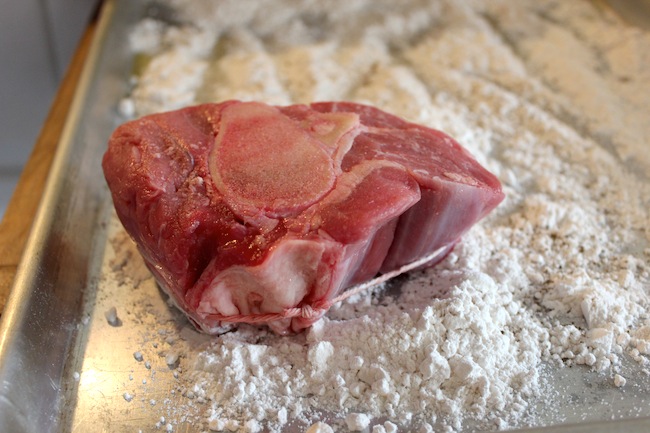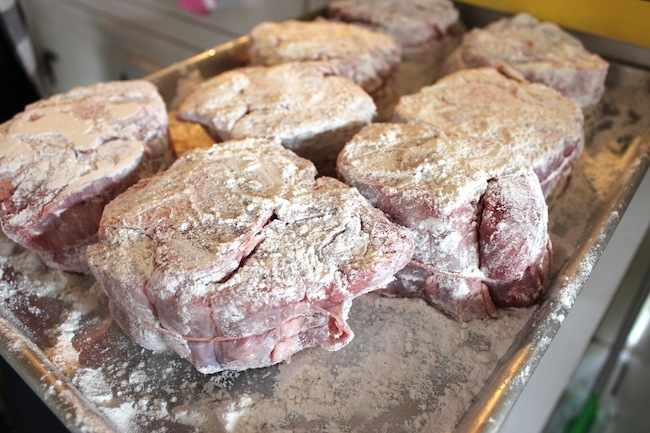 In a heavy large skillet, heat butter over moderate heat. Add the onions, carrots, and celery to your skillet . Cook the vegetables, stirring frequently, until soft (about five minutes) and then toss in the garlic. Add salt and pepper to taste. Continue cooking for another 10 minutes until the vegetables just begin to brown.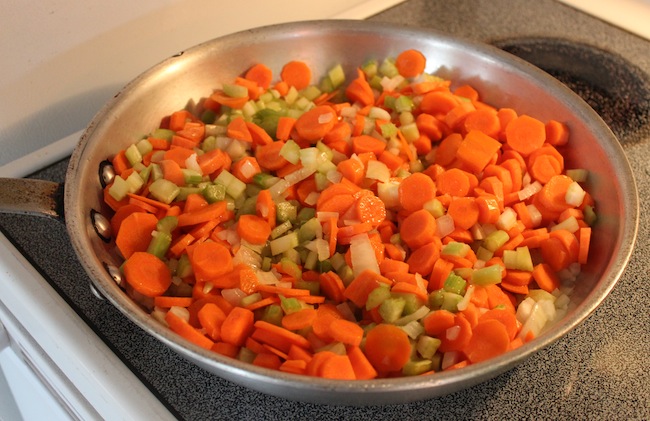 Transfer the vegetables evenly to the bottom of  a large roasting pan or large ovenproof dutch oven.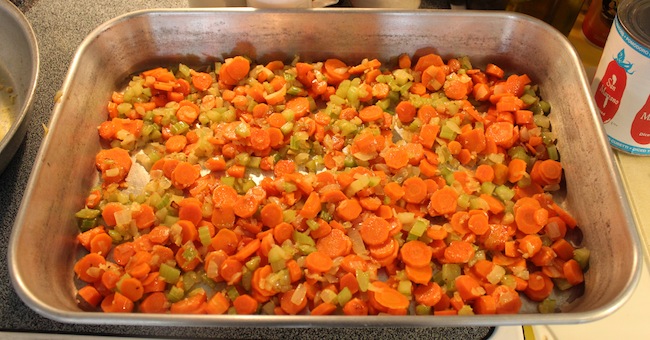 Heat about 1/4 cup of the olive oil over medium-high heat. Working in batches as to not crowd the pan, sear shanks for a couple minutes on each side until browned. Repeat with remaining shanks, adding more olive oil as needed.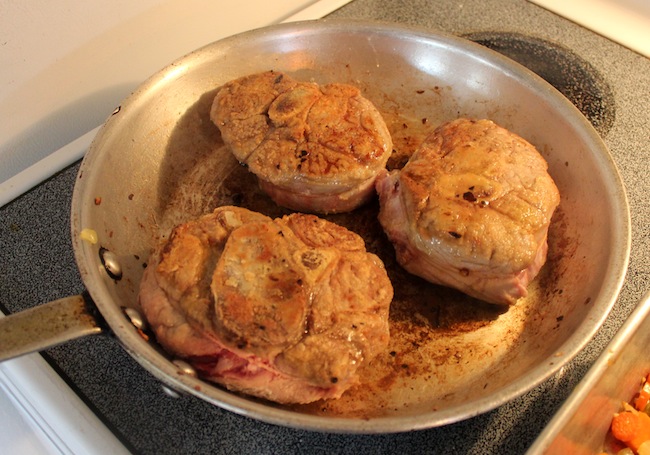 Add the veal shanks to the roasting pan (or dutch oven) with the vegetables, placing them neatly on top.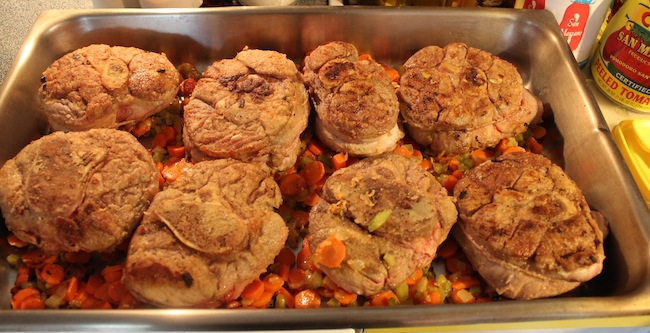 In the same skillet, make the sauce. Pour in the wine and sherry and boil it briskly over high heat until it is reduced by about half.  Scrape in any browned bits clinging to the pan.
Stir in the stock, basil, thyme, tomatoes, parsley and bay leaves.  Add salt and pepper to taste. Bring to a boil and then turn off heat.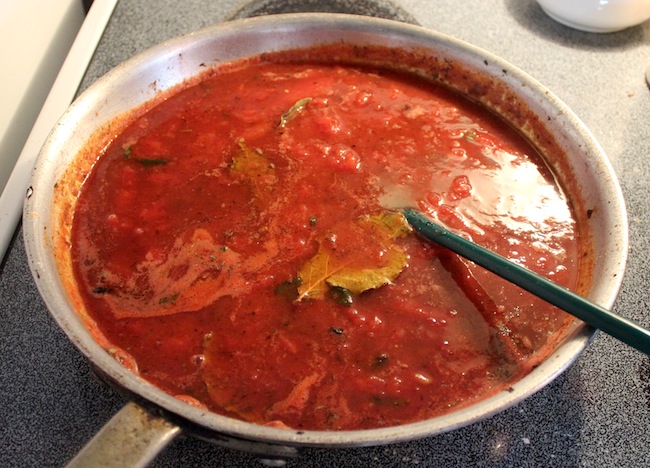 Pour the sauce on top and on the sides of the shanks that have been placed in their pan. It is ok if the shanks are touching or slightly apart. Add a couple more shakes of salt and pepper to taste.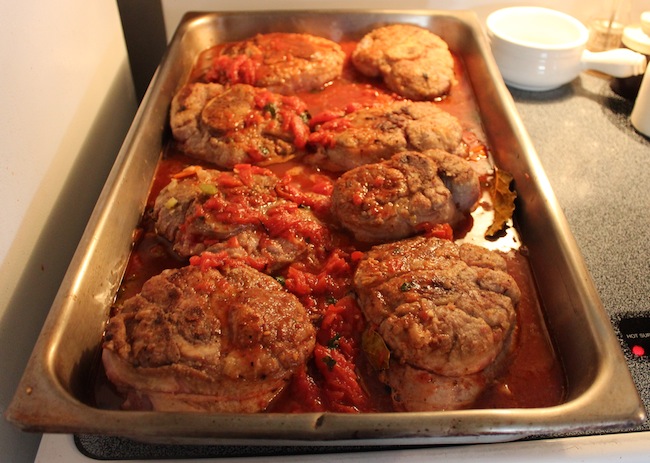 Bake, tightly covered, in the lower 1/3 of the oven, for 2 1/2 – 3 hours or until meat is VERY tender and starting to fall off the bone.  Test it by piercing the meat with the tip of a sharp knife. While this is baking, make the gremolata by mixing the ingredients together in a small bowl.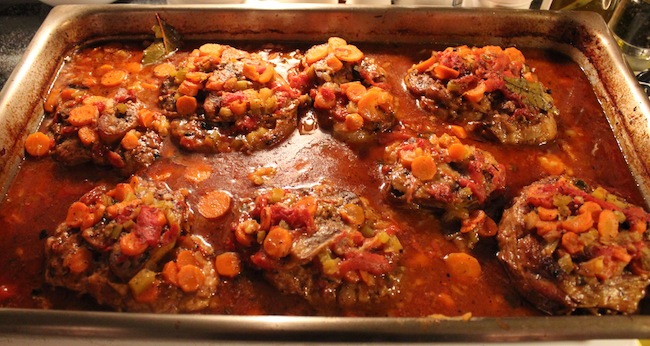 Serve each shank with a spoonful of sauce and vegetables from the pan and a generous side of creamy polenta. Sprinkle the gremolata on top of the shanks just before serving. Enjoy!