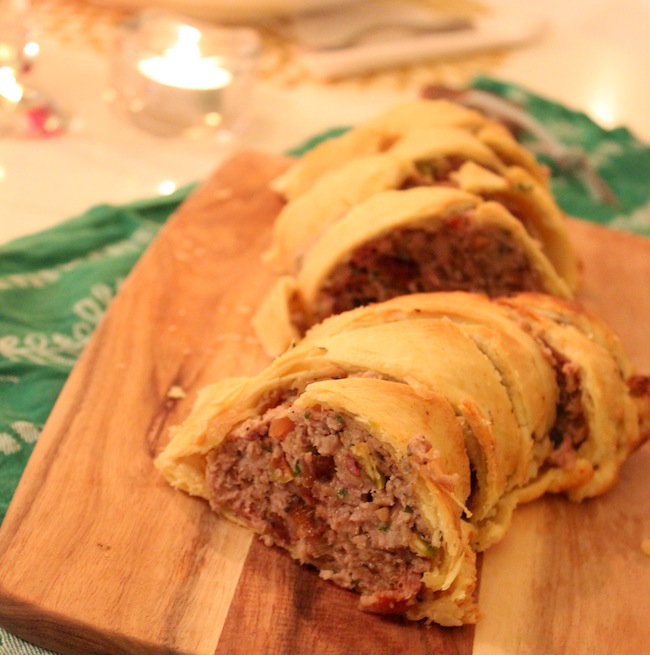 Last night I baked a posh take on a sausage roll and it was so scrumptious I couldn't wait to share it with you all. I was watching chef Glynn Purnell cook up this much-loved savory pastry on a Christmas-themed cooking show hosted by chef Michel Roux, Jr., and I was so intrigued by what I saw that I went out and bought the ingredients to make it the very next day.
This roll is made posh by the addition of some delicious and unique filling ingredients not usually found in sausage rolls, such as toasted chopped pistachios, dried apricots and a festive pinch of ginger and nutmeg. Of course, it wouldn't be a sausage roll without a meaty base, so plenty of streaky bacon, minced pork and sausage meat covers that nicely. To make life easier, you can use a store-bought puff pastry as well. Once baked, the pastry was golden and crispy and the filling had a rich flavor, accented nicely by the sweetness of the apricots and the subtle crunch of the pistachios.
I can picture this roll being enjoyed at Christmastime, when friends and family drop by the house and you need a delicious pick-up food to serve in the midst of all of the madness. My husband and I enjoyed it with a bottle of red wine and a light green salad. I will definitely be adding this Posh Sausage Roll to my Christmas cooking repertoire. Give it a try! 
Posh Sausage Roll
Recipe courtesy of Glynn Purnell
1 medium onion, chopped
2 garlic cloves, chopped
6 slices smoked streaky bacon, diced
75ml/2½fl oz Calvados (this is an apple brandy from Normandy – delicious on its own as well!)
600g/1lb 5oz minced pork
200g/7oz sausage meat (I used Cumberland sausages, but it's your choice)
4 sage leaves, chopped
2 tbsp chopped parsley
pinch ground ginger
pinch nutmeg
50g/1¾oz of toasted pistachios, chopped
20 dried apricots, diced
salt and freshly ground black pepper
2 large free-range eggs, beaten
50g/1¾oz of bread crumbs
1 sheet all-butter puff pastry rolled to a 1cm/½in thickness, 50cm/20in length and 25cm/10in width
Directions
Preheat the oven to 200C/400F/Gas 6.
In a frying pan, gently fry the onion, garlic and bacon. Add the Calvados to flambé the pan – take care to avoid the flames.
Scrape any cooked-on food from the bottom of the pan. Place the mixture into a bowl and leave to cool.
Place the minced pork and sausage meat into a large bowl. Add the sage, parsley, ginger, nutmeg, pistachios and apricots, and season with salt and pepper. Add the onion mixture to the bowl along with two of the eggs and the breadcrumbs. Mix together to create your filling.
Dust a surface with flour and lay out the rolled pastry. Place the filling onto the pastry and make a sausage shape off-centre. Brush the edges of the pastry with the remaining egg. Fold the pastry over to create the sausage roll. Seal around the edges and brush with the egg. Using a sharp knife, slash the top of the sausage roll to create lines in the pastry. Finish with a grind of black pepper.
Place in the oven and cook for 10 minutes at 200C/400F/Gas 6, then turn the oven down to 170C/340F/Gas 3½ and cook for a further 10-15 minutes.
Carve the hot sausage roll and garnish with slices of pear, if desired, and serve with chutney.